NDIA POLICY POINTS SHIPBUILDING
Improving the Shipbuilding Industrial Base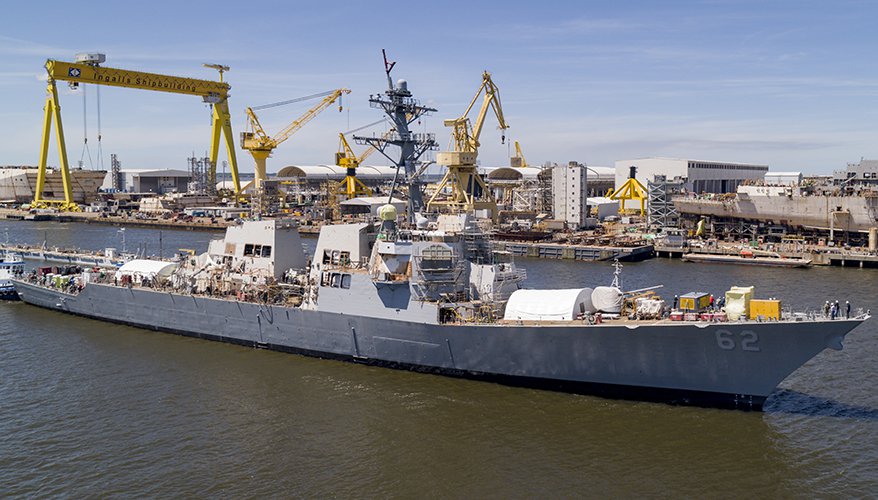 Navy photo
In the 2022 National Defense Authorization Act, Congress authorized $4.9 billion in funding for Arleigh Burke-class destroyers and an additional $4.7 billion for shipbuilding to include two destroyers, two expeditionary transports and a fleet oiler.
The increased attention to U.S. naval capabilities comes after increasing competition with China, as well as discussions around changes to the current force structure. Currently, the Navy is required by law to have at least 355 ships, though plans are in place for expanding the fleet to between 398 and 512 vessels, which includes both manned and unmanned platforms.
This objective is largely aspirational as the number of both private and public shipyards has significantly declined with gaps in experienced personnel, rising costs and a boom-bust cycle in naval acquisitions.
The United States became a global power through its power-projection capabilities, including its naval prowess. To maintain its edge, it must build those capabilities once again.
Since 1993, the number of public shipyards the Navy used fell from eight to four — two on the West Coast and two on the East Coast — due to the "peace dividend" of the 1990s. However, these four shipyards have limited functional dry docks, old equipment, and regularly delay maintenance for the submarine and aircraft carrier fleets.
The U.S. shipbuilding industry is bolstered by 22 private shipyards. Three shipbuilders have left the industry and only one shipyard has opened since the 1960s. Both Huntington Ingalls Industries and General Dynamics, the two largest U.S. shipbuilders, reported a record new construction backlog for 2020 competing for drydock space with essential ship maintenance.
What is left is a diminished industrial base incapable of even maintaining the Navy's current presence. Worse, U.S. shipbuilding is significantly behind China, which has dozens of shipyards capable of building and maintaining a fleet that can project naval power beyond the First Island Chain. Because of the nation's investments, the Chinese navy grew to approximately 350 ships by 2020, and Beijing now has the largest navy in the world by ship numbers albeit not by tonnage.
Efforts are being made by the U.S. Navy to renovate its public shipyards through a 20-year, $21 billion Shipyard Infrastructure Optimization Plan. However, more attention needs to be given to the private shipyards that already construct and maintain most of the fleet from fleet oilers to destroyers.
Private shipyards remained largely profitable during the COVID-19 pandemic, though their margins have been negatively impacted. The main issues that limit private shipbuilders in the long term lies in personnel, rising costs of materials, and inconsistent acquisition priorities that threaten to consolidate the industry further if not properly addressed.
Having enough skilled technicians to construct and maintain these ships is a considerable problem for industry. Since the 1990s, the workforce has aged, leaving shipyards with an increasingly fragile workforce with a dearth of skilled younger workers in the pipeline. While shipbuilders like Huntington Ingalls have some form of an apprenticeship program, demand for a skilled workforce during COVID remains considerable.
This lack of skilled technicians causes delays in construction and maintenance, compromising the Navy in a possible future engagement.
Fortunately, there is a growing recognition of this employment gap by the Defense Department. In June 2020, it announced a pilot program to train new welders and other specialized roles for public shipyards. While it is starting small, programs like these will help eventually bridge the gap with proper funding and training provided.
Another issue shipbuilders face is the rising costs of materials. This is a problem throughout the entire economy, though the Congressional Budget Office found that the Navy shipbuilding cost index was 1.2 percent higher than overall inflation between 1986 to 2009. This is partly due to specialized construction needs in contrast to the general economy, low competition among shipyards and low-volume orders.
In the long term, encouraging more contractors to provide shipbuilding capabilities will lower the cost index, though this will require an increased budget for the Navy.
Lastly, the main issue inhibiting private shipbuilding is the inconsistency in demand from the Navy. Currently, there is a bipartisan consensus on increasing the service's size, though this follows decades of boom-and-bust cycles in procurements reducing the industrial base as seen with the closure of Huntington Ingalls' Avondale Shipyard in 2014.
The Navy's shipbuilding plan has also been unhelpful, given a vacillating post-Cold War period with halting efforts to modernize and properly adapt to the era, as seen with the Littoral Combat Ship program and Zumwalt-class destroyers. Shipyards are harmed as each program requires significant investment to properly construct and maintain new ships, only for it to be squandered when the Navy cancels orders and moves to develop other systems.
Further, this encourages consolidation that limits the competition needed for a robust naval acquisition strategy. To ensure that the shipbuilding industrial base doesn't deteriorate further, it is important that there is a consistent procurement of ships and a clear commitment toward new systems as needed.
In the long term, more shipyard capacity must be built — both by the government and private sector — to meet the demands of a larger U.S. Navy. However, significant changes to training and acquisitions need to take place to ensure sustainability for the longer term.

Heberto Limas-Villers is a junior fellow at NDIA.
Topics: Shipbuilding