U.S. Fishing for Defense Tech to Protect International Waters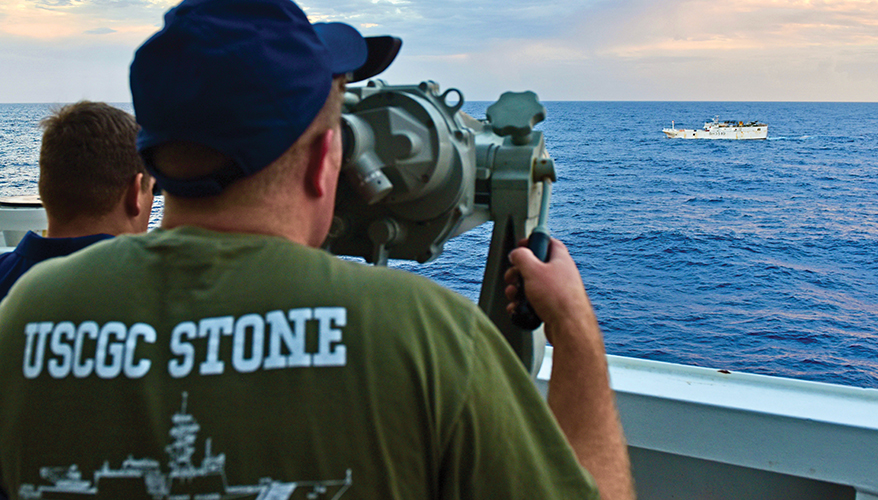 The U.S. Coast Guard patrols for illegal fishing activity.
Coast Guard photo
The Coast Guard and Navy are exploring new technology and partnerships to protect fisheries from Chinese theft.
Illegal, unreported and unregulated, or IUU, fishing is a growing problem across the world, but particularly in the seas traversed by Chinese ships, according to officials.
Advanced military technologies such as high-resolution radars, spy satellites and data-sharing software is needed to tackle the problem, experts said.
While Beijing has publicly talked about cracking down on illegal fishing, the nation has one of the worst records of state-sponsored fishing crimes in international waters, said Whitley Saumweber, director of the Center for Strategic and International Studies' Stephenson Ocean Security Project.
China is "obviously high on the list … when talking about state-sponsored IUU and the way that they use it as both a tool for … economic purposes, but also increasingly for the purposes of influencing bilateral relationships," Saumweber said during the CSIS Ocean Security Forum 2021 in December.
Coast Guard Commandant Adm. Karl Schultz pointed to vessels carrying Chinese flags that have been spotted off the coasts of countries in South America. More dialogue is needed with Beijing to ensure the government's rhetoric around tackling illegal fishing matches its actions.
"This is the space where maybe we can shape those behaviors and show by demonstrated action what is responsible flag state behavior," Schultz said.
While China has said officials will crack down on illegal activity, it is still rated the No. 1 country in the world for illegal fishing, according to a report from the Global Initiative Against Transnational Organized Crime, a nonprofit organization.
There is a "persistent demand" for more collaboration between the U.S. Coast Guard and Navy, such as adaptive force packaging, to counter China, Schultz noted. Adaptive force packaging incorporates transferable crew and equipment modules for more distributed forces.
"Who better than maybe the United States Coast Guard — who's a recognized enforcer of modern maritime free and open ocean — to go over there and say, 'Not so fast,'" Schultz said.
While the Navy has a lot on its plate, the service is taking the national security issue seriously, he said.
"We will match some Coast Guard capacity to their availability, the availability they make of naval platforms," he said. "We can do a lot of good things together."
U.S. Pacific Islands face some of the worst pressure from illegal fishing, according to a Congressional Research Service report titled, "The Pacific Islands." An estimated $616 million is lost every year to IUU.
"China, which accounts for more than a third of global fish consumption, is a major contributor to IUU fishing in the region," according to the report.
Navy Secretary Carlos Del Toro noted global warming is driving increased illegal fishing activity in the Arctic region. Melting ice is opening new routes for economic activity and presents new security threats, he said.
"It also increases resource competition and, of course, shifts the geopolitical and the security environment and has ecological impacts around the globe," he said.
Monica Medina, assistant secretary for oceans and international environmental and scientific affairs at the State Department, noted the importance of collaboration with industry and nongovernmental organizations.
"The tools are out there. It's a question of us really all sitting in the room together," she said.
To solve the problem and mitigate the damage of illegal fishing requires more equipment and platforms that can streamline data collection.
Duncan Copeland, executive director of Trygg Mat Tracking, is working with other surveillance organizations to help educate governments about their options for fishery tracking tools. As the problem of illegal fishing has grown, more technologies have come into play, and officials must determine the right products to use, he said.
But there is no perfect choice, he noted.
"The best picture is one in which multiple tools and systems are integrated in such a way that best reflects what an individual country or region's needs are," he said.
Trygg Mat Tracking, Global Fishing Watch, and the International Monitoring Control and Surveillance Network partnered last year to launch the Joint Analytical Cell, or JAC.
Data collection can be a powerful tool for preventing illegal activity, said Paul Wood, chief innovation officer at Global Fishing Watch. The organization's goal is to track every vessel larger than 15 meters in length using a combination of radar, optical satellites and radio frequency, he said.
"We think we're within a few years of getting there and doing that in a highly scalable way," he said.
The most important capability needed is the ability to share information, Wood said. If U.S. forces attempt to push a foreign fleet out of U.S. waters, the targeted ships can often effectively evade repercussions by switching to neighboring jurisdictions.
But if ship location and risk data is transparent, it is more likely authorities can curb illegal activity.
"Having an open free tool allows you to do that, and ultimately that gets the data in the hands of the key person that needs it," he said. "When you have open source, open free data, there's no classification issues, nobody has to ask permission to take a piece of data out of our system and share it with anybody else."
New satellite technology is driving innovation.
Satellites are getting smaller and more capable, said Dee Pack, a researcher at the Aerospace Corp. As they become less expensive and risky to send into orbit, commercial and nongovernmental organizations can afford to be part of the data collection process.
"You see small companies and NGOs putting up methane monitoring satellites to try to assess our understanding of global warming," he said.
"It's possible that you could have the same thing happening with some of these technologies as applied to IUU fishing and monitoring," he said in January during the Space Policy Show hosted by the Aerospace Corp.'s Center for Space Policy and Strategy.
Additionally, the proliferation of satellites could help expand coverage to remote areas like Alaska and the Arctic region, said Will Cromarty, account executive at data analytics company Spire Global Inc.
"I've seen the more we launched the satellites, the more really deep insight we've had in a lot of the regions where IUU fishing can be the worst," he said.
Cloud computing and data aggregation technologies have also improved, enabling larger datasets for more accurate models, Pack noted.
"When you pull in advances in artificial intelligence and machine learning, the possibilities are really limitless," he said.
One of the most challenging problems for cracking down on IUU fishing is ships that turn off or spoof their automatic transmitter signals,
Cromarty said. To track evasive ships that have "gone dark," determining how to merge sensors will be key.
"It's really that fusion of capabilities that from a technological perspective is going to resolve the dark vessel issue," he said.
The Pentagon's search for solutions has made some progress. Jared Dunnmon, technical director for AI and machine learning at the Defense Innovation Unit, pointed to a prize competition run by the Coast Guard and international partners in 2020 called the XV3.
The competition challenged participants to use data from synthetic aperture radar — radar that can be used to create 2D and 3D reconstructions of images — to locate and characterize maritime vessels anywhere in the world, he said. The goal was for users to be able to determine information such as the speed and size of the vessels.
Now DIU is in the process of evaluating how well the models created by competitors worked, he said. Then, the models will be available online so that U.S. allies don't have to wait for data to be shared.
"Allies and partners can literally go and take that model off the internet and run it themselves if it's useful," he said.
While there are commercial options for data curation, Dunnmon said they are not easily accessible for sharing. As long as the synthetic aperture radar data is available, the tracking capabilities for illegal fishing vessels should expand in the next couple of years, he added.
"We should be able to at least get the obvious stuff and make sure that we're spending either our enforcement efforts in places where we don't have that coverage, or we're spending our enforcement efforts on places where we detect that there are ships that we don't expect to be there," he said.
Meanwhile, he noted that data transparency can cause problems if fishing vessels can use the information to monitor law enforcement. For example, illegal fishing operators might use satellite imagery to watch out for officers about to perform enforcement action. However, time delays for certain information can be instituted to prevent criminal fishermen from disappearing before authorities can investigate, he said.
Because countries have to collaborate to create an effective anti-illegal fishing network, it can be challenging to overcome economic obstacles for less developed nations, Pack noted. However, cheaper and smaller satellites on the market could help overcome expensive barriers, he said.
Some critics have concerns that collecting data requires too many resources, said Beth Lowell, deputy vice president for U.S. campaigns at Oceana, an ocean conservation nonprofit. But it actually can help agencies work more efficiently if correctly utilized, she said.
"Sometimes we hear from the federal government side that data … can be a resource constraint," she said. "Collecting data is a challenge, but I want to come at this from a different angle — that data is actually an extremely powerful tool that actually can help the federal agencies work better, more effectively and efficiently if they actually know how to use it."
Topics: Maritime Security