JUST IN: Navy Faces Big Task Introducing New Ships, Tech to Fleet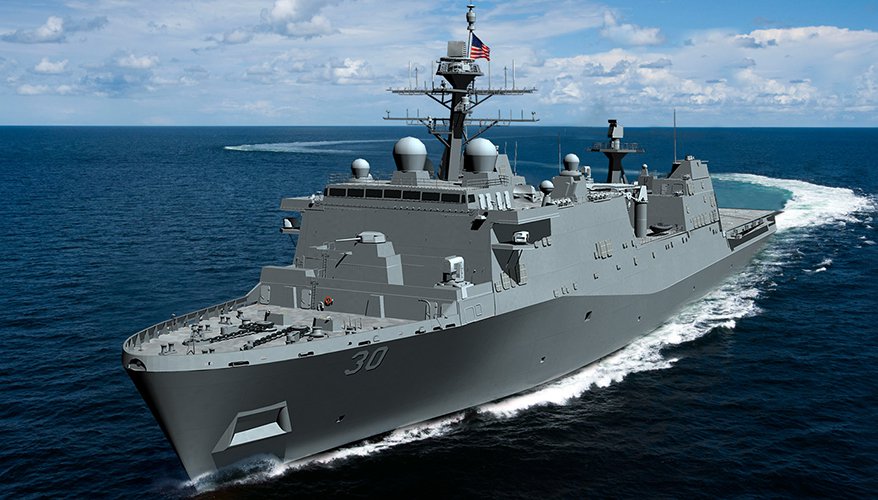 LPD Flight II warship concept
Huntington Ingalls concept
The Navy will be introducing a host of new ships and major technologies to the fleet in the coming years. Making sure they are all smoothly integrated into operations will be one of the service's most difficult challenges, a top officer said Jan. 11.
Vice Adm. Roy Kitchener, commander of Naval Surface Forces and Naval Surface Force, Pacific Fleet, released a new document, "Surface Warfare: The Competitive Edge," ahead of the Surface Navy Association's annual conference this week. It spells out five major challenges facing the Navy's surface fleet over the next decade.

"There are looming challenges that demand our attention and we must address them directly with purpose and urgency," Kitchener said during a keynote speech at the conference.

The five major efforts are: develop the leader, warrior, mariner and manager; produce more ready ships; achieve excellence in fleet introduction; create clear and innovative operational concepts; and establish infrastructure for the future force.

Of the five, Kitchener said "achieving excellence in fleet introduction" will be the most challenging.

Over the next 10 years, at least 10 new or newly modified platforms will be acquired and/or fielded by the surface force along with a number of commercial sensors and capabilities, he said.

"I think [it] is going to be the toughest one and maybe the most important one," he said of fleet introduction.

The new ships include: the Flight III DDG guided missile destroyer, modified Flight IIA DDGs, Constellation-class guided missile frigates, a light amphibious warship, LPD Flight II warship, upgraded Littoral Combat Ships, DDG 1000 with conventional prompt strike, large and medium unmanned surface vessels, and the DDG(X) guided missile destroyer.

New capabilities that will have to be integrated into operations include: SPY-6 family of radars, AEGIS Baseline-10 combat system, F-35 joint strike fighter, Standard Missile-6, conventional prompt strike and the beginning of the Navy's new integrated combat system.

Never has there been so many complex systems introduced to the Navy is such a short time, Kitchener contended.

"We must focus our efforts to do it right, because the threat is real. The challenge is considerable," he said.

Kitchener has tapped Rear Adm. Brendan McLane, commander of Naval Surface Force Atlantic as the leader in charge of "achieving excellence in fleet introduction."

His organization will be identifying challenges to ship acceptance and force delivery, and charged with creating processes and holding program managers responsible for milestones, Kitchener said.

"Introducing a new platform or capability of the force is not an easy task," he said. "There are operational, logistical, training, administrative and other support functions that all have to be considered." That is why he considers integrating new ships and technologies the biggest of the five challenges, he added.

"We know how to do it though, right? We've got good roots in this. … We know how to introduce things to the fleet," he said. However, the number of new systems, paired with the oftentimes unpredictable nature of funding and resources — as is happening now with Congress' continuing resolution that prevents new-start programs until a budget is passed — may make integration even more challenging in the future.

Problems encountered in the past include putting the right sustainment plan in place, not ordering enough spare parts, and underdeveloped training packages. Those are "things that in the past we've had some sins over or we thought we would catch up later — and it's just not proven that we have. So, we have to be accountable ourselves," Kitchener said.
Topics: Navy News