Army Shifting Training Priorities, Investments for Multi-Domain Ops (Updated)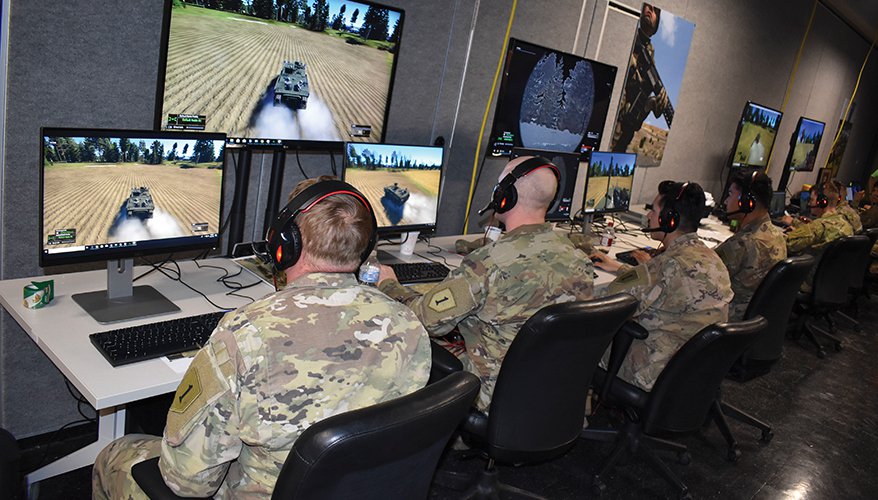 Soldiers test out a prototype for the Reconfigurable Virtual Collective Trainer.
Army photo by Margaret Ziffer
ORLANDO, Fla. — To reach the Army's goal of building a force that excels at multi-domain operations, officials are making some tough decisions about which capabilities to prioritize for soldier training.
In 2018, the service released its doctrine for a modernized future force, "The U.S. Army in Multi-Domain Operations 2028." The plans for MDO cited emerging technologies such as hypersonics and machine learning as well as great power competition with China and Russia as catalysts to update the Army's priorities.
"Should conflict come, [adversaries] will employ multiple layers of stand-off [capabilities] in all domains — land, sea, air, space and cyberspace — to separate U.S. forces and our allies in time, space and function in order to defeat us," then-Army Chief of Staff Gen. Mark Milley wrote in the document. Milley is now chairman of the Joint Chiefs of Staff.
Shifting the service's priorities starts with how it trains, officials said. They are working to define the Army's needs for multi-domain operations and identify the capabilities necessary for future fights as soon as possible.
Ivan Martinez, director of the Army's Simulation and Technology Training Center, said reorganizing procurement and acquisition has been a major focus.
Starting in 2020, the office began to realign its programs to become MDO centric and to be in alignment with where the Army wants to go, he said in June at the annual Training and Simulation Industry Symposium in Orlando, Florida, which was hosted by the National Training and Simulation Association. NTSA is an affiliate of the National Defense Industrial Association.
Much of the service's science and technology funding was going toward capabilities that support the Army's near-term goals and not enough on mid- and far-term objectives, Martinez said. Initially, his team was unsure what multi-domain operations would look like and they took what he called "a pause" to assess the state of play.
"We realized that we needed to have a basic program that was very well synced with the user and our stakeholders," he said.
Army officials pulled together a group to develop a new science and technology portfolio for soldier training and included input from the training and simulation industry, he noted.
Joseph Sottilare, technology area manager for Army Combat Capabilities Development Command's Soldier Center, said the team collaborated to discover 59 capability gaps prioritized by the user community. They then laid out 12 science and technology efforts based on those gaps.
They are a "high priority for the Army focused on MDO-capable objectives for 2028," he said.
Mid-term goals focus on cyber, live training, simulation architecture and training effectiveness, he said. However, there is enough flexibility to shift them to near-term objectives as the situation evolves.
However, "this strategy really keeps the focus on the long-term, current challenges that aren't being addressed by industry, aren't being addressed by anybody else in the government, or we have limited knowledge with what they've done," Sottilare said.
The next step is creating a "competency framework" for multi-domain operations, which will identify ways to measure readiness and provide performance objectives for soldiers, he said.
"That's something that we have to start now because it takes a very long time to define all the elements," he said.
Augmented reality and virtual reality simulation tools for medical care is one area of focus, he said. It is often difficult to teach troops how to perform prolonged medical care in austere environments, but the capability will be critical in multi-domain operations, Sottilare added.
"We're going to have people deployed overseas in … environments where they won't have access to a medical hospital and have to perform prolonged care," he said.
Meanwhile, soldiers also need to train for missions such as cyber and information warfare, officials said.
For multi-domain operations, "where it's even a greater, more dynamic environment for training, it becomes almost impossible for us to train that outside of very specific use cases," he said.
"We're looking at how we can enhance our ability to build up these simulation architectures, and then deploy them and sustain them over the next 10 to 15 years," he added.
Additionally, the Army is looking for opportunities to flesh out its Synthetic Training Environment, which is still in development.
The Synthetic Training Environment, or STE, is a 3D soldier training tool that converges live, virtual and constructive — or LVC — training as well as gaming environments to help troops better prepare for high-end warfare. It's the service's latest training advancement for modernizing the force and is one of the service's top priorities being spearheaded by Army Futures Command.
Earlier this year, officials announced plans to replace training technology known as the Instrumentable-Multiple Integrated Laser Engagement System with direct and indirect fire capabilities within the STE in coming years.
One effort — known as the live, virtual, constructive-integrating architecture program, or LVC-IA — is "a cornerstone" of home station training, said Col. Cory Berg, project manager for soldier training.
It will bring "together those different environments, or rotation units, to prepare for a combat training center," he said. Looking into the future, the Army wants a solution that connects all of the LVC-IA's capabilities with the Synthetic Training Environment.
"This becomes the highway. This becomes the connective bond between the current capability and what the future capability is," he said.
The solution needs to be in sync with the next-generation STE until a future capability is ready to replace it, he noted. A draft request for proposals was released in August.
Meanwhile, the Program Executive Office for Simulation, Training and Instrumentation is looking to merge two training contracts in order to find efficiencies, Berg said. The programs — the Common Battle Command Simulation Equipment and the Battle Command Training Capability-Equipment Support — both provide hardware and software for simulation training missions.
The program office wants to cut costs by combining the two efforts which are "parallel and complementary," Berg said. Market research for the move was completed in May, and the office is aiming to award a contract by the first quarter of 2024, he noted.
Brig. Gen. Charles Lombardo, deputy commanding general of the U.S. Combined Arms Center-Training, said virtual environments will give back time to Army commanders by making the training process more efficient.
"It's really an important reflection point in time in the Army," he said. "I tell our team, we're probably in that second training renaissance."
Efficiency starts with improving training management, he said. The Army Training Information System is the replacement for the Digital Training Management System, which has a negative reputation with some company commanders because of the length of time it takes to populate data, he said.
The Combined Arms Center-Training is working on applications to speed up the process for recording data and enabling information to be recorded where training is taking place. But the Army still needs a data repository that makes information about individual soldiers widely available throughout the enterprise, Lombardo said.
Various training systems — including virtual training technologies — should be able to communicate and share data, he noted.
"If we can get them talking to each other, we'll unencumber a lot of our commanders because we'll put our squadron leaders … back in charge of training," he said.
Meanwhile, more efficient training may become fiscally necessary if the service's budget continues to decline in coming years. President Joe Biden's fiscal year 2022 budget proposal would decrease the Army's topline by $3.6 billion, to include cuts to procurement and research-and-development accounts. The Army requested $367 million for the Synthetic Training Environment's cross-functional team, according to budget documents.
"As we define how to train the [multi-domain operations] capable force, it's merging and bringing those joint leaders together, even distributed on multiple locations, to get the most out of our exercises, especially in a time when the downward budget will continue to look like this," Lombardo said.
Brig. Gen. William Glaser, the director of the Synthetic Training Environment cross-functional team, said there is an urgency to "double down" on training as adversaries rapidly modernize their forces.
"We no longer possess … [the] tactical and operational overmatch that people enjoyed over the last 30 years," he said.
The STE must have an open architecture that is scalable and affordable, he noted. Training scenarios must be delivered to the point of need, which could mean solutions that will enable soldiers to access the environment without leaving their combat vehicles, he said.
As the Army continues to determine exactly what multi-domain operations look like, "the one thing that I'm sure of is, in order to present the commander with the problem sets that MDO is going to provide, we're going to need to use the tools that the STE is going to provide," Glaser said.
The goal should be for commanders to incorporate the training environment into their procedures and rehearsals for missions, which will not happen overnight. The Army needs industry to make improvements to training environments as soon as possible, he said.
"We need incremental improvements over time, many evolutions over a short time, in order to improve our revolutionary capability over the long term," he said.
Defining multi-domain objectives could also be a boon for industry, Sottilare said. Those objectives are going to remain relevant into the distant future, so industry won't have to worry as much about the shelf life of its investments.
"We're not going to lift and shift again every year," he said. "This is what we want to support. We want to get this over and stay focused on it."
Meanwhile, Glaser noted that one silver lining of the ongoing COVID-19 pandemic is that because of the required social distancing, stakeholders met remotely more frequently than they would have in person before the virus swept across the world. The relationship between teams is grounded in that foundation and will remain "synced" to stay the course on long term objectives, he added.
Clarification: A previous version of the article did not have the current rank for Brig. Gen. Glaser. He had been promoted since his comments were made in July.
Topics: Army News