ALGORITHMIC WARFARE SPACE
AI Key to Unlocking New Space Applications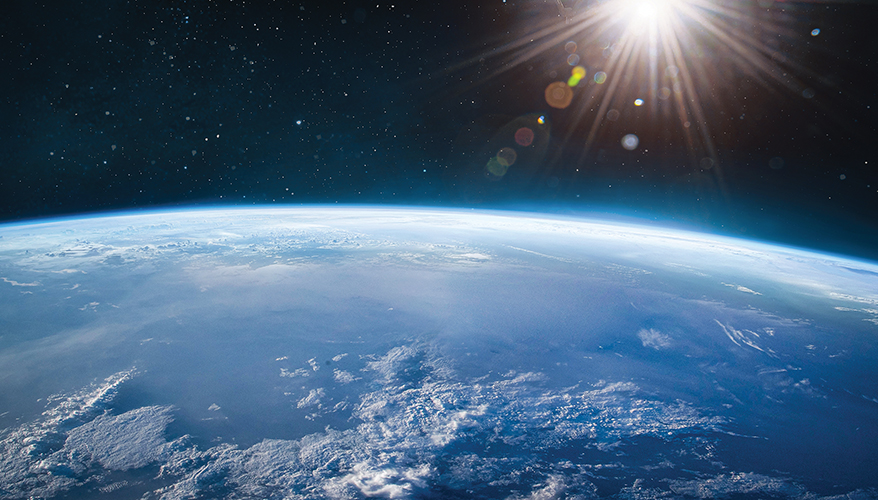 iStock illustration
Experts say artificial intelligence — which has wide applications across the military, civil and private sectors — will be critical to furthering space technology as the cosmos becomes more contested.
"The space environment continues to rapidly evolve," said Melanie Stricklan, CEO of Slingshot Aerospace, a space simulation and analytics company based in Austin, Texas, and El Segundo, California. "We continue to proliferate with new users and capabilities, new sensors both on orbit looking down, and on the Earth looking back up at space."
Artificial intelligence can improve space domain awareness, accelerate command-and-control decisions as well as inject resiliency into satellites and their corresponding networks, she said during an online panel discussion hosted by Booz Allen Hamilton.
"There's a lot of limitations for space today, but I think AI solutions really offer a transformative opportunity for ... the protect-and-defend mission on the defense side [and] for improving operations on the commercial side," Stricklan said.
Officials with the burgeoning Space Force — which will soon celebrate its second birthday — have said artificial intelligence will be a key future technology.
To enhance efficiency, the service plans to establish a digital foundation that will support rapid, data-driven decision-making and "unburden" its workforce from legacy staffing and coordination activities that could be better accomplished through automation, the Space Force said in its "Vision for a Digital Service" document, which was released in May.
"We will exploit machine learning and augmentation where appropriate, allocating monotonous staffing activities to artificial intelligence routines or robotic process automation and thus freeing up Guardians to train, educate and wargame as part of their drive to become a world-class fighting force," the document said.
Quentin Donnellan, general manager for space and defense at Hypergiant, an enterprise AI company with several offices in Texas, said the United States needs to leverage the uniqueness of its orbital assets as it considers how to apply AI to space systems.
Satellites "collect data globally, in real time, all the time, persistently, intermittently, in different wavelengths [and] above the clouds," he said.
Adding a layer of artificial intelligence into the systems will allow the military and critical infrastructure entities to glean new insights, he added.
Shayn Hawthorne, space technology lead at Amazon Web Services, said there are many applications for artificial intelligence and machine learning in space that have yet to be conceived.
"We all know we want to do AI/ML on orbit," he said. "We know that we want to connect to everything, but we're not sure of all of the different missions that we want to use it for yet."
Engineers are not limited by technology but rather by concepts of operations, he said.
"We're right at the point where the wave is cresting, and pretty soon we're going to be able to start to surf," Hawthorne said, using a water sport analogy. Developers will "start thinking of all the cool things we can actually do with the technology, instead of just thinking about how do we get that capability onto the spacecraft."
Enabling satellites with artificial intelligence presents a number of challenges, experts say.
"You don't have a persistent connection to your assets in space," Donnellan said. "If you've got a low-Earth orbit satellite, you've got maybe seven to 10 minutes to talk to it and then it's gone for 90 minutes or more."
Another difficulty is figuring out what data will be used with the system, said Pat Biltgen, principal at Booz Allen Hamilton.
"We haven't really defined all the missions that we want to use," he said. Once developers determine those mission sets, the next question is, "do I have any data to solve that problem?"
There has been a general focus on applying computer vision — a sub-division of AI where algorithms automatically recognize objects — in space, but that poses challenges, he noted.
"People always kind of compare that to … identifying pictures of cats," Biltgen said. "There aren't a lot of cats in space. The things that we're trying to find from space are usually hard to find — they're hard for people to find, so it's even harder for algorithms to find them."
That makes it difficult to condition data and build the models necessary for the algorithms, he said. "We really need to have a discussion about what data is available and how do we use it to build models we can trust," he added.
But Donnellan said there is a long road ahead for gaining trust in AI algorithms, especially in a domain such as space where data sets are limited.
"That road is paved with simulation and synthetic data," he said. "We're going to have to really double down on human-in-the-loop training events where you can actively reinforce the agents involved in ML decision-making or AI decision-making."
Synthetic data is information created from simulations or models to fill in gaps for algorithms and is usually applied for activities that do not occur often, Biltgen explained.
It "also allows us to simulate things that are essentially completely impossible, just to see how the system would respond in those instances," he said. "It's a very powerful enabler to train your models."
Topics: Robotics, Robotics and Autonomous Systems, Space