U.S. Agencies Working to Recapitalize Strategic Sealift Capabilities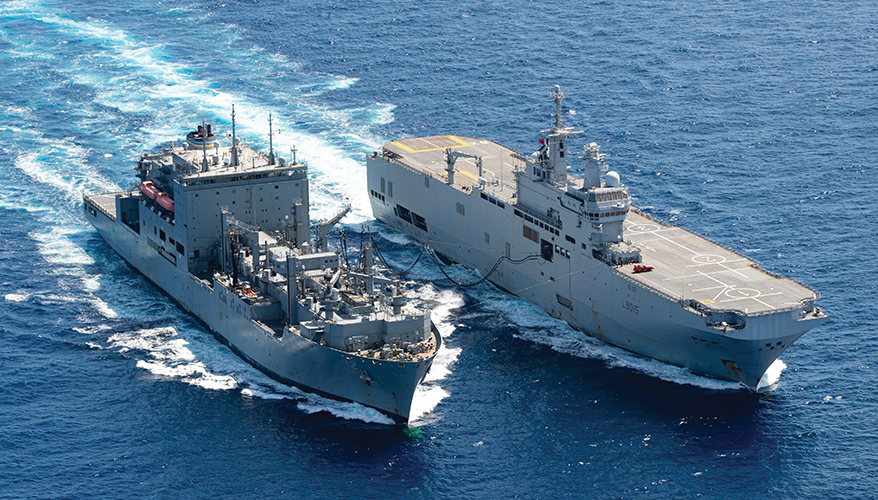 Military Sealift Command's Combat Logistics Force ship USNS William McLean and the ship's 96 civil service mariners return to Naval Station Norfolk after a seven-month deployment.
Military Sealift Command photo
To project and sustain power overseas, the U.S. military must maintain a robust strategic sealift capability, to include the Merchant Marine.
The Defense Department and civilian agencies are now teaming up to recapitalize an aging logistics fleet.
The Navy's Military Sealift Command has a critical role to play in providing ocean transportation and sustainment for U.S. forces during a conflict or crisis.
While some equipment and personnel can be transported via aircraft, major movements overseas are dependent on shipping.
"Our strategic sealift fleet must have the capability and capacity to accommodate 90 percent of the required military equipment expected to deploy during a major conflict," Erica Plath, director of the strategic mobility and combat logistics division within the office of the chief of naval operations, said during a panel discussion at the Navy League's annual Sea-Air-Space conference in National Harbor, Maryland.
Christopher Thayer, director of maritime operations at Military Sealift Command, said the service needs to be prepared to operate in a contested environment.
"To make the difference, we will need a workforce of mariners trained and ready now to go forward into a contested maritime environment in order to accelerate improved outcomes," he said.
To do so, the Navy needs the support of not just the Pentagon, but also the civilian agencies responsible for providing and facilitating these key assets.
The Department of Transportation is working closely with the Defense Department and the sea service to advance a strategy to repair and replace dozens of ships in the coming years, said Transportation Secretary Pete Buttigieg.
"This department is committed to supporting the maritime industry in all the details, including our cargo preference and maritime security, which are critical to supporting our mission," he said. "We also need a generational investment in our infrastructure."
As of press time, the Senate had passed a $1 trillion-plus bipartisan infrastructure bill. According to Buttigieg, the legislation contains funding for several strategic sealift priorities.
"That bill includes $17 billion to improve our ports and waterways, [and] the funding will go to everything from working our way out of the repair backlog to adding new capabilities and resources," Buttigieg said. It "is going to create millions of good-paying union jobs in the maritime sector and across the country."
Buttigieg reiterated his commitment to working with Pentagon leaders and members of industry to help "transform our maritime infrastructure for the future, so that the next generation [of] sailors, Marines, guardsmen and Americans can rely on them," he said.
Douglas Harrington, deputy associate administrator for federal sealift at the Maritime Administration — which falls under the Department of Transportation — said its programs are in a significant period of recapitalization.
"We see new construction, and we're building a new class of training vessels never built before in the U.S.," he said. They will "provide mariners with the most up-to-date training that we have for the future of the Merchant Marine," he said.
The Maritime Administration uses government and commercial vessels to provide sealift capabilities in times of national emergency and to meet the military's strategic sealift needs.
In 2019, then-Maritime Administrator retired Rear Adm. Mark Buzby announced TOTE Services, Inc., a Jacksonville, Florida-based company, as the vessel construction manager for the newest class of training ships, the National Security Multi-Mission Vessel. The contractor will oversee the selection of a shipyard and ensure that commercial best practices are utilized to deliver the NSMV on time and on budget, according to the administration.
The agency is also working on a new contract approach for the recapitalization of its National Defense Reserve Fleet, Harrington said. "We're going to ... replace the existing Ready Reserve Force, or RRF, vessels using our vessel acquisition manager contract approach," he said.
The Ready Reserve Force is a subset of vessels within the Maritime Administration's National Defense Reserve Fleet. The ships enable the support of the rapid global deployment of U.S. military forces by conducting sealift operations.
The RRF provides nearly 50 percent of government-owned surge sealift capability, according to the administration.
The Maritime Administration awarded Crowley Maritime Corp. a multi-year, $683 million contract for vessel acquisition management in late July.
Crowley, which is also based in Jacksonville, Florida, will utilize its strategic acquisition and vessel management services to assist the administration in the enhancement of the Ready Reserve Force by helping reduce the total age of the fleet and increase ship reliability, the company said in a press release.
Through the contract, Crowley will use a new information technology system to assess, research and make purchasing recommendations.
Once the vessels are acquired, the company will oversee re-classification, modification and maintenance.
The contractor has a 20-year history managing Maritime Administration programs and other government and Navy vessels. It will provide recommendations based on essential service requirements, the company said.
At the same time, the administration is managing a comprehensive strategy for sealift, Harrington said.
"We're working on maintaining the current ships that we have," he said. Issues the organization is facing include obsolete equipment and new regulations that are affecting the commercial maritime industry as well, he added.
The agency is also reorganizing its personnel, Harrington noted.
"We have some changing roles within the organization, … and we have the reassignment of responsibilities," he said.
Meanwhile, the Maritime Administration is aware that technology is changing quickly and becoming more digital. "That affects us in every element of ship operations — from how the ship communicates, how we [perform] maintenance to how we monitor vessels," he said.
The administration needs to modernize its fleet, and that includes not only ships, but to better equip merchant marines with the skills they need, he added. "We need to regain or refocus on our proficiency," Harrington said.
Meanwhile, Thayer, of Military Sealift Command, noted that a number of merchant ships have recently been attacked in the Middle East — an issue that the Defense Department and mariners need to remain vigilant about.
Such vessels are being attacked by "drones and all kinds of capabilities from these folks that want to do harm," he said.
Crews need to be prepared for attempted hijacking, spoofing and jamming, Harrington noted.
"Merchant mariners that crew our ships across the MSC enterprise … must be ready now," Thayer said. "They must be prepared, and we are committed … [at] Military Sealift Command to support the development and sustainment of this workforce."
Cybersecurity is imperative for ship operators, he noted. Mariners are dealing with conditions where adversaries can hack into both commercial and military satellites while trying to operate in an environment with limited bandwidth, he said. The issue becomes even more complicated when operating on certain ships in contested areas, Thayer noted.
To get at the issue, "we've developed some capabilities … and are going with other technologies that limit the adversary's ability to intercept our communications," he said.
Military Sealift Command is currently looking at anti-jamming capabilities for GPS.
"These are the types of capabilities that we're going to introduce into the MSC fleet and need to be looked at as well" to help secure communications, he said.
Harrington concurred that increased cybersecurity protocols onboard vessels are needed.
"We're going to use cybersecurity at a much lower level where it's pervasive in the fleet … and every operator on the shores is doing it," he said.
However, resources are limited, officials noted.
"We have to have the right amount of resources for the capability that we can afford, and that's always a challenge," Thayer said.
The service is concerned about adversaries' capabilities, as well as potential supply chain issues.
"There are other countries out there that put a more significant importance on the maritime industry and the logistics behind that," he noted.
"It's not only the vessels that we are concerned about, but it's the logistics supply chain."
The service wants assistance from industry as it pursues these efforts, Thayer said.
We are "always looking to the industry on how you can support [us] and what we need … to make sure that we are resilient and capable of going forward in that contested maritime environment we've been talking about," he said.
Topics: Maritime Security