Army Tests Open Computer Standards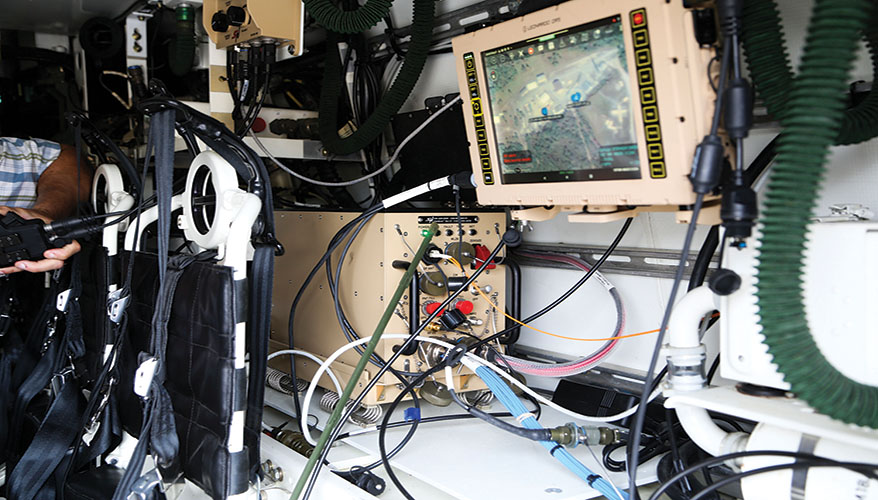 Public Domain
Recent tests of the Army's new suite of open computer standards demonstrated it will allow more advanced capabilities to fit on military platforms, according to officials.
CMOSS, or C5ISR/Electronic Warfare Modular Open Suite of Standards, was developed by the service alongside industry partners to free up space and power on its platforms, said Benjamin Peddicord, chief of the intel technology and architecture branch of the Command, Control, Computers, Communications, Cyber, Intelligence, Surveillance, and Reconnaissance (C5ISR) Center. Engineers employed the technology this summer in a prototype chassis at the Network Modernization Experiment, a C5ISR field-based demonstration hosted at Joint Base McGuire-Dix-Lakehurst, New Jersey.
The system incorporated communications, positioning, navigation and timing, and a mission command application, Peddicord said. During the experiment, the team was able to exchange information such as location data with other units using the prototype system.
"Maybe the most important lesson we learned is that the standards work," he said at a press briefing in July.
Another experiment involved different vendors attempting to integrate their software into the Army's prototype. Within days, Army engineers were able to integrate several softwares from different companies and then carry out a test mission, he said.
The experiments highlighted an increase in flexibility for soldiers if the standards are widely adopted, said Christopher Jais, product manager of PNT modernization at the program executive office for intelligence, electronic warfare and sensors.
"We've really been able to show that, for the most part, as long as you're compliant with those standards, we can take a card from one chassis to another," he said. "That's a pretty powerful tool once you start moving forward with this."
Additionally, Army engineers could upgrade any software that meets the standards more rapidly. Instead of changing the hardware to work with upgraded components, new computing elements in line with CMOSS standards could go immediately into the platform, Peddicord said.
"You don't have to tear out everything, root and branch, to make things better," Peddicord said.
The next steps for the standards will be testing them at the new Open Innovation Lab, a space where the Army works with industry to develop positioning, navigation and timing technologies, Jais said. The PNT assessment exercise, or PNTAX, will provide an operationally realistic GPS environment and soldier feedback on elements like the prototype displays, he noted.
"The PNTAX event itself really is what I would call the 'Super Bowl' for this initial prototyping effort," he said.
Officials have also been invited to bring the prototype to this year's Project Convergence — an annual series of exercises aimed at helping the Army prepare to operate in a multi-domain battlefield and test new technologies.
Topics: Cybersecurity, Emerging Technologies