Strong Growth Expected in Federal IT Spending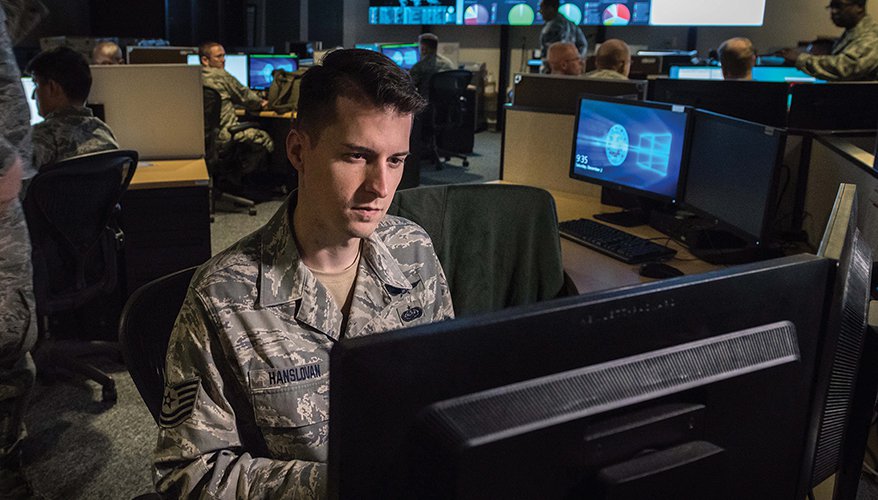 Defense Dept. photo
Federal government spending on information technology has been on the rise, a trend that analysts expect to continue under President Joe Biden.
For fiscal year 2022, the White House requested an IT topline of $109.4 billion — the highest ever, according to experts at Bloomberg Government. That includes $58.4 billion for civilian programs, $38.6 billion for Defense Department unclassified programs and an estimated $12.4 billion for the Pentagon's classified programs.
The Pentagon's request for IT for unclassified programs is 7.5 percent higher than the projected funding for 2021, and 2.3 percent higher than previously forecasted for 2022.
"President Biden has been a big proponent of IT modernization, in particular cybersecurity, since taking office," Laura Criste, director of government contracts research at Bloomberg Government, said during a recent webinar. "The [2022] budget request includes billions in new spending" for these areas.
IT software, cybersecurity, cloud computing and artificial intelligence markets are poised for strong growth, according to her slide presentation.
Congress could add additional money on top of the president's request, noted Chris Cornille, federal market analyst at Bloomberg Government.
"We've noticed in recent years … that the budget request is often just the opening bid, and that once those budgets get to Congress, Congress has a habit of supplementing those IT budgets with additional funding," he said. The enacted funding has tended to be 3 to 7 percent higher than the initial request.
"Will that be the case under the Biden administration? That still is yet to be seen," he said. But "you can see that the IT market is growing year over year. If you compare the 2022 IT budget request against the 2021 budget request, it's up about four-and-a-half percent. And we expect that to be a trend that we'll keep seeing."
Within the info-tech portfolio, the cybersecurity funding request — $20.2 billion — is about 8 percent higher than the 2021 request, Criste noted. Civilian agencies asked for $9.4 billion, including $2.4 billion for the Department of Homeland Security, $1.2 billion for Justice, and $829 million for Treasury. The Defense Department requested $10.3 billion.
"We've typically seen that the Defense Department requests a little more than half of the [federal] cybersecurity budget," she said. "We expect that to continue."
Cornille noted that about 83 percent of the government's IT budget goes to contractors.
"Not only do federal agencies rely on contractors for most of their needs, that reliance is growing over time," he said.
Topics: Cyber, Cybersecurity, Infotech