DSEI NEWS: Saab Demos New Assault Ship for Royal Marines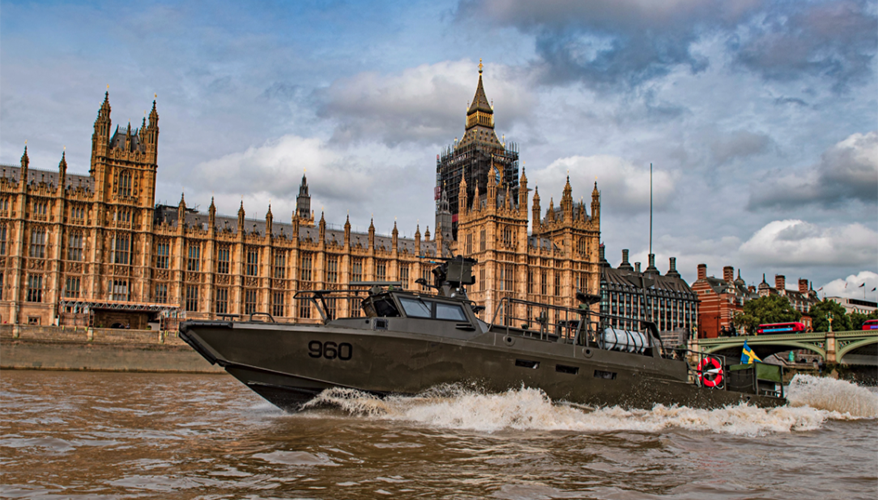 Saab's Combat Boat 90
LONDON —
After demoing a new boat for the first time outside of Sweden, Saab is setting its sights on two U.K. programs that aim to put next-generation technology in the water.
Saab's Combat Boat 90 next generation vessel was demonstrated along London's famed Thames River. The demo showcased the fast assault boat's ability to meet mission requirements for the U.K.'s Future Commando Force and Littoral Strike Group, according to Andrew Walton, Saab's vice president of strategy for the United Kingdom.
The Future Commando Force and Littoral Strike Group are specialized amphibious forces within the Royal Marines.
The boat is a good fit for the nation's needs because of its ability to easily navigate through littoral environments with troops in tow, Walton said during the Defence and Security Equipment International Conference in London.
The boat can travel up to approximately 45 mph and can carry up to 21 fully equipped amphibious troops. The platform can perform a number of different missions such as threat seeking and intelligence sharing. Its combat management system and sensors enable surveillance missions, while the new design offers improved stealth, maneuverability and speed, according to a press release.
"It is designed for littoral operations, and as well as operating in the open water," Walton said. "It can maneuver extremely well and stop from full speed to a dead stop on the length of the boat."
While the vessel is not classified as a stealthy boat, it can keep a low profile, he said. "We wouldn't classify it as a stealth ship — it is not that," he said. "But it does have a very low radar perception, and you can see that in the design."
The vessels' ability to rapidly deploy troops is a feature that Saab hopes will fit in with the U.K.'s "Global Britain" strategy, a government plan which lays out how the country will project its national interests in a contested environment, Walton said.
The vessel could be launched with short notice from a mothership alongside other boats. The vessels would offer not only a low profile, but could each ferry 21 fully equipped troops and deposit them into difficult to reach areas, he said. That will add to the total force the United Kingdom wants to project, he added.
During the demonstration, the boat was armed with machine guns, but it can also be equipped with a Mk 19 grenade launcher, naval mines and depth charges. Saab's remote weapon station, Trackfire, is an additional option.
"We create all of our products with modularity in mind," he said. "We put our best on it but if a customer wants something else, that's absolutely fine."
While the boat's capabilities would be advantageous for many customers, Walton noted that there are currently no U.S. requirements Saab is targeting for its vessel. The company recently delivered a version of the boat to the Swedish army.
Topics: International