DSEI NEWS: Robotics Manufacturer Debuts New Unmanned Vehicle Concept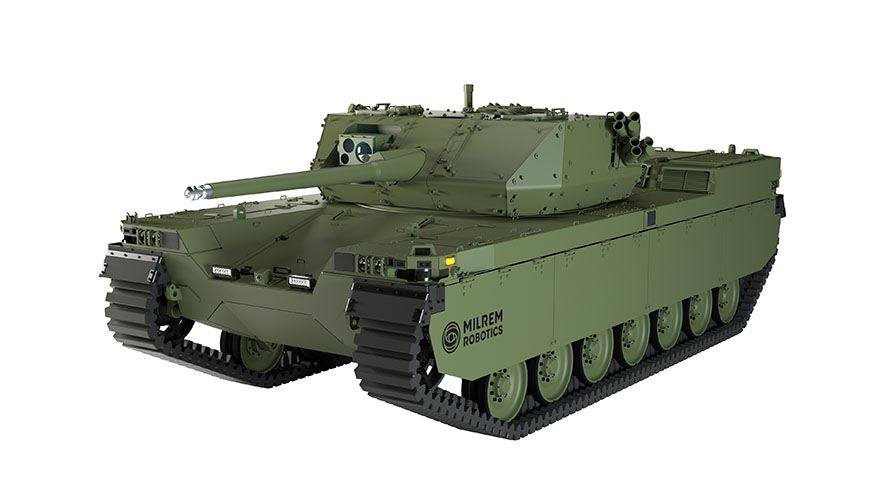 Nordic Robotic Wingman
Milrem Robotics
LONDON —Milrem Robotics and Kongsberg Defence & Aerospace are teaming up to build a new robotic combat vehicle that the companies intend to offer to the United States.

Called the Nordic Robotic Wingman, the platform will be based on Milrem's Type-X robotic combat vehicle and Kongsberg's Protector remote turrets.

The companies are considering offering it to the U.S. Army as an alternative for its Robotic Combat Vehicle-medium — or RCV-M — platform as well as other countries in Europe, said Sverker Svardby, industrial partnership director at Milrem.

The Type-X is designed to provide strategic matching or overmatching firepower while troops are at a safe distance away. It can be equipped with a cannon, anti-tank missile and a tethered drone for additional capability.

"You can basically, more or less, replace the infantry fighting vehicle, the Bradley, for instance, with it in terms of engaging targets and so forth," he said during the Defence and Security Equipment International conference in London.

Ultimately, the main priority of the concept is protecting human life, he noted.

"We can have vehicles that are ... [on] the front line and seeing the enemy first," he said. That would allow troops to remain in a secure or safer position, further back from the frontline, he added.

The vehicle will be equipped with artificial intelligence technology that will enable the platform to identity and track targets, navigate using landmarks and detect obstacles, among other functions, according to a press release.

The U.S. Army's RCV-M is expected to have increased onboard lethality, is required to weigh between 10 and 20 tons and be capable of being transported by a C-130 aircraft, according to Army requirement documents. The platform includes products from Textron, Howe and Howe Technologies, FLIR and Kongsberg.

The Type-X will reach about 50 miles per hour at top speeds and about 30 miles per hour off road with a range of about 370 miles, Svardby said. As a 12-ton vehicle, Milrem is looking at transporting it via helicopter and dropping it with a parachute from a C-130.

The Type-X platform stands out from similar unmanned vehicles because it was designed from the outset to be unmanned, not adapted from a manned vehicle, he said. That allows the company to unlock "new levels of freedom, … meaning that we can build a more optimized solution," Svardby said.

The price could be as little as one-third the cost of the infantry fighting vehicle that the Type-X is paired with, he noted. The Type-X vehicle could be delivered as soon as three years, including testing and manufacturing, Svardby said.

"There are still autonomy developments to do," he said. But it will be a matter of a few years before it's ready, and not 10 to 15 years of development, he noted.



Topics: Combat Vehicles