DSEI NEWS: U.K. SecDef Sympathizes with French Over U.S.-Australia Sub Deal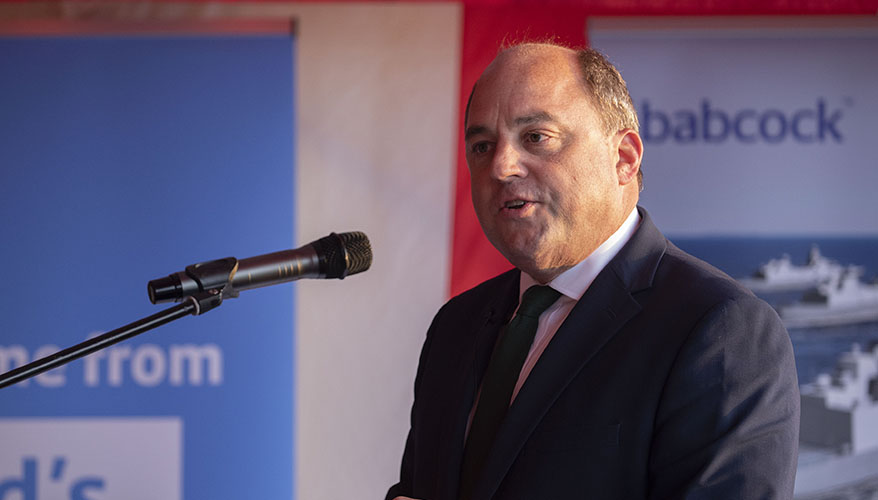 U.K. Defence Secretary Ben Wallace
U.K. Ministry of Defence
LONDON — The U.K. Secretary of State for Defence said Sept. 16 that he sympathizes with France over its loss of a lucrative submarine contract to build submarines for Australia.

Member of Parliament Ben Wallace responded in a press conference held at the Defence and Security Equipment International show in London to reports that the French foreign minister had accused the United States — and to some extent, the United Kingdom — of stabbing an ally in the back over the failed program, which will now be taken over by U.S. shipyards.

"Australia clearly wanted a strategic … change in their capability. They chose to do that obviously for their sub-sea capability and had been searching out to change from diesel-electric to a nuclear propelled, which gives them longer ranges, longer time undersea and longer periods undersea undetected," he said.

Press reports said the foreign minister had actually accused Australia of stabbing it in the back and the United States and the United Kingdom of "duping" their French ally.

The Australian government in 2016 inked a 90 billion Australian dollar deal with French shipbuilder Naval Group to build 12 submarines. Since then, the contract has had several schedule slippages.

Wallace confirmed that Australia had approached the United Kingdom about building the submarines in March, but he declined to elaborate any further on negotiations. While U.S. contractors will be the beneficiary, the U.K.'s expertise in nuclear-powered propulsion will inevitably be brought into the program, Wallace added.

"It's a very small club of nations that have nuclear-powered submarines and it gives [Australia] a strategic advantage," Wallace said.

When it comes to nuclear-propulsion technology, U.S. and U.K industries "are joined at the head," he said. "We don't get one without the other.

"I'm delighted that the United States and the United Kingdom can invest in a newer, stronger alliance with Australia … and that's the direction you want to have taken in the Pacific," he added. Yet, he expressed sympathy with France.

"If it had happened to us I would be equally disappointed on behalf of the industries I represent as defense secretary … but fundamentally this was about an Australian decision to change capability requirements," he said.

"I do that every day on a small scale. I will cancel projects. I will take risk in capabilities. I will take things out of service … and sometimes those decisions upset companies and sometimes those companies are foreign," he said.

He threw France a bone by mentioning the French defense company Thales, which has a large presence in the United Kingdom — and the United States — and is a "world leader" in submarine technology.

"It benefits from our submarine industry. It will have the potential to benefit from the new deal. It was certainly benefitting from the old deal," he said of the company.
Topics: International