DSEI NEWS: Army Leader Touts Modernization Efforts Across the Pond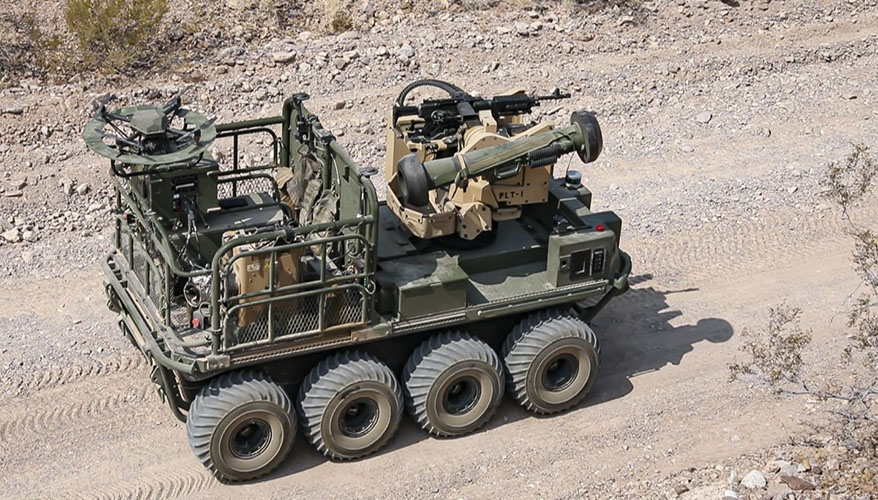 A U.S. Army autonomous weapons system maneuvers through desert terrain during Project Convergence 20
Army photo by Pvt. Osvaldo Fuentes
LONDON – The U.S. Army is collaborating with the United Kingdom as it modernizes its force, said a service official Sept. 14.

The land branch is partnering with its close ally on emerging technology to better face the growing threat of Russia and China, noted U.S. Army Lt. Gen. Erik Peterson, deputy chief of staff, G-8.

"The United States Army has not [been] modernizing in isolation," he said at the Defence and Security Equipment International conference in London. "The United States Army is sharing our thinking on these problems with our friends and allies around the world, not the least of which is that ever-growing special relationship with the U.K."

Peterson pointed to the U.K. armed forces' involvement in Project Convergence, a U.S. Army-led campaign of learning which is focused on artificial intelligence, robotics, autonomy and communications. Britain and Australia are observing the exercise this year, but will fully participate in next year's event, Peterson said. The U.S. Army requested $106.8 million in fiscal year 2022 for Project Convergence, according to budget documents.
At the DSEI conference, Gen. Sir Patrick Sanders, commander of the U.K.'s Strategic Command, also identified artificial intelligence, machine learning, edge computing and sensors as key technology areas of interest for the United Kingdom as it pursues military modernization.

The U.S. Army has been focused on six modernization priorities: long-range precision fires, next-generation combat vehicles, future vertical lift, the network, air-and-missile defense and soldier lethality.

Peterson highlighted the Army's development of autonomy and robotic capabilities across the equipment portfolio. The service hopes to "lead with machines" where possible, especially if doing so keeps troops out of harm's way.

"As long as a robot has the energy to do what it needs to do, it can stay alert and on duty indefinitely. It does not require a comfort break, sleep, nor a sense of purpose," he noted.

The Army is also developing directed energy weapons, including the mobile short-range air defense, or M-SHORAD, system that utilizes a 50 kilowatt class laser.

"We need air-and-missile defense capabilities that can defeat the full range of air and missile threats," he said.
The threat from near-peer competitors Russia and China is growing and can only be faced when the United States and allies have more advanced capabilities, he added.

"We must have the credible capability to win the first battle," Peterson said. "Demonstrating an irrefutable ability to win the first battle serves to deter aggression and is best demonstrated as a combined team of resolute allies and partners."
Topics: Internation Cooperation, Emerging Technologies, International