Marine Corps Retiring Older Training Systems to Pursue New Tech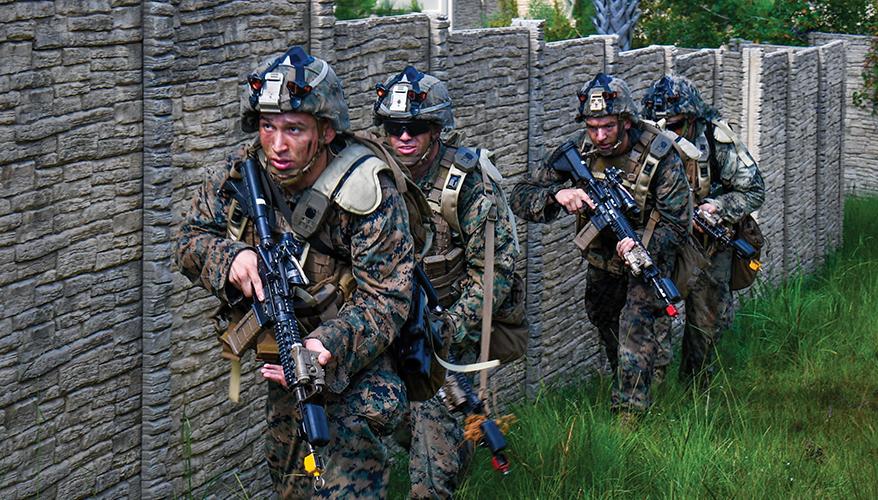 Marines wear Force-on-Force Training Systems-Next harnesses during a prototype demonstration at Camp Lejeune, North Carolina.
Marine Corps photo by Cole Dynes
ORLANDO, Fla. — Facing dynamic and challenging future operating environments, the Marine Corps is betting big on new training technology to better prepare warfighters for the unexpected.
Col. Luis "Lou" Lara, Marine Corps Systems Command's program manager for training systems, said the service is employing a live-virtual-constructive paradigm to maximize unit readiness.
LVC training leverages virtual reality and other computer-generated entities to supplement live training.
The command's No. 1 training priority is its Force-on-Force Training Systems-Next program, Lara told National Defense on the sidelines of the National Training and Simulation Association's annual Training and Simulation Industry Symposium in Orlando, Florida.
The Marine Corps awarded Saab a single award task order contract worth up to $128 million in June to produce the system. The capability will allow Marines to "train in realistic, scenario-based, simulated environments against live, role-playing opponents," according to the service.
Marines will be equipped with a harness fitted with sensors and transmitters that link to various weapons systems such as an M4 machine gun, Lara said. The weapons use blank ammunition that, when fired, emit lasers that register when a trainee's vest is hit. The data gathered during the sessions is recorded and can be played back later to provide Marines with individual and unit performance metrics to determine areas of improvement, according to the service.
The system can also be used to train with indirect fire weapons such as grenades and mortar rounds, Lara said.
Through its contract, Saab will provide equipment deliveries for individual Marine weapons and vehicles, as well as logistics and maintenance support and training exercise support for all of the Corps' installations worldwide.
The new training system will replace the Instrumentation and Tactical Engagement Simulation System, or ITESS, platform. ITESS was not designed to support large-scale exercises, such as those performed at Marine Air-Ground Task Force Training Command, according to the service.
Marine Corps Systems Command plans to field the Force-on-Force Training Systems-Next between 2023 and 2026 at bases in California, North Carolina, Hawaii, Virginia, Japan and Guam.
Over the past year, the command's range training systems office has also been busy upgrading legacy platforms, said Lt. Col. Jon Mohler, product manager for range training systems at the office of the program manager for training systems.
Since 2007, the Marine Corps has been utilizing infantry immersion trainers at Camp Pendleton, California, Camp Lejeune, North Carolina, and Marine Corps Base Hawaii in both indoor and outdoor configurations, Mohler said during the conference.
"The IITs are large, non-live fire training facilities for hands-on practical applications of ethical decision-making in an immersive, scenario-based environment," he said.
Many of the simulations conducted through IIT require the use of role players, he said. To fill that gap, the office is looking to develop an immersive training environment capable of replacing role players in various scenarios.
"The purpose would be to create high fidelity simulations," he said. The office is pursuing the effort with the Training and Readiness Accelerator Consortium. A request for solutions was slated to be released this summer. TReX — which is managed by the National Security Technology Accelerator — was created to spur innovation and expedite delivery of modeling, simulation and training-related prototypes.
Marine Corps Systems Command is also investing in its range training family of systems, Lara told conference attendees. Mohler said that includes upgrading the portfolio of automated scoring systems to provide Marines with target scoring capabilities on ground and air-to-ground targets.
This will help Marines train by giving them the ability to "engage holistic targets," he added.
Meanwhile, officials are creating a range training systems capability development document, or CDD. The document will include physical targets where Marine Corps ground and aviation units can engage with a vast array of weaponry and platforms, including armored vehicles and fixed-wing aircraft in order to support live training, he said.
The command is developing another CDD for its ground training systems family of platforms, he added.
The capability development document will outline the common characteristics of the systems' individual programs which will improve interoperability by requiring the various platforms to adhere to common technical standards and components and draw from a library of common data, Lara said.
The service is also revitalizing its Combined Arms Command-and-Control Training Upgrade System, or CACCTUS, said Koren Odermann, future technologies integration officer at Marine Corps Systems Command.
Previously, CACCTUS was an upgrade for the service's combined arms staff trainer and provides command-and-control integration and fire support coordination training for Marine air-ground task force staff up to the Marine expeditionary brigade level. It provides two- and three-dimensional visualization of the battlespace.
The command is slated to release a request for proposals for CACCTUS post-deployment software support in the September to October timeframe, Odermann said. A contract award is expected to be issued in February 2022.
The first year will include option periods starting in April 2022, with four-year options, Odermann said. Total funding is estimated to be about $13 million.
The command's Training Systems Sustainment and Support Services, or TS4, also has a number of initiatives currently in the works as it looks to take advantage of new technology, said Elizabeth Shirley, product manager for synthetic training systems. One ongoing effort is for equipment-related services systems, or ERSS, she said.
The effort is a 10-year multiple award task order contract worth up to $249 million that was recently awarded to Hatalom Corp., an Orlando-based defense contractor, she said.
Another initiative is related to electronics and communication services known as ECS.
A request for proposals was released this summer for the effort which will include a 10-year multiple award task order contract with a ceiling of $238 million, she said.
"The focus here is on software support," including post deployment sustainment and support, cybersecurity and software development initiatives, she said. As of press time, the contract had not yet been awarded but was expected to be issued in the near future.
Meanwhile, as the service invests in new training capabilities, it is divesting legacy systems in order to free up money in its budget and reallocate existing funding to new capabilities, Lara said.
"Over the last year, the Marine Corps has made some significant decisions to reduce or remove costs where systems are no longer effective and won't meet changing training needs," he said. Training and Education Command has reduced the number of deployable virtual training systems by more than half, from 676 suites to 333, he noted.
The service is not planning to ask for additional funding across its new training initiatives unless it has to, Lara said.
"We're getting rid of things that are obviously not in our mission set," he said.
The service is also taking a hard look at usage rates.
"You have training systems out there, but sometimes unit commanders don't utilize them, so if they're not being utilized and they're not being deployed, why are we maintaining them?" he asked. "We're divesting of those things."
Education and training is among the top priorities of Marine Corps Commandant Gen. David Berger as the service works to modernize its capabilities and improve readiness.
Berger "recognized a major factor prohibiting the Marine Corps from achieving his vision [was] outdated operational ranges and training areas that support training requirements," Lara said.
New technologies and innovative approaches are needed to meet the service's training needs, he said. Platforms that were relevant a decade ago may no longer be so. The service needs industry to freshen its training system tech, he added.
"By adopting new technologies in combination with new processes and approaches to problem solving, the Marine Corps — with the help of our industry partners — will accelerate its progress towards fielding an important new capability," he said.
Recent reductions in legacy combat equipment have led to the cancellation of some training systems, he noted. For example, the divestment of tank units will lead to the end of the service's M1A1 armored training system and the amphibious assault vehicle armored gunnery training system in fiscal year 2022.
Additionally, the indoor simulated marksmanship trainer inventory was reduced by 57 percent, from 485 systems to 206, Lara said.
That reduction will "allow for the development of a new capability — the advanced small arms lethality trainer — [which] is a requirements document that we're currently working with our requirements sponsor on finalizing," he said.
The service plans to field five systems initially as proof of concept.
Topics: Marine Corps News