JUST IN: Northrop Grumman Unveils Model of New Autonomous Aircraft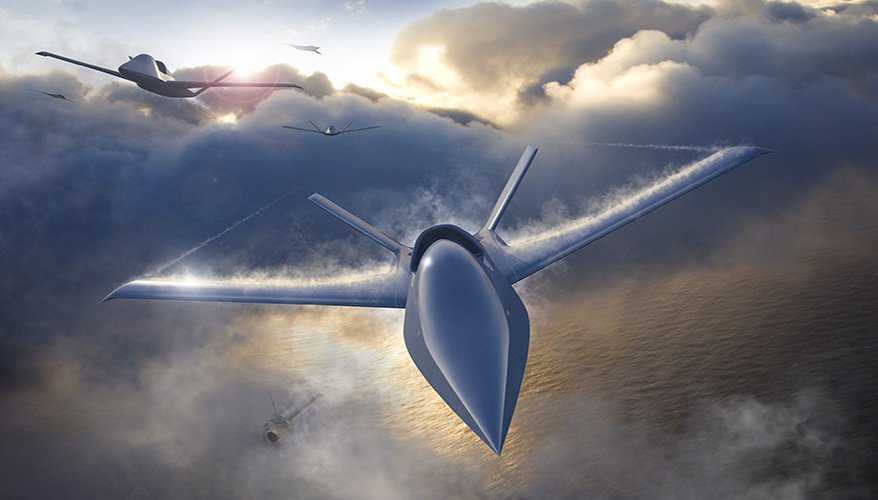 Concept art for Model 401 and Model 437 aircraft
Northrop Grumman illustration
PALMDALE, Calif. —
Northrop Grumman has designed a new autonomous aircraft that it hopes will be the answer to the Air Force's search for the next-generation of drones that could accompany manned planes into battle.
Unveiled Sept. 8 at Northrop's facility in Palmdale, California, the Model 437 — a stealthy jet with a 3,000 mile range — is a collaboration between the company and Scaled Composites.
Scaled Composites also revealed a new variant of its Model 401 technology demonstrator that can be operated in autonomous mode.
Executives said the platforms will be offered for two autonomous aircraft technology programs — the U.S. Air Force's Skyborg and the United Kingdom's Project Mosquito.
The Skyborg program is one of the Air Force's top science-and-technology priorities under its "Vanguard" initiative to deliver game-changing capabilities to warfighters. The aim is to acquire relatively inexpensive, attritable unmanned aircraft that can leverage artificial intelligence and accompany manned fighter jets into battle. Contractors are competing for $400 million worth of delivery orders for prototypes.
Project Mosquito is a British loyal wingman program that aims to fly a platform alongside the F-35 fighter jet, the multirole fighter Typhoon and its replacement, the Tempest.
While there is no full-scale prototype yet for the Model 437, executives are confident that the platform will be part of the next-generation family of unmanned aircraft systems.
"It is the solution" for low cost, attritable aircraft platform sharing, Cory Bird, president of Scaled Composites, told reporters at a media event in Palmdale.
Air Force officials have said attritable platforms — meaning low cost, expendable systems — would bring a variety of capabilities to the battlefield, serving as sensors, jammers or shooters.
Bird estimated the per unit cost of the future Model 437 aircraft could reach $5 to $6 million, depending on order volume. He noted that much of the cost comes from the engine, the Williams FJ44, which is needed to reach higher speed and longer range. The price tag for the engine alone would be about $2.4 million, but it could fluctuate depending on the number purchased, he added.
In comparison, manned fighter jets such as the F-35A joint strike fighter have a price tag of around $80 million.
At top speeds, the Model 437 could reach Mach .85, with a cruising speed of about Mach .8. It could fly alongside an F-35 and hold 4,000 gallons of fuel, according to the designers.
Bird said the system would be optimized for the low-cost attritable technology program requirements and "designed itself" based on the needs of the customer.
"It was very important" to adapt the design to gain additional speed and range, he said.
The Model 437 is a "first cousin" to the Model 401, also known as the Son of Ares. The design is similar, but the newer, autonomous plane can fly faster and longer than its more tested counterpart. The Son of Ares, equipped with a Pratt & Whitney JT15D engine, taps out around Mach .6 and is less expensive, Bird noted.
Though the 437 still needs a runway, it only requires a 3,000-foot stretch for takeoff — a shorter distance than most aircraft need to get in the air, noted Richard Sullivan, vice president of program management at Northrop Grumman.
"We see that as runway independent," Sullivan said.
Both the Model 437 and Model 401 autonomous platforms are options for Skyborg, he said. However, the requirements are still in flux, and the company is waiting on direction from the Air Force, he said.
"We're looking forward to upcoming customer engagements," Sullivan said. "The customer has been tight-lipped."
Advances in manufacturing technology such as digital engineering and low-cost production techniques ensured the quick development of the new platforms, he noted. Sullivan said Northrop Grumman's embrace of these new techniques will allow it to meet requirements when they are more solidified.
"We're in a good position because of our capabilities that we have with our digital engineering [and] digital transformation," he said. The company has "some really fantastic modeling and simulation capabilities."
Sullivan added that new unmanned platforms will be critical to keeping up with the rapid pace of advancements near-peer competitors are making.
"Adversaries are narrowing the technological advantage the U.S. and its allies have maintained," he said. "Using a family of systems approach" is the most effective way to take on new threats, he said.
Topics: Air Force News, Emerging Technologies, Unmanned Air Vehicles