SEA-AIR-SPACE NEWS: Coast Guard Networking with Industry to Aid in Space Mission Support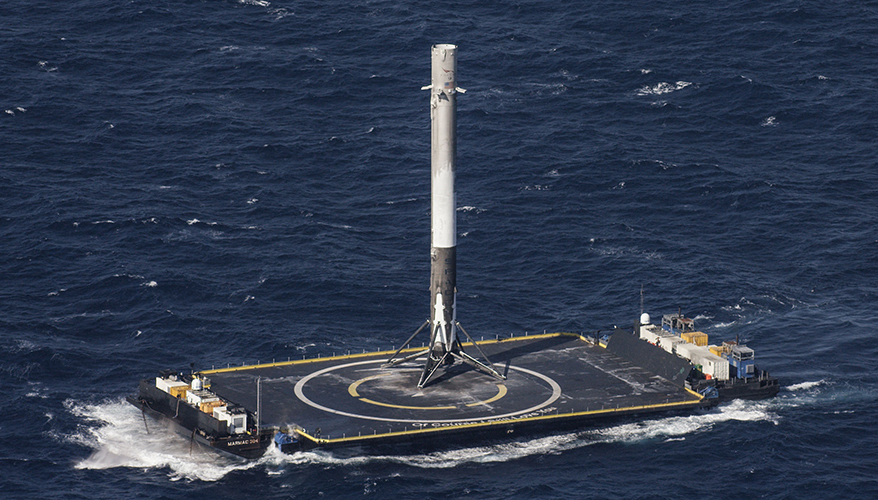 Falcon 9 rocket on an autonomous ship
SpaceX photo
NATIONAL HARBOR, Md. — The Coast Guard is pushing to expand its work with commercial space companies as the industry expands and launch activities over waterways increase, a service official said August 4.

The organization has "those same traditional roles of ensuring the safe, secure, multi-use of the waterway, but we're pushing into new stakeholders, new governance to get after" the needs of the space sector, said Rear Adm. John Mauger, assistant commandant for prevention policy at the Coast Guard. "We're working with the Department of Defense, we're working with Space Command, we're working with the Space Force and NASA to make sure that we've got the right stakeholders at the table."

The Coast Guard is performing more launch activities such as in Boca Chica, Texas, where SpaceX has a new launch site, Mauger said at the Navy League's annual Sea-Air-Space conference in National Harbor, Maryland.

To highlight the sea service's role in space launch over waterways, Mauger shared a photo of a SpaceX's rocket landing on a barge off the coast of Jacksonville, Florida.

"This transition to commercial manned spaceflight has really been an interesting thing for us, because the diversity of where this is occurring is much broader than what we saw under NASA," said Mauger.

With NASA, launches from Cape Canaveral, Florida and Vandenberg Air Force Base, California, were typical, he noted. But now, a much more diverse space industry is emerging with more frequent launches from other areas.

"When I look across the maritime transportation system and the industry that's developing with maritime ties — like space — we look at it through the lens of what I would call the triple challenge," he said. "We're trying to increase capacity on the industry side, get more use out of our facilities, our vessels, our waterway, while we're also trying to meet sustainability goals."

The Coast Guard has "a lot of interest in making sure that shipping doesn't contribute to climate change or environmental concerns," he added. "The only way that you can meet both increased capacity and drive down … environmental footprint is by getting much more complex, and we see that happening across the whole of the industry."

Adm. Karl Schultz, commandant of the Coast Guard, said he recently spoke with Elon Musk, CEO and founder of SpaceX, about the space industry's shifting landscape.

"We talked about DoD and Florida transitioning from about a dozen launches to almost 50 launches this year," he said.

The goal of the conversation was to flesh out what is inherently private industry work and what is governmental work and where the Coast Guard fits into that equation, he added.
Topics: Maritime Security, Space