SPACE SYMPOSIUM NEWS: Navy, Marines Gearing Up for Space Warfare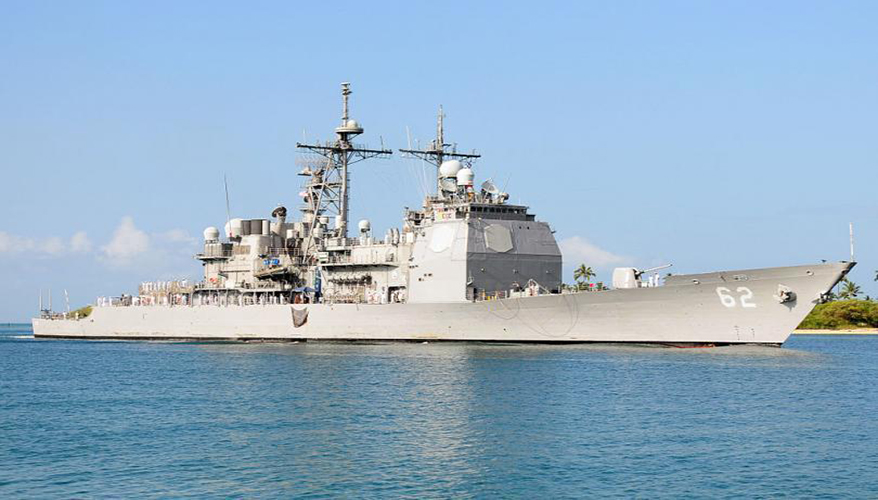 U.S. Navy Aegis ship
Courtesy Photo
For more than 200 years, the United States Navy has been tasked with protecting U.S. maritime interests. Now, the sea service and its Marine brethren must do more to prepare for space warfare, officials said Aug. 26 during a panel at the annual Space Symposium.
The Navy is highly dependent on space assets for everything from situational awareness to communications to targeting and positioning, navigation and timing. But U.S. systems are threatened by potential enemies such as China and Russia, officials noted at the confab, which was held in Colorado Springs, Colorado.
"Those adversaries have rapidly expanded their national objectives to hold at risk our space capabilities," said Rear Adm. Michael Bernacchi, director of strategy, plans and policy J5 at U.S. Space Command. "We have observed them test and deploy direct ascent and co-orbital anti-satellite weaponry."
Orbital debris also poses dangers to spacecraft, he added.
"Space is absolutely a place where the Navy is going to be fighting," said Rear Adm. Gene Price, vice commander of naval information forces.

Going forward, Bernacchi said commanding officers will have to focus more on the space dimension of military operations.
"They're going to have to understand how they're going to have to protect their ships, their crews, their submarines" from space-related threats, he said. "The enemy continues to build very capable systems, and pretty soon it will be a matter of self-defense from a space dimension. And that's just another thing that the commanding officer … is going to be responsible for. And so it will be our job to educate, train [and] develop officers who can do that."
The service plans to leverage upgrades to its Aegis air-and-missile defense systems to boost its space situational awareness capabilities. The systems' sensors will help detect, characterize and counter adversary offensive capabilities, he said.
"Over the next couple of years, both our ships and Aegis Ashore are going to have those upgrades, which allow for independent space domain capability, tracking of objects in the background, which doesn't take away from any of its other capabilities," he said. "That is a huge upgrade."

Over the coming years, there will be more than 30 ships equipped with the technology, he noted.
In the future, the Navy could employ its own counter-space weapons, Bernacchi suggested.
"If you're talking future systems — jammers, reversible effects, non-reversible effects, directed energy weapons, etc. … [deployed on] mobile platforms that move quickly and can be all over the world, that significantly complicates an adversary's decision-making," he said.
"Imagine putting space-control capabilities … on a submarine or [unmanned underwater vehicle], and then the adversary is trying to figure out where that's coming from," he added.
Price said space wasn't a high priority for the Navy during the post-9/11 wars. But things have changed as concerns have grown about high-tech peer competitors.
"Unfortunately, within the Navy, space became a backwater for awhile," Price said. But now, the service is "doubling down" in many areas and "sprinting" to catch up.

A key focus going forward will be developing space expertise at all levels, from combatant commands such as U.S. Space Command to the tactical edge, officials said.
"There's a lot of demand signal and we don't have enough [space-focused personnel], but we are running fast and we are catching up quickly," Price said.
The Marine Corps also wants in on the action.
Marine Corps Forces Space Command was recently activated to support U.S. Spacecom, the joint force and Fleet Marine Forces.
"It is currently a small footprint, but like in other domains, we hope to punch well above our weight," said Maj. Gen. Ryan Heritage, commander of MARFORSPACE. "It's a true recognition of what the fight tomorrow will look like."
One of the biggest changes underway is the standardizing of space billets within the Navy and the creation of the maritime space officer designation, so that personnel are much better trained, Price noted.
In the past, "you would go to a space billet as an aviator or as a ship driver or submariner or information warfare officer, and you would learn space and then you would move on to another job within your community and you might not ever touch space again," he said.
In the future, maritime space officers will be "doing space 24/7, 365" days a year, Price added. "They're going to be getting some of the same training that you've been seeing Air Force space officers go through for years and their career path has … been defined, and they're going to have lots of career opportunities that will enable them to stay for the long haul."
The development of new space capabilities through the requirements and acquisition processes is another major area of focus for the sea services.
"It's key that ... we also have a corps of acquisition professionals that understand system design, Navy operations and space capabilities, so we can get the right mix of requirements into the right place at the right time," said Rear Adm. Stephen Donald, reserve deputy commander for 10th Fleet. Failure in this regard will result in the Navy not having capabilities that it will need for future fights, he said.
The service has learned "some rather painful lessons" from past space programs that yielded systems that didn't meet maritime requirements, he noted.
It has established a space leadership council, naval space board, fleet-wide maritime space working group and space warfighting council to get after requirements and inform systems development, Donald said.
Meanwhile, wargames are expected to help the Navy and other Defense Department components be better prepared to tackle space-related challenges, officials said.
In the next three years, the Navy is going to become a "significant space player," Bernacchi said. "When we start talking space-control capabilities, you know we're gonna go from the small kid on the block to one of the big kids on the block."
Topics: Marine Corps News, Navy News