SPACE SYMPOSIUM NEWS: Spacecom Achieves Initial Operational Capability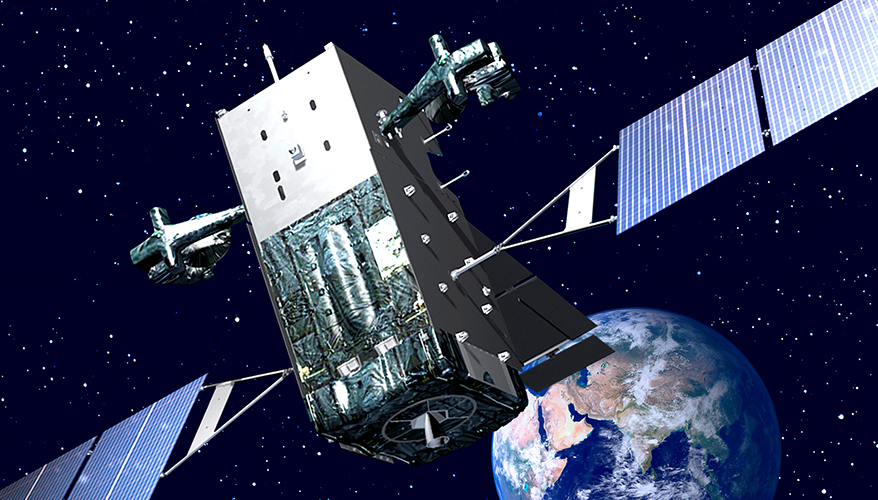 Lockheed Martin illustration
Two years after it was stood up, U.S. Space Command has now achieved initial operational capability, its commander announced Aug. 24.
Spacecom was reestablished in August 2019 as the nation's newest geographic combatant command and is responsible for all U.S. military operations 100 kilometers above Earth and beyond. Its missions include defending U.S. space assets, deterring adversaries and, if necessary, helping the United States prevail in a conflict.
The organization, which is currently headquartered at Peterson Air Force Base, Colorado, has now achieved the formal military criteria for IOC, Spacecom Commander Army Gen. James Dickinson said at the annual Space Symposium in Colorado Springs.
Initial operational capability is defined as "the first attainment of capability to employ effectively a weapon, item of equipment or weapon system by an adequately trained, equipped and supported military unit," he said. "That is a tactically focused definition."
However, Space Command's IOC milestone is more strategically focused, he added.
"It's less about fielding a specific weapon system capability, or even reaching a specific set of criteria, than it is about capability to produce effects … compared to what we've had during our establishment phase," Dickinson said.
While Space Command has been ready to conduct operations "since Day 1," it is much further along in its development than it was at its inception, Dickinson noted.
Spacecom has "matured and grown into a warfighting force, prepared to address threats from competition to conflict in space, while also protecting and defending our interests in this vast and complex domain," he said in a press release that accompanied his announcement.
The command has achieved milestones that include: receiving assigned components from five military services to Spacecom; standing up two functional components — Combined Forces Space Component Command and Joint Task Force-Space Defense — to deliver combat relevant space capabilities to the Joint Force, and to conduct space superiority operations to deter conflict, defend U.S. and allied interests and defeat adversaries throughout the continuum of conflict, according to the press release.
They also include: building Spacecom headquarters and command-and-control capabilities with 600 personnel; signing the first Spacecom operations order under Operation Olympic Defender; and adding to the more than 100 space operations-related data sharing agreements with international, intergovernmental and commercial partners, according to the release.
Dickinson published his strategic vision last year. The command will soon release a new document that will serve as a roadmap for what comes next as Spacecom strives to achieve full operational capability and deter adversaries, he said.
"You can think of it as my commander's vision but now more informed," Dickinson said. "It describes how in coordination with allies and partners, U.S. Space Command will achieve and maintain space superiority, when, where, and for how long we need it. It will lay out how we will accomplish what's necessary for space superiority to include efforts to counter competitor influence, build and maintain competitive advantages, strengthen our critical relationships and attract new partners."
Dickinson noted the threat posed by Chinese and Russian counter-space capabilities, to include spacecraft that have maneuvered close to U.S. satellites. Such systems could potentially attack U.S. assets on-orbit during a conflict.
"These kind of events … significantly challenge our ability to ensure a secure, stable and acceptable space domain," he said. "Rest assured, however, that we are engaged at U.S. Space Command. We are outthinking, outmaneuvering our competitors — and having reached IOC, our ability to do so has only increased."
In the future, the United States must be able to "dominate through space combat power," he added.
Ensuring deterrence will require demonstrating new capabilities and the will to use them, to include the development and adaptation of "game-changing" technologies, Dickinson said, suggesting that the Pentagon may soon unveil some of its counter-space capabilities that have been closely guarded secrets.
Over the next year, "we'll see further refinement of everything from our strategic level vision to our tactical level operations plans and operations orders, and it will see further integration of U.S. Space Command supporting and supported functions into key national level exercises and wargames," he said.
Such exercises will demonstrate the command's operational capabilities and supporting functions to include: positioning, navigation and timing; satellite communications; and missile warning, he added.
Spacecom will also continue to establish, refine and enforce "acceptable norms of behavior" in the space domain, Dickinson noted.
Topics: Space