SPACE SYMPOSIUM NEWS: Space Force Chief to Host International Meeting of Allies (Updated)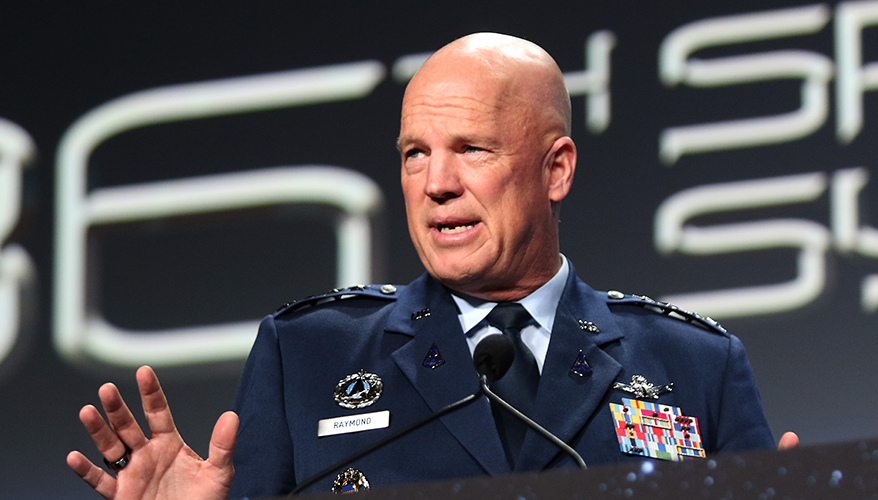 Space Foundation photo
COLORADO SPRINGS, Colo. — The chief of operations for the United States Space Force will soon host a meeting to confer with senior officials from nearly two dozen allied nations.
"This week, I'm hosting an international chiefs conference focused on space with my counterparts from 23 different countries around the world," Gen. John "Jay" Raymond said Aug. 24 at the annual Space Symposium in Colorado Springs, Colorado.
The upcoming confab is part of a broader push by the service to bolster international partnerships.

A number of the countries that will be represented at the meeting are currently training with the Space Force, Raymond noted. More than 300 international experts recently participated in the Schriever Wargames, a two-day training event focused on critical space operations.

The service is also increasing the number of international exchanges and liaison officers, as well as creating more slots for foreign personnel at its professional military education programs, Raymond said.

"While we in the U.S. are busy establishing Space Command [and] the Space Force, many of our allies and partners have elevated space in their militaries as well, including the U.K., France, Australia, Japan, and Germany, to name a few," Raymond said.

The United States is working together with partners to identify norms of behavior "so that we have a common understanding of what is safe and professional behavior in the space domain, just as we have in all other warfighting domains," he said.
Objectives for the upcoming conference are to further international collaboration by beginning conversations on what future space architectures may look like, Raymond told reporters during a media roundtable at the Space Symposium.
The service is also looking "to further the conversations on space domain awareness," Raymond said. "We benefit from those partners. We are definitely stronger together," he added.

The Space Force is already developing and utilizing capabilities with other countries, he noted.

"Although we've leveraged about $2.7 billion of partner funding in space capabilities through 40 different international agreements with 19 different nations, that's just the beginning. We'd like to see more," he added.
One of the most important resources for the United States as it prepares for a potential conflict in space is its allies and partners, Air Force Secretary Frank Kendall said during the conference.

"The United States does not fight alone, nor do we deter alone," he said. "Our allies and partners — many of whom are here — are perhaps our most significant strategic asset."

To be effective teammates, the United States and likeminded nations must link capabilities to support joint operations, he added, suggesting that more work needs to be done in this area.

"American space systems are a critical part of that network, as are the systems our allies and partners are fielding themselves in space," he said. "In my view, United States has struggled to achieve interoperability with our allies, even our closest allies. It's time to break down those barriers in space, air, land, sea and cyber domains collectively."
Update: This story has been updated to include additional comments that Gen. Raymond made during a meeting with reporters at the Space Symposium.