Trump's F-15EX Legacy Lives On in Biden Administration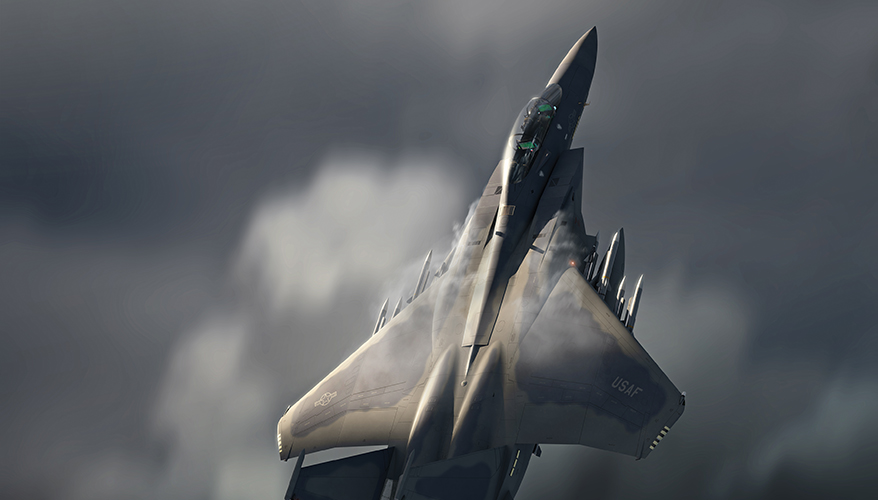 F-15EX rendering
Boeing illustration
Democratic President Joe Biden came into office vowing to reverse many decisions of his predecessor, but one controversial Pentagon program initiated under former Republican President Donald Trump's watch is moving ahead at full speed — the F-15EX fighter jet.
However, it remains to be seen how many platforms the Air Force will ultimately buy as it modernizes its tactical aircraft inventory.
The aircraft is the newest and most advanced platform in Boeing's F-15 product line, which also includes F-15C/D Eagles and F-15E Strike Eagles. The F-15EX, dubbed Eagle II, is intended to replace aging F-15Cs.
Last year, the Air Force awarded Boeing $1.2 billion for Lot 1. The deal includes an indefinite-delivery, indefinite-quantity contract worth up to $22.9 billion. The service could purchase as many as 200 planes under the IDIQ contract, according to Boeing.
"That was arguably the one real mark on tac-air that the Trump crowd left — the return of F-15 procurement," said Richard Aboulafia, vice president of analysis at the Teal Group.
The new version will feature fly-by-wire flight controls, advanced cockpit systems and BAE Systems' AN/ALQ-250 Eagle Passive Active Warning Survivability System for electronic warfare, among other capabilities.
Boeing has touted the plane's large weapons payload capacity, including the ability to carry hypersonic missiles up to 22 feet long and weighing more than 7,000 pounds.
The jet will be able to fly at Mach 2 at altitudes over 50,000 feet, according to Kevin Sutterfield, Boeing's vice president for U.S. Air Force fighter programs.
The program is expected to serve as a pathfinder for the Pentagon's DevSecOps initiative, which is aimed at developing more secure and agile software. That, combined with an open mission system architecture and digital engineering, will enable the aircraft to be upgraded more easily and quickly, Boeing officials say.
"We know that we have to build that capacity for change into the platform, in ways that nobody's thinking about even using it today," Sutterfield said in an interview.
The Air Force is exploring the concept of robotic wingmen with its Skyborg program.
"We have a weekly meeting with the Skyborg office, and they've asked us to prepare some … short-term demos and that kind of thing," Sutterfield said. "If there's manned-unmanned teaming going on in the U.S. Air Force, F-15EX will be a part of it."
The Trump administration requested funding for the fourth-generation aircraft in the fiscal year 2020 budget even though Air Force leaders at the time preferred to focus on buying stealthy fifth-generation planes such as Lockheed Martin's F-35A joint strike fighter. The service later changed its tune and voiced support for acquiring Eagle IIs.
Congress approved procuring eight of the jets in 2020 and 12 in 2021. Biden's 2022 budget request included an additional 12 aircraft.
Boeing officials said they weren't shocked that the new administration embraced the program.
"We were a little surprised by the characterization originally that it was some kind of Trump project. It certainly wasn't that from our perspective," Sutterfield said. "It wasn't a political animal in any way. It was a requirements-based conversation … with the DoD" that led to the Pentagon's decision to pursue the plane.
"They came to us and said, … 'We want to go replace those [aging F-15Cs], we want to do it in a way that is quick and allows those [Air National] Guard units that fly that airplane to convert without losing their mission capability. … We have an immediate need, and how quickly can the Boeing Co. fill it and do that affordably?'" Sutterfield said.
Boeing "made a gamble by not proposing a forward-leaning new design that would holistically advance the full spectrum of required capabilities," analysts Heather Penney and Retired Air Force Lt. Gen. David Deptula wrote in a Mitchell Institute for Aerospace Studies report, "Building an Agile Force: The Imperative for Speed and Adaptation in the U.S. Aerospace Industrial Base."
The study criticized the decision to buy the F-15EX, arguing that the platform wouldn't be survivable in a high-end fight because it isn't stealthy. However, Boeing won its "gamble."
"We leaned in and invested as a company a significant amount of money on this," Prat Kumar, vice president and general manager for Boeing F-15 programs, said in an interview. "We wouldn't have done so if we were not confident in the product and thought this was hostage to some political flavor of the day."
Key lawmakers are keen on the Eagle II. The Senate Armed Services Committee's version of the 2022 National Defense Authorization Act, completed in July, not only authorized the 12 planes that Biden requested, but also approved buying an additional five jets.
"We're very optimistic about where things are going," Sutterfield said.
Landing the F-15EX contract wasn't just a boon for Boeing.
"Fighter production is a vast enterprise," Kumar noted, adding that the F-15 program has more than 400 suppliers spread across 42 states.
"If you look across the broader industrial base … there are 55,000 people in the supply chain that support this program. And keeping that skill base gainfully engaged and ready for the next thing is really important, not just to Boeing, but also for our suppliers," he said. "If you lost that skill set, you wouldn't have a bridge to the future [Air Force fighter program opportunities]. So in that sense, it's really a very critical order for us to have."
The program also boosts Boeing's sustainment business.
Sutterfield noted that about 93 percent of the support equipment for variants of the F-15s is identical and is already out in the field, which will facilitate the transition from older models to the new one.
"Instead of a fresh air dominance design, Boeing elected to extend the F-15 franchise by offering the Air Force the F-15EXs," the Mitchell Institute report said. "This will also extend established long-term sustainment revenue at relatively little new cost to Boeing."
The program has hit milestones this year. In February, the first plane off the line flew at Boeing's St. Louis facility, and in March the Air Force took delivery of its first Eagle II at Eglin Air Force Base, Florida, for testing.
The company has built the second plane and recently started production of the third plane. The remaining jets in Lot 1 are slated to be delivered in early 2023, Kumar said.
Once the company finishes Lot 1, Lot 2 production will start, he said. "We'll have to do concurrent production of jets for our … international customers as well as domestic customers."
Boeing is ramping up its production capacity to meet anticipated demand for the jet.
The contractor plans to double its capacity to two aircraft per month, or 24 per year, with the option to go to a rate of three per month, or 36 per year, Kumar said.
The F-15EX is based on the most advanced Eagles currently in production for Qatar, and Boeing says that the plane would have 70 percent parts commonality with existing U.S.-owned F-15s, according to a Congressional Research Service report, "Air Force F-15EX Eagle II Fighter Program."
The program office has said that all 10 critical technologies are now mature, according to the Government Accountability Office's latest annual weapons systems assessment for Congress. Low-rate initial production is slated to begin in March 2022.
"Program officials stated they believe manufacturing risk at that time will be low because the F-15EX will be manufactured on the same production line — using many of the same manufacturing processes — as current [foreign military sales] F-15 aircraft," the report said. "In addition, manufacturing processes will have been proven on pilot production lines."
The program office also said the risk of design changes to production aircraft is low because the F-15EX is being built by the same line producing mature FMS variants, the GAO added.
In 2021, the flyaway unit cost for an F-15EX was about $88 million, according to Air Force budget documents. Kumar said that when non-recurring costs are excluded, Lot 1 planes would cost less than $80 million. "Over time, we are confident we can keep it below that number," he said.
A key selling point for the F-15EX has been its projected operation and sustainment costs, which have been projected to be about $29,000 per flight hour. In comparison, the F-35A currently costs more than $33,000 per flight hour to operate.
The Eagle II is one of four fighters that the Air Force plans to have in its fleet in the 2030s, along with the F-35, the F-16 and its follow-on, and a sixth-gen platform that will emerge from the Next-Generation Air Dominance program.
However, it's unclear how many Eagle IIs the Air Force will ultimately buy.
"The F-15EX program is a middle-tier acquisition program but is expected to become a major defense acquisition program following the establishment of an acquisition program baseline, which will declare the total number of aircraft included in the program," according to the CRS report. "That total is not yet known, in part because the Air Force has yet to decide its desire for Eagle IIs to replace the current F-15E Strike Eagle fleet in addition to the planned F-15Cs."
The Defense Department is conducting a number of tac-air reviews that will help shape the future force, Joseph Nogueira, acting director of the Pentagon's Cost Assessment and Program Evaluation office, told members of the House Armed Services Committee in July.
"CAPE is leading analysis focused on tac-air affordability, and the key trade­offs between capability and capacity," he said. "The Joint Staff, in coordination with the combatant commands, is leading the department's thinking on how tac-air should be employed in a future conflict.
Finally, the Air Force and Navy are conducting tac-air studies focused on assessing both near- and long-term requirements.
The results of these efforts will inform the Biden administration's forthcoming National Defense Strategy, the fiscal year 2023 budget request and the future years defense program, he added.
But lawmakers on Capitol Hill hold the power of the purse.
"Congress is faced with decisions regarding the extent to which the F-15EX program funding should be considered relative to other Air Force and DoD priorities," the CRS report noted.
Questions that could shape those decisions include: What is the Pentagon's commitment to completing the planned buy of F-35As? How does replacing F-15s fit with the Air Force's declared goal of growing to 386 squadrons? What is the national interest in maintaining more than one tactical aircraft manufacturer and, if advisable, how should that be done? And how does the F-15EX fit with the current national military strategy emphasizing capability against sophisticated adversaries?
The role of drones in the future fleet could also affect procurement.
"The use of unmanned aircraft systems may draw attention regarding the extent of the F-15EX need," the report said.
Topics: Air Power, Air Force News