ROBOTICS AND AUTONOMOUS SYSTEMS
JUST IN: Air Force to Test Robotic Wingman's Ability to Fly in Formation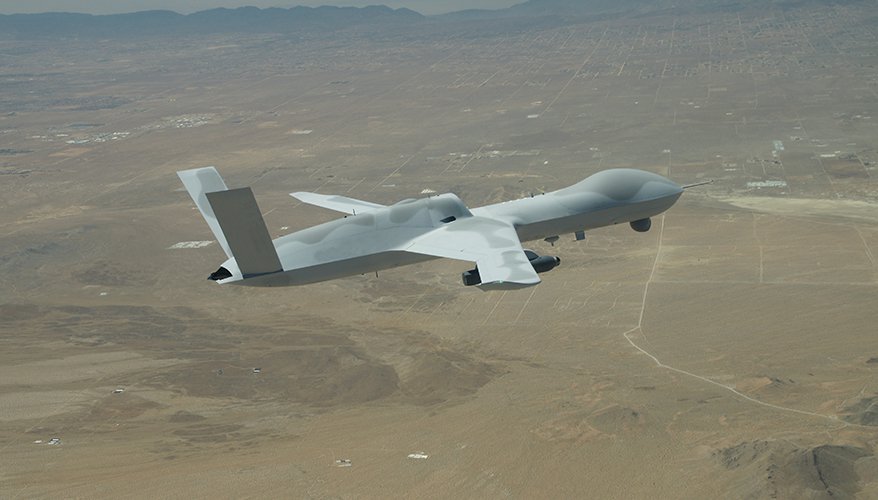 A General Atomics MQ-20 Avenger unmanned vehicle returns to El Mirage Airfield, California, June 24.
General Atomics photo
The Air Force's Skyborg program — which aims to develop robotic wingmen that can accompany manned fighters into battle — is seeing successes, and officials plan to test the ability of such systems to fly in formation during upcoming exercises and experiments, officials said Aug. 12.
The Skyborg effort is one of the service's "Vanguard" science-and-technology initiatives aimed at delivering game-changing capabilities for the future force. The Biden administration requested $58 million in research, development, test and evaluation funding for the initiative in fiscal year 2022.
The goal is to integrate artificial intelligence and autonomy into unmanned aerial systems that can fly alongside manned platforms in missions overseen by human pilots. The military is working with a number of contractors on the effort.
In June, the Air Force conducted a multiple-hour flight test of the Skyborg Autonomy Core System aboard the General Atomics MQ-20 Avenger drone during a large-scale exercise known as Orange Flag near Edwards Air Force Base, California. The goal of the Skyborg test was to demonstrate an open, modular architecture which can autonomously fly, navigate and communicate safely in environments where manned planes are operating, according to a press release.
More Skyborg experiments are planned for later this year and next year, including participation in additional large force exercises, noted Col. Charles Clegg, chief of the agile development division within the Air Force Life Cycle Management Center's fighters and advanced aircraft directorate.
During Orange Flag, the Avenger drone wasn't flying in formations with other planes, Clegg noted during a virtual roundtable discussion.
"That would be the next step. So, looking at formation flying and then also being able to have another platform in the air controlling [drones] and pass directions — that manned-unmanned teaming aspect," he said. "And then [having] that formation flying with another autonomous vehicle."
There are three types of technologies that must come together to enable the Skyborg concept, noted Brig. Gen. Dale White, program executive officer for fighters and advanced aircraft at the Air Force Life Cycle Management Center. They include autonomy, unmanned aerial vehicles and mission systems.
"We're testing all three of those aspects out over time," he said.
The service wants Skyborg technology to be platform agnostic, he said. It hopes to be able to transfer autonomy systems — described as AI-enabled "brains"— from one type of drone to another, along with various mission systems. It also seeks to marry these platforms with a variety of other assets such as fighter jets for manned-unmanned teaming.
"The modular nature of how we can do this gives us a great, great capability," White said. "The next 12 months [of testing and experimentation] are going to be phenomenal. … We've certainly got the attention of our Air Force leadership in terms of what we can do with these capabilities."
However, White declined to commit to having Skyborg transition into a program of record in fiscal year 2023, which was the goal set out by former Assistant Secretary of the Air Force for Acquisition, Technology and Logistics Will Roper.
"I won't say that it's not achievable," White said. However, "there's still some amount of work that we want to do with respect to both the platform and the autonomy piece before we make that transition. And so, we're on the path to that."
Funding availability, the balancing of other priorities across the service's portfolio, and discussions about how Skyborg will fit into the future force could influence how quickly the initiative transitions into a program of record, White noted.
"I just don't think we're ready to commit to that [2023 date] right now and I think there's many other variables that go into … when we make that leap," he said.
Topics: Robotics and Autonomous Systems