Space Force Should Heed Commercial Practices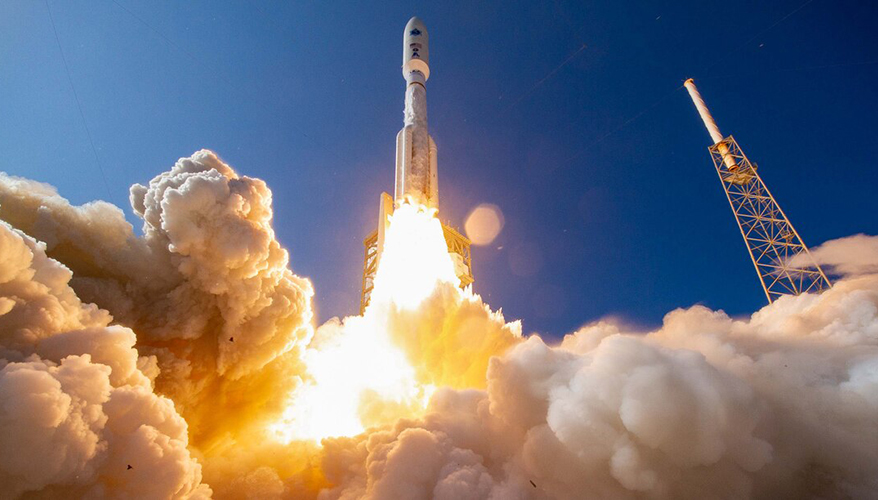 ULA photo
As Rep. Betty McCollum, D-Minn., said during a recent House Appropriations Committee hearing, "Too often over the past two decades, space acquisition programs have been delivered late and over budget."
While the issues of slow acquisition and innovation go beyond the Defense Department and the space enterprsie, for the Space Force, the problems are existential. To achieve its goals, the service must adopt best practices from government and commercial organizations; educate, train, and enable its acquisition workforce to make decisions; accept reasonable risks; and learn from mistakes.
Leveraging commercial innovation and establishing a trained, experienced acquisition workforce that can effectively balance commercial and government-only capabilities will deliver the acquisition and innovation impact that the Space Force requires.
"The U.S. Space Force is facing huge acquisition challenges with a critical need for experienced personnel," said Scott Pace, professor and director of the Space Policy Institute at George Washington University's Elliott School of International Affairs. "New legislative authorities are not as important as getting good people in place. In particular, resources are needed to train and educate national security space acquisition professionals, direct hires from industry, and transfers from other services."
Pace focused his comments on workforce because he recognizes the challenge is not a lack of innovation in the space domain — the challenge is that most innovation happens in the commercial sector, which is unburdened by large multi-year programs of record.
With more than 80 percent of the Space Force's $15.2 billion budget going toward buying hardware, software and services, the ability to be innovative is critical. While the organization tries to determine how to make trades within its portfolio, every dollar it expects to receive over the next five years is matched against a program and vendor who will fight to protect their program. Commercial companies experiment, fail, learn, and try again almost immediately. Companies such as SpaceX, Microsoft and Maxar are, to borrow from former Secretary of Defense Jim Mattis, "Moving at the speed of relevance."
These commercial companies may have adopted their culture from the early years of military space. Back then, defense leaders and Congress expected failures because they knew space programs operated on the cutting edge of science and technology, and failure drove innovation.
Between 1960 and 1962, the CORONA satellite program only had 12 successes in 30 missions, a failure rate of 60 percent over three years.
However, the program continued and, over its 13-year life, launched many successful reconnaissance satellites because the government did not cancel the program when it experienced early failures. The CORONA program demonstrates when the government accepts reasonable risks and associated failures in pursuit of innovation, it can deliver critical capabilities at the speed of operations.
Some government organizations do innovate in space, and the Space Force needs to adopt their best practices.
During a recent Advisory Committee on Commercial Remote Sensing meeting, Shawn Barnes, deputy assistant secretary of the Air Force for space acquisition and integration, said: "To better understand how to engage with the commercial world, we will need to work with the [intelligence community], study the IC model and understand the relationships."
The Space Force needs to learn from the commercial relationships the National Reconnaissance Office has built to acquire innovative remote sensing capabilities rapidly. Additionally, the new Space Development Agency quickly established relationships with commercial companies to increase innovation and decrease costs. For example, SDA paid an average of $14.1 million per satellite for its first tranche of transport layer communications satellites. The second order reportedly came in at a lower price point.
SDA adapted to the commercial market's new advances in satellite technology and fielded a smaller, more diffuse architecture than previous communication satellite programs. In return, the agency lowered costs, delivered innovation, and promoted interoperability and crosslink standards by choosing multiple industry partners.
Quite simply, the Space Force needs an educated, trained workforce able to identify and take risks. Its acquisition workforce must decide when to select a commercial off-the-shelf product or service, and when they must move to a higher-cost, government-only program of record.
Hiring experts from NRO and SDA can provide a shortcut to initial workforce capability. Still, the Space Force must also hire talented young individuals, educate and train them, and build a culture to deliver a competitive advantage to U.S. forces across the spectrum of conflict.
But what it means for the new workforce to accept commercial solutions is somewhat of an open question. One option may be a hybrid architecture, which would allow the Space Force to use commercial capabilities wherever possible while still meeting specific requirements where needed.
"DoD has the opportunity to tap into the tremendous investment in commercial capabilities happening now to create hybrid space architectures — leveraging the best of breed in technology to rapidly meet its national security requirements" said Steve Kitay, senior director of Azure Space.
"Massive terrestrial cloud-computing infrastructure is increasingly expanding in today's environment and has the potential to serve as DoD's resilient platform for data transport and analytics across the ground enterprise," he added.
Kitay highlights the exact type of programs the Space Force needs to focus on and the risks it needs to take.

Robert Van Steenburg is a regulatory policy associate at NDIA.
Topics: Space