ROBOTICS AND AUTONOMOUS SYSTEMS
JUST IN: Navy Shares Details About New 'Intelligent Autonomous Systems' Strategy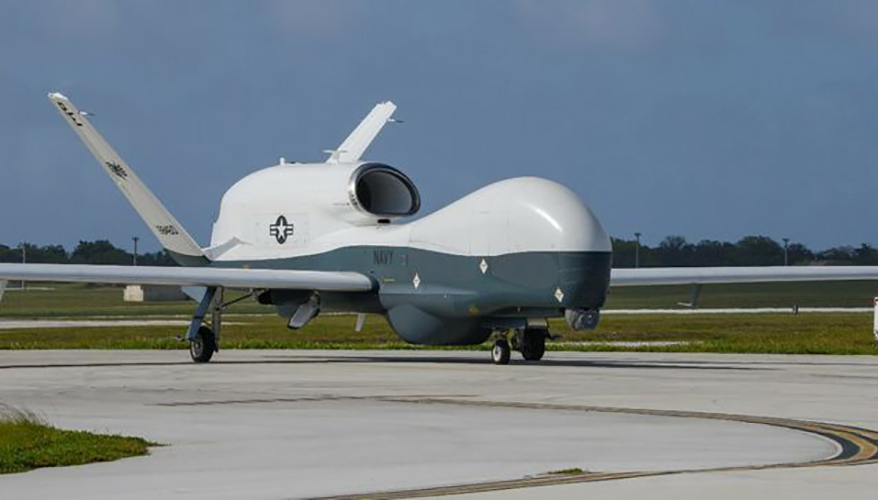 MQ-4C Triton
Northrop Grumman photo
Following the release of the Department of the Navy's "Unmanned Campaign Framework" earlier this year, the sea service recently debuted a new complementary strategy focused on intelligent autonomous systems.
The March framework — which has an overarching vision to make unmanned systems a trusted and sustainable part of the naval force structure — stressed capabilities over platforms and laid out a variety of technologies that will be required to quickly develop and deploy new systems.
Jason Stack, technical director at the Office of Naval Research, said the
Navy's new complementary science and technology strategy, "Intelligent Autonomous Systems,"
will be key to unlocking the potential of unmanned platforms.
"IAS will be a cornerstone of future naval power," he said July 27 during remarks at the Association for Unmanned Vehicle Systems International's Unmanned Systems Defense Conference.
IAS is the confluence of autonomy with unmanned systems and artificial intelligence, according to the strategy, which was released in July.
"Prevailing in the IAS competition requires us to move rapidly and focus on the most impactful outcomes," the strategy said. Objectives include setting a naval intelligent autonomous vision, providing an investment management framework for funding, workforce and infrastructure; and accelerating the development, operationalization and adoption of IAS systems.
Focus areas include capabilities, people and processes, and partnerships, the document said.
At the most foundational level, adding autonomy to an unmanned system makes them adaptable, Stack said.
"When we make machines more intelligent, at the end of the day, it is giving them the ability to adapt," he said. "When we think about what research we need to be conducting, how we need to be experimenting with [concepts of operations], how [we] as a developer community need to come together and provide more options and alternatives for DoD, this is what it comes down to — it's understanding how to grow the adaptive ability of our unmanned systems."
Systems must be able to adapt to unstructured and unpredictable scenarios at machine speeds, while overwhelming amounts of data are streamed in, he said.
"When you put these three things together and have machines that can effectively work with humans, where the machines can adapt in these ways, [then] this is a truly revolutionary matter, a truly revolutionary affair on something that the world has not seen before," he said. "That's exactly why … we claim that IAS and this sort of capability, combined with our humans, will be the cornerstone of future naval power."
Stack noted that the Navy needs to "innovate disruptively" as it moves forward.
"We have to rediscover our ability to innovate in highly disruptive ways," he said. "We have cycled through many times throughout history where we've absolutely excelled at the disruptive innovation, and it's up to us to rediscover our ability to do that."
Three attributes of disruptive innovation include experimenting early and often, fostering "bottom-up" opportunities and technological discovery, as well as prioritizing actions, learning and feedback into processes, he said.
"This is sort of the mantra of the whole Silicon Valley and small and lean startups," he said. "You prioritize action, learning and feedback above and beyond the planning to minimize risk. … One of the key features of disruptive innovation is moving out, learning as you go."
Often, the Pentagon struggles to find the right balance as it pursues new systems, Stack noted. "If you think about the old adage of measure twice and cut once, … a lot of times at DoD we measure 10 or 15 times before cutting," he said.
When building a submarine's nuclear reactor, that's likely the appropriate approach, he said. On the other hand, a Marine or sailor testing out a small quadcopter allows for a different level of risk management.
"It's up to us to come back and rediscover our ability to balance those," he said.
Topics: Robotics and Autonomous Systems, Navy News