JUST IN: NDIA Launches Emerging Technologies Institute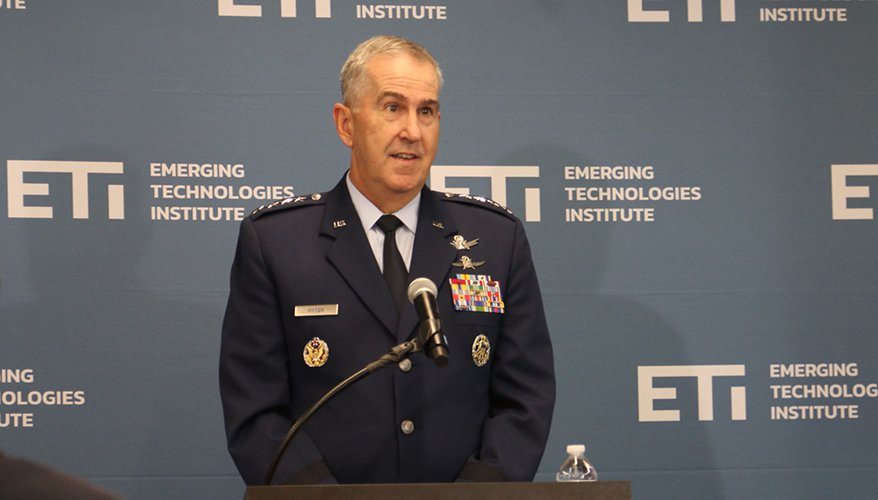 Gen. John Hyten
NDIA/Melanie Yu photo
With the aim of maintaining the U.S. military's advantage on the battlefield, the National Defense Industrial Association officially kicked off its new Emerging Technologies Institute July 26.

"In terms of the threats we face as a nation and as we emerge from the unprecedented COVID-19 pandemic, our economy and our national security are at an inflection point," said Arnold Punaro, chair of the association's board and CEO of The Punaro Group.
"As an independent affiliate of NDIA, ETI will identify and promote the technological advances most essential to our country's economic competitive needs and success," he said.

The association is putting the full force of its nationwide network of chapters, divisions and corporate members behind the effort, Punaro said during a kickoff event at NDIA's headquarters in Arlington, Virginia. NDIA is the publisher of National Defense.

ETI — which is being led by Executive Director Dr. Mark Lewis, the former acting deputy undersecretary of defense for research and engineering and director of defense research and engineering for modernization — will focus on key technology areas including artificial intelligence; autonomy; biotechnology; cyber; directed energy; command, control and communications; hypersonics; microelectronics; quantum science; space; and "5G to Next G."

Ellen Lord, former undersecretary of defense for acquisition and sustainment and a member of ETI's advisory group, praised NDIA for standing up the institute.

"NDIA has leaned forward to do something that is truly at the nexus here of national security and economic security, making sure that we are implementing critical technologies to close gaps that we have in warfighting today," she said during a meeting with reporters.

Speaking during the event, Gen. John Hyten, vice chairman of the Joint Chiefs of Staff, stressed the need for an organization such as ETI.

"How do we get to the point where we need an Emerging Technologies Institute?" he asked. "Holy cow, when I joined the Air Force, the Air Force was about modernization. It was about technology. That's what we did."

Now, facing threats from a resurgent Russia and aggressive China, the military must pick up the pace and move quickly as it procures new equipment, he noted. Beijing is already bolstering its military with new capabilities in nuclear weapons, cyber and hypersonic missiles, he added.

"They're doing all of this to challenge to the United States," he said. "We have to figure out how to respond to that, not just with the what — but with the speed necessary to stay ahead of any competitor we have in the world."

To counter adversaries, the Defense Department needs help from organizations such as the Emerging Technologies Institute "that actually gets us focused on where we need to go," Hyten said.

While the institute officially launched July 26, it recently held a workshop in June focusing on defense modernization issues. Based on that event, the institute produced a report, "The Modernization Quandary," and offered recommendations to the government as it works to procure new equipment.

When it comes to technology options and modernization priorities, the report said the Pentagon and Congress should build a margin of failure into the budget of new programs. Additionally, it should implement zero-trust cybersecurity principles across all technology areas. The government should also expand the limits of data that can be released to academic institutions to the maximum extent possible without compromising security, the report added. Lastly, the Defense Department should emulate digital engineering and data collection techniques employed by industry, according to the document.

In terms of acquisition, the Pentagon should overhaul the planning, programming, budgeting and execution process to allow for increased flexibility and transparency, the document said. Additionally, the Defense Department should clearly define ownership, use and protection as they relate to data and intellectual property. It also must continue to integrate digital engineering into production processes to accelerate timelines and reduce costs, the report said.

The report also recommended the Pentagon communicate with Congress more effectively. It suggested Capitol Hill and the Defense Department better engage with industry on emerging technologies needs and be consistent in their support. Finally, it recommended the Pentagon and Congress better articulate the threat that peer competitors such as China post to America's national security, the report said.

ETI's advisory board is made up by Punaro; Lord; NDIA Chairman Emeritus Dick McConn; Purdue University President Mitch Daniels; Paul Madera, co-founder and general partner at Meritech; and retired Rep. Mac Thornberry, R-Texas, who previously served as the chairman of the House Armed Services Committee.

ETI wants to harness the power of small businesses as it works with industry said Lord, who is currently a senior advisor at The Chertoff Group.

"[I'm] hopeful that ETI can be a channel for business — especially small businesses — where it's not as clear how to interface with DoD," she said. "The forum that ETI provides … [is] an enormous opportunity to have kind of a quick on-ramp for companies."

National Defense Industrial Association CEO Hawk Carlisle said the association is particularly well positioned to do so because most of its members are small businesses.

Lewis noted that the institute plans to hold future workshops with an emphasis on small businesses.

Looking ahead, McConn said both NDIA and ETI hope to hold a large conference in support of the organization, similar in size to the Association of the United States Army's or Air Force Association's annual conferences, which draw in thousands of participants. The goal is to hold the confab in the fall of 2022 or sometime in 2023 at the latest, he noted.
Topics: Research and Development