Air-Launched Missiles Slated as First U.S. Hypersonic Weapons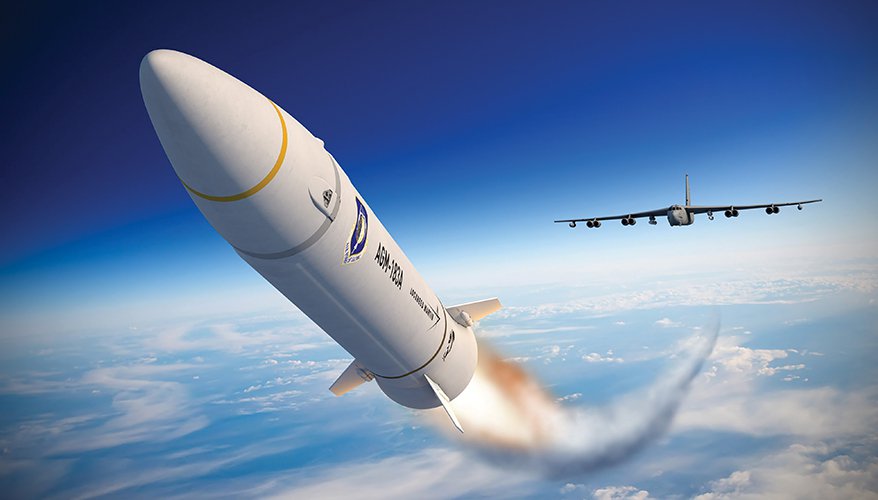 AGM-183A concept art
The Air Force's AGM-183A Air-Launched Rapid Response Weapon is poised to be the first hypersonic offensive system to move from development to procurement, the Defense Department's point man on the technology said.
There will be a number of test flights for ARRW — pronounced "arrow" — over the next year with fielding planned in 2022, Mike White, principal director for hypersonics in the office of the undersecretary of defense for research and engineering, said recently. The 2022 budget proposal released in late May supports an "accelerated buying strategy" that will transition some of the various research-and-development programs to weapons procurement, he added.
"All we need is our industry partner Lockheed Martin to deliver the capability, and then we'll buy it," White said at a talk hosted by the Center for Strategic and International Studies.
The Defense Department is prioritizing the development of air-launched hypersonic weapons such as the ARRW over land- or sea-launched systems, he said. There is also funding in the 2022 budget request to continue to develop the Air Force's Hypersonic Attack Cruise Missile and the Navy's Offensive Anti-Surface Warfare Increment 2 air-launched capabilities.
White mentioned reports that adversaries such as China and Russia have moved ahead of the United States in hypersonics, defined as platforms that can travel in Earth's atmosphere over Mach 5 and have a high degree of maneuverability.
"As you understand that landscape, you really understand how real this is and how important it is — a national imperative in my mind — that we move forward and deliver to our warfighters this capability," White said.
There are two primary types of offensive hypersonic weapon systems. One is boost-glide which calls for using a rocket booster to propel a missile to high altitudes and releasing a vehicle that glides down at high speeds. The other is air-breathing scramjet missiles.
"Cruise missiles … are smaller and are more affordable because of that smaller size, and they're more compatible with a wider range of platforms," White said.
The Pentagon is prioritizing the air-launched weapons because they will be easier to integrate onto jet fighters, he said.
"They allow us to bring in the fourth-gen fighters into the fight on day one" to launch the weapons, he said, mentioning the F-16 and F-15EX aircraft.
The Navy and Air Force are working closely together to coordinate integration of hypersonic missiles into other platforms such as bombers, he added. The ARRW boost-glide weapon has been carried by B-52s during test flights.
The Navy's Offensive Anti-Surface Warfare Increment 2 missile is being designed to be compatible with an F/A-18 jet fighter and aircraft carrier operations, he added.
"We're looking at: how do we deliver air-launched cruise missiles to get effects in numbers in the battlefield to go after high-end integrated missile defense systems? How do we deliver a long-range hypersonic weapon … capability to have multi-domain options to do deep strike against targets of critical and strategic importance on the battlefield?" White asked.
Work continues on hypersonic weapons launched from land and sea platforms.
As for hypersonic boost-glide, the Army is producing the common glide body with Sandia National Laboratories as the government lead integrator. The Navy is responsible for future weapon design, White said.
"It's not a joint program. It's an integrated program of common interest," he said.
The Navy is also pursuing a conventional prompt strike capability using a boost-glide system that will initially be launched from DDG-1000 Zumwalt-class destroyers and later Virginia-class fast-attack submarines in the late 2020s through the 2030s, he said.
Meanwhile, the Defense Advanced Research Projects Agency is working on the Tactical Boost Glide vehicle, which will be integrated with the ARRW system.
"The ARRW program is pressing ahead. We've got confidence that the glide body will work, and so we will first fly the TBG program, then quickly thereafter integrate with the ARRW program and demonstrate that the weapon system is viable," White said.
"Probably the biggest challenge we have is the supply chain and making sure that we instill quality into the systems engineering, the rigor into our weapon system build-ups and make sure that the subsystems that we integrate are ready to go when we integrate them," he added.
Meanwhile, the Air Force in 2020 canceled the Hypersonic Conventional Strike Weapon (HCSW) — pronounced "hacksaw" — boost-glide platform that would have used a modified version of the Common-Hypersonic Glide Body and be air launched from the B-52. White said the Air Force decided to proceed with ARRW because it had more confidence in its design. That doesn't mean the HCSW program is forever dead, though.
"If ARRW fails, we can always pull HCSW off the shelf and use it, because we got it through a [critical design review] and we're ready to go if we need to," White said.
Another research avenue is the Southern Cross Integrated Flight Research Experiment, or SCIFiRE, a partnership with Australia, which is funded through the office of the secretary of defense and administered by the Air Force, White said.
"It really is to bring the Australians into the fold relative to the development of the cruise missiles," he added.
SCIFiRE is intended to push the development of a cruise missile weapon configuration, White said. The Air Force's Hypersonic Attack Cruise Missile "will pick that momentum up and accelerate it forward into a viable future weapon," White said.
One issue with boost-glide systems is that as they descend, they lose velocity as they encounter atmospheric drag. White said there are concepts that combine the two approaches.
"There's this prospect of blending it. There are concepts where you have very large hypersonic boost-glide systems that have a scramjet so you want to try to minimize that reduction in velocity, and get very, very long ranges," he said.
Meanwhile, White described an acquisition strategy for the emerging technology that sounded like it was inspired by the F-35 joint strike
fighter.
"We made the decision as a department to parallelize the technology development and weapon system development, so we can field capability earlier," he said.
"We're accelerating the fielding of initial capability recognizing that that capability won't be the end-all, be-all. And we will be putting together a capability-based [science-and-technology] strategy and a capability phasing plan strategy that will then look at block upgrades as we move forward," he said.
A similar acquisition strategy known as "concurrence" is being used for the F-35. Secretary of the Air Force nominee Frank Kendall once called this "acquisition malpractice."
Dr. Mark Lewis, a hypersonics expert and director of the National Defense Industrial Association's Emerging Technologies Institute, said there is a fundamental difference between what White was describing for hypersonics and the F-35 approach.
"In the case of the F-35 we're referring to a single program, where initially promised capabilities aren't being delivered but instead deferred," he said in an email.
Current hypersonics efforts are a series of multiple weapons and systems, including ground-, sea- and air-launched weapons. There are also the two approaches: boost-glide and air-breathing missiles.
"In this case, I think his approach makes perfect sense," Lewis said.
"Given the timelines the department is trying to meet — responding quickly to the Chinese threat — it would be wrong to do these two development paths in a series," Lewis added.
Doug Graham, vice president of advanced programs development at Lockheed Martin Space, said a 10-plus year acquisition cycle isn't going to cut it.
"That just isn't adequate to meet the needs of the nation," he said at the CSIS event.
After years of seeing the government's interest on hypersonics wax and wane, the fact that the Biden administration is continuing and building on the work of the Trump administration is "hugely important, because we have a significant challenge ahead of us," Graham said.
White said the accelerated development strategy for hypersonics was planned during the Trump administration, but has also had strong support from the Biden administration to continue the momentum. He called the Biden administration's budget proposal for fiscal year 2022 a "milestone" in hypersonics development.
"It really is an important statement that we've made in the department and the new administration to move forward," White said. "Now it's in the hands of Congress as we move forward to try to make sure that we can communicate the importance of this. They've been very supportive thus far," he added.
Graham said: "I'm confident that we are going to show some success at the flight testing ranges that are going to feed into prototype systems and then fielding these systems in volumes."
Graham acknowledged that there is work to do on educating those in the public and Congress who think the military is pursuing too many hypersonics programs, rendering them redundant. But they are a family of systems and complementary, he added.
"These are all very different systems. In some cases, different platforms, ... different payload sizes, different speeds, different ranges and different survivability" and must attack different kinds of targets, he said.
There is also a lot of work to do on building up the test and evaluation infrastructure. Wind tunnels don't just pop up overnight, he noted.
White said there are big plus-ups in the 2022 budget request for wind tunnels and flight-testing infrastructure, including converting a Global Hawk unmanned aircraft to monitor flight tests — called a Range Hawk — rather than a string of Navy ships, which White said was costly.
As for the costs of the weapons themselves, industry leaders said they know they have to work to keep the prices down so they can be produced in mass quantities.
Lisa Brown, vice president for missile defense solutions at Northrop Grumman, said companies have to work closely with the government to redefine requirements, which will keep costs down.
Building the missiles in volume drives affordability, Graham said. The Air Force and Navy working together on their air-launched systems also helps tremendously as they can invest in common systems.
Erin Kocourek, senior director and hypersonics campaign lead at Raytheon Missiles and Defense, said international cooperation is another way to achieve affordability.
"Allied cooperation could also play a role in affordability. We are starting to see that in SCIFiRE," she said.
White emphasized the importance of civilian cooperation as well.
"NASA is truly a partner in hypersonics. We have a quarterly meeting where we coordinate … not only in the area of test facilities but in subject matter expertise. NASA researchers are involved in our DoD programs and give us advice and lend their expertise to their development activities," White said.
Topics: Emerging Technologies