JUST IN: Navy's Newest Ships Finding Work as Testbeds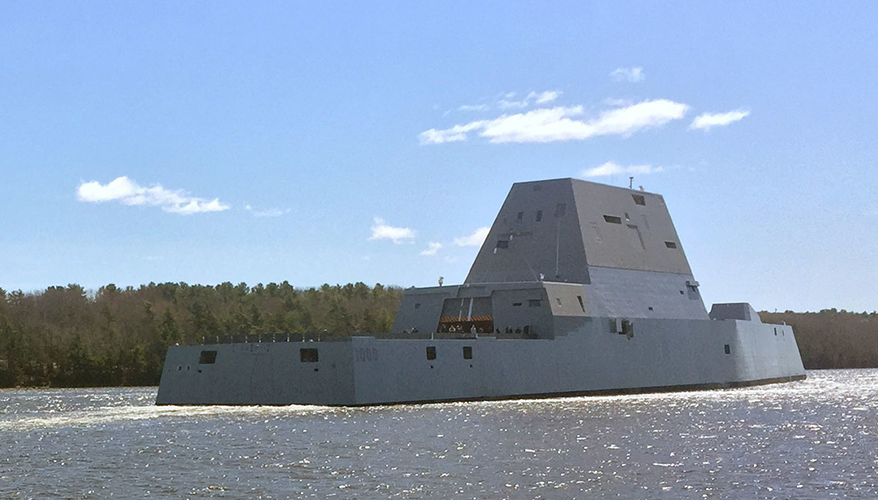 USS Zumwalt (DDG-1000)
(Navy photo)
Facing advanced adversaries such as China, the Navy is looking to utilize some of its newest ships to test high-tech weapon systems, including hypersonic missiles, a top official said July 22.

The Navy is planning to test a Conventional Prompt Strike hypersonic boost glide missile and weapon system — developed in partnership with the Army — on the DDG-1000 USS Zumwalt destroyer, said Vice Adm. Roy Kitchener, commander of Naval Surface Forces.

"That's a pretty powerful weapon with its capabilities," he said during a meeting with reporters at the Pentagon.

Lockheed Martin — which is developing the platform — announced in May that it had conducted a significant live fire hypersonic strike system test in support of the system.

Kitchener noted that while hypersonic weapons are still being developed, "it's a pretty viable path," he said. "There is a way ahead here."

Meanwhile, the Navy hopes to use its fleet of stealthy Zumwalt-class destroyers to prove new concepts, he added. The service has three of the futuristic looking vessels in its inventory, though it had originally intended to buy more of them before costs swelled.

DDG-1000 will likely take part in an exercise next year, Kitchener said. Additionally, DDG-1001 USS Michael Monsoor recently took part in an exercise known as the Unmanned Systems Integrated Battle Problem and worked alongside unmanned vehicles.

Unmanned vessels are becoming an increasingly important technology for the Navy, and it is testing a variety of systems including unmanned surface, underwater and aerial vehicles. Kitchener noted that the Independence-variant of the littoral combat ship also offers new opportunities for testing the technology.

With that platform's "mission bay and its ability to put USVs or UUVs or UAVs on that flight deck, I think that there's some experimentation there we want to continue to do," he said.

Other weapons the service wants to experiment with include anti-surface warfare systems and new strike missiles, he said. He noted that a new missile was recently deployed from an LCS in the Western Pacific.

"We're just looking for more ways to get more stick out there," he said. The Navy will probably experiment with some new weapons next year at the Rim of the Pacific and Valiant Shield exercises, which both take place in the Pacific, where an aggressive China is rapidly expanding its naval fleet.

The Navy also wants access to more targeting data from its ships and is looking at several different concepts to do so, including Project Overmatch, he said. The program is the Navy's offering for the Defense Department's joint all-domain command and control concept that is meant to link the various armed services networks together. While the Army and Air Force have been vocal about their JADC2 developments, the Navy has been mum.

"We continue to work on the Project Overmatch," Kitchener said. "One of the things that I'm incredibly interested in is its ability to rapidly develop and deploy software. I think that's a game changer for some of the things that we're doing."

However, despite ambitious plans for testing new technology, Kitchener noted that the service must be careful to not make mistakes as it develops cutting edge systems. The service has been dogged by issues on several platforms such as the LCS and the CVN-78 USS Gerald R. Ford aircraft carrier.

"We really have to have rigor in our land-based testing," he said. "There's got to be some rigor in testing these things before we put them" in the water.
Topics: Navy News, Emerging Technologies