JUST IN: Navy Chief Says Flat Budget Will Impede Fleet Growth (Updated)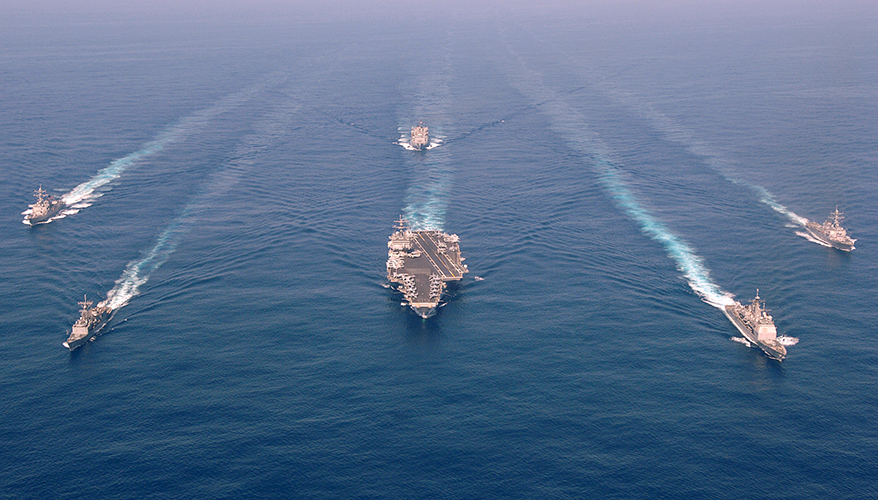 Navy photo by Photographer's Mate 3rd Class Rob Gaston
The Navy will not achieve its fleet growth goals if the service doesn't get a budget boost, Chief of Naval Operations Adm. Mike Gilday said July 20.

There are currently just under 300 ships in the Navy's manned battle force. The 30-year shipbuilding plan released in December in the final weeks of the Trump administration, called for growing the fleet to 316 ships by 2026 and 355 by the early 2030s.

"I still think that 355 is a good target, but the reality is that we can't really afford to have a Navy bigger than one that we can sustain given the resources that we receive," he said during a Navy League event. "Based on our current budget, I believe the analysis shows that we can afford a fleet of about 300 ships, that includes the manning, the training, the equipping, the supply parts, the ammunition, … the flying hours, all of that."
In June the Biden administration provided an update to Congress that envisioned a fleet of 321 to 372 manned vessels. A new, more detailed 30-year shipbuilding plan is expected to be released with the fiscal year 2023 budget request next year, according to Navy documents.

It's going to be challenging to move the Navy toward a 355-ship fleet "if our topline stays the same or if it decreases," Gilday added. "If it decreases, I think that we're likely going to see a declining fleet in terms of capacity."

Sixty percent of the Navy's budget is for manpower, operations and maintenance, Gilday noted. "Those costs are increasing on an annual basis at about ... two-and-a-half percent above inflation. That's going to eat away at our ability to grow [to a] capacity that will ever approach above 300 ships based on how we're funded right now."

President Joe Biden's fiscal year 2022 budget request would slightly increase the Navy's topline but decrease the service's shipbuilding and aircraft procurement funding, according to documents released May 28.

In the request, the Department of the Navy, which also includes the Marine Corps, would receive a topline of $211.7 billion, which is a 1.8 percent increase from the enacted fiscal year 2021 budget of $207.1 billion.

The Navy's shipbuilding account would decrease by $700 million for a total of $22.6 billion. The request would maintain a 296-ship fleet.

In recent days, Gilday has testified before members of Congress about the fiscal proposal, and outlined the service's investment strategy for the topline that Biden has put forth. Congress holds the power of the purse, and appropriators determine how much funding the military receives.

"I really talked about the need to make strategic investments in three key areas," Gilday said at the Navy League event. One of those is the Columbia-class ballistic missile submarine, which is the service's top acquisition priority. "We need to deliver that platform on time before the end of the decade in 2028," he noted.
The other areas of further investment highlighted by Gilday include the need to bolster shipyards and strategic sealift
"This is a once in a century investment that we need to make [for shipyards] in order to maintain many of the submarines that we're building today," he said. "Strategic sealift is another area that I felt we've under-invested in for a number of years."
Update: This story has been updated to note that the Biden administration submitted an update to the shipbuilding plan to Congress in June.
Topics: Navy News