VIEWPOINT DEFENSE DEPARTMENT
Nuclear Defense Not Just a Cold War Problem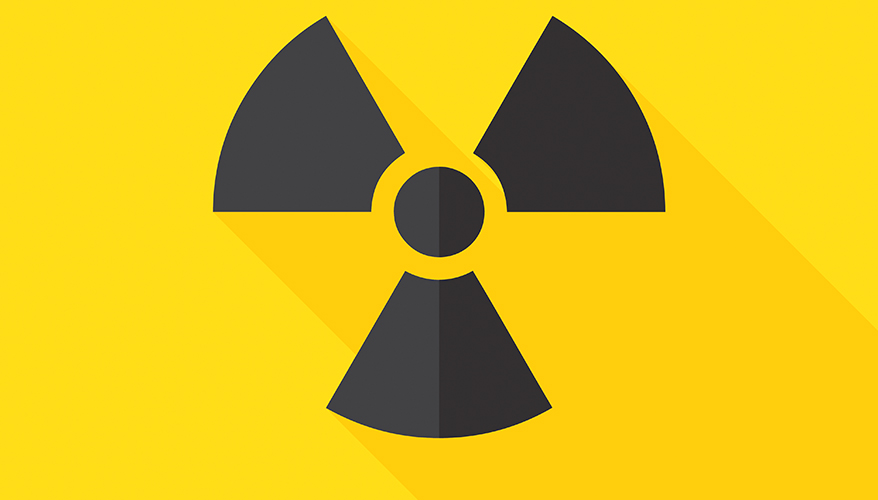 iStock illustration
The threat and consequences from nuclear or radiological events remain as real today as at any time since the advent of nuclear weapons.
The employment of a nuclear weapon would have devasting effects that include blast, thermal, electromagnetic pulse and radiological fallout. We have seen that radiological hazards can also result from natural disasters that damage nuclear power plants, such as the events from the 2014 tsunami in Japan.
While blast and thermal effects are immediate challenges, perhaps the greatest military and civil operational challenges of a radiological or nuclear event are identifying radiological hazards, monitoring potential exposure and diagnosing radiation injuries. As radiation exposure comes in many forms, including external and internal exposure to radioactive isotopes — either deposited on the skin externally or internally through inhalation or ingestion — or from external exposure to ionizing radiation energy alone, one of the most essential elements of mass casualty management is diagnosing and triage of radiation injury.
Since 9/11, comprehensive emergency planning and preparedness guidelines for management of a domestic radiological or nuclear event have been developed at the federal level.
Military and civil defense capabilities to respond to these threats have greatly advanced at both the federal, state and local level over the last several decades. However, these advancements have not kept pace with the evolving threat and operational environments.
Effective response requires enhanced detection, identification and protection technologies; improved medical countermeasures; along with repetitive training, education and exercises to ensure that local, state and federal organizations have the capabilities and proficiency to mitigate the effects of an incident.
To raise awareness, the National Defense Industrial Association's Chemical, Biological, Radiological and Nuclear Division sponsored a radiological and nuclear passive defense workshop March 24.
The workshop highlighted that defense technologies are required to maintain a competitive advantage in the current and future global environment and also to effectively respond to accidental release of radiological material such as was seen during the response to the nuclear accident at Fukushima Daiichi in Japan.
These same capabilities would be used to respond to a nuclear event in the homeland. Contrary to many assumptions, new technologies exist to improve warfighters' ability to survive and operate in a radiological contaminated environment, and work is being done to improve and enhance existing legacy capabilities.
One challenge participants identified was the need to improve existing capabilities within the Defense Department, which is limited by the number of requirements. These requirements are foundational in guiding the identification of new tech or focusing the engineering enhancements for proven technologies to improve radiological detection, monitoring and identification. An added benefit of well-defined requirements is that they can help improve dialogue between the department, users and industry to ensure timely, cost effective and sustainable modernization of radiological defense capabilities. Incorporating realistic and demanding radiological effects into training events and exercises increases organizational readiness and provides an excellent source of information to define new requirements to improve capabilities.
Another key theme was the value of centralized advocacy and resourcing to ensure compatibility across the joint force where missions are similar; as is the case with chemical, biological and radiological events. Without a consistent advocate, funding profiles fluctuate and increase the time and cost to deliver new solutions to warfighters. It also disincentivizes industry to invest in this area, leading to a weak industrial base and supply chain.
An additional area that can help increase compatibility and potentially reduce costs is leveraging partnerships with other federal agencies and even civilian nuclear safety operations to find the best solutions.
The workshop also highlighted that advances in communications and decision support technologies provide great opportunity to increase understanding of a radiological hazard sooner, and could enable decisions that prevent loss of life or equipment and even avoid long-term health effects. These technologies are being leveraged to improve integrated early warning and enhanced decision-making for chemical and biological threats and should be required to account for radiological effects.
The workshop did not focus on radiological health effects, but the discussions did highlight that medical countermeasures are a critical component of radiological-nuclear defensive capabilities since physical protection options are limited.
It also highlighted that there are valuable lessons learned that can be applied from the occupational health community and the COVID-19 response and improve the capability to protect and treat individuals.
In summary, there is much left to be done to improve radiological defense capabilities and there needs to be a collaborative effort between industry and government. Defining requirements provides the direction for where capabilities can be improved, but consistent centralized management and resourcing is critical to deliver solutions and sustain the unique elements of the industrial base associated with this mission area. Capabilities and solutions must include medical and non-medical aspects and ultimately lead to more timely decisions to protect personnel and accomplish the mission.
This workshop was the first in a series of quarterly events that will be hosted by the CBRN Division and served as a prelude to the upcoming annual symposium, which is scheduled for Aug. 17-18 at the Baltimore Harbor Hilton.

William King is the vice chair of NDIA's CBRN Division and a senior fellow at Booz Allen Hamilton. Retired Army Col. Ron Fizer is the director of programs for NDIA's CBRN Division and a fellow at LMI.
Topics: Defense Department