Air, Naval Forces Eating into Army's Share of Budget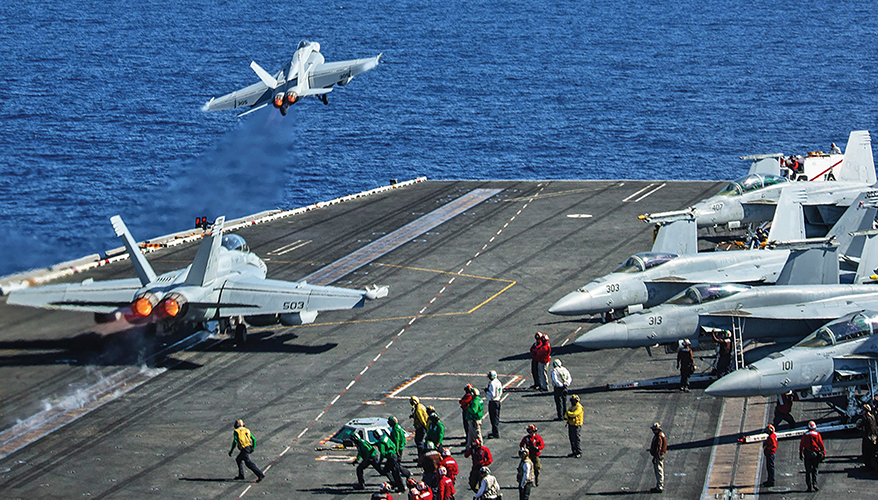 An F/A-18E Super Hornet and an EA-18G Growler take off from the flight deck of the aircraft carrier USS Theodore Roosevelt.
Photo by Petty Officer 3rd Class Alex Perlman
President Joe Biden's 2022 budget would continue a trend of providing a growing portion of the military's resources to air and naval forces— raising questions about how low the Army's topline will go as a share of the Pentagon's fiscal pie in coming years.
Air and naval forces went from a 48 percent share of the defense budget in 2013 to a 52 percent share in 2021, while the portion going to ground forces shrank from 35 percent to 32 percent during that same time period, said Travis Sharp, a research fellow at the Center for Strategic and Budgetary Assessments.
"The fiscal year '22 request continues this trend, providing 53 percent of the topline to air and naval forces and 31 percent of the topline to ground forces," he said during a recent panel hosted by CSBA. The Air Force's share has been increasing the most, while defense-wide accounts have remained relatively constant, he added.
The shift coincides with the United States' refocus on great power competition with China, which the Pentagon has identified as the primary "pacing threat," he noted.
"Most experts agree that military competition and conflict with China will primarily — although not exclusively — occur in air and naval" domains, Sharp said. "For that reason, I think it's logical to expect that DoD would be allocating a bigger share of its budget to air and naval forces relative to ground forces."
The Army in particular has been the bill payer for the other services' fiscal plus-ups, he said.
"For me that sort of raises the question of whether or not there's a floor on how far ground forces can go in terms of their share of the budget," Sharp said. "We've already seen some public commentary and debate about whether or not funding should be reallocated from the Army and the ground forces to the other services. And so I expect that that will be one of the big questions and big debates, both in this budgetary year as well as in future years."
Biden's 2022 request would reduce Army funding to $173 billion, a $3.6 billion cut relative to the amount appropriated for 2021.
People, readiness and modernization are the service's top priorities, said Brig. Gen. Michael McCurry, director of force development in the office of the deputy chief of staff, G-8.
"The pressure on the [research, development and acquisition] accounts was felt in FY '22 with a $4.2 billion reduction," he said during a recent panel hosted by the Association of the United States Army.
The service tried to protect its "31-plus" modernization priorities and key enablers from the budget axe, he noted.
Since 2018, Army leaders have been "looking under the couch cushions for funds" through their "night court" program reviews that are aimed at freeing up money for top modernization projects in an era of fiscal constraints, he noted.
In the first few years of night courts, the Army shifted about $30 billion from other programs to its modernization priorities, according to McCurry.
Those efforts will continue. However, "the struggle there is we have picked all the low hanging fruit … and cut most of our [lower priority] programs about as far as we could go," he said. "Further reduction would force us to make some hard choices between modernization priorities and sustainability of those enduring programs" for upgrading older systems.