Space Force Has High Hopes for New Missile Warning Satellites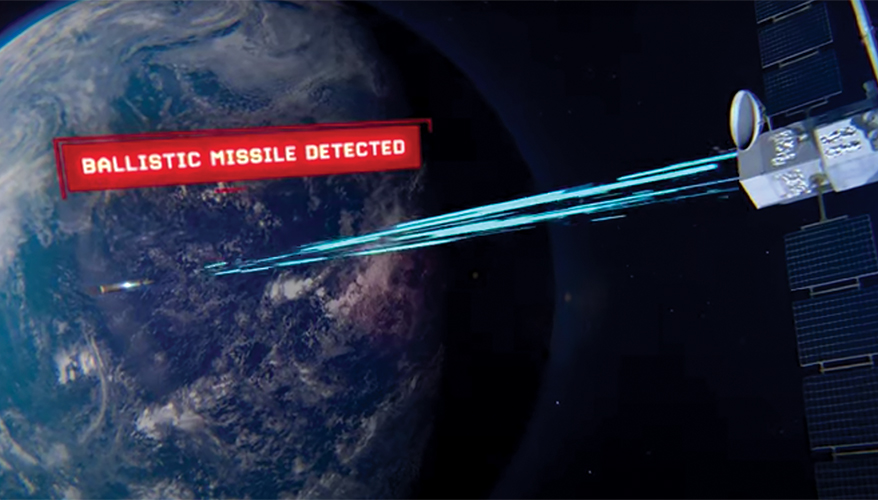 Next-Gen OPIR concept art
Raytheon concept art
The Space Force is pursuing a new generation of satellites and associated ground systems to better detect enemy missiles and provide greater resiliency against counter-space weapons. The Biden administration is boosting funding for the project as the military tries to stay ahead of the evolving threat.
The Next-Generation Overhead Persistent Infrared platform will replace the legacy Space-Based Infrared System, or SBIRS. Infrared sensors are an important tool for intelligence-gathering because they can detect heat emanating from enemy missiles and alert other assets.
Officials are using middle-tier acquisition authorities and rapid prototyping to shave time off of the program. The Space Force aims to launch the first Next-Gen OPIR satellite in 2025, and have all five Block 0 satellites in orbit by 2030.
The new space architecture "will provide improved missile warning, missile defense, battlespace awareness and technical intelligence collection," according to Pentagon budget documents.
President Joe Biden's fiscal year 2022 budget request called for $2.45 billion for the program, about $132 million more than the Trump administration had planned to spend that year.
Officials have been tight-lipped about the detection capabilities that the new system will possess because much of the information is classified.
"What I will say is that … there are shorter burn missiles, there's advanced fuel, there's a larger range of heat signatures — and we know that that requires more capable sensors," Col. Dan Walter, senior materiel leader for Next-Gen OPIR at the Space and Missile Systems Center, said in an interview. "We are improving the capability above and beyond what SBIRS has right now to be able to detect a broader range of the missile arsenals that are out there."
The new system will also be more survivable against emerging threats, officials say.
Counter-space weapons that could be employed by adversaries against U.S. spacecraft include direct-ascent anti-satellite missiles, co-orbital ASAT weapons, directed energy systems, electronic jamming or cyber attacks, according to the Center for Strategic and International Studies' "Space Threat Assessment 2021" report.
Walter said: "We have taken a look across multiple threat vectors when it comes to counter-space capabilities that can hold our assets at harm and prevent us from performing our mission, either temporarily or permanently, and are deliberately designing the capability to be able to counter those threats."
Contractors working on Block 0 are expected to deliver three new geostationary satellites and two polar satellites. Lockheed Martin will provide the geostationary spacecraft and Northrop Grumman the polar platforms. Raytheon and a Northrop Grumman-Ball Aerospace team are designing sensor packages for the systems.
Having satellites in an elliptical polar orbit to complement the platforms in geosynchronous orbit will provide significantly greater coverage, Walter noted. That is important because missiles launched from Russia or other adversarial nations could fly over the North Pole region in an attack on the United States.
With "the look angles from GEO, we tend to miss a little bit of the northern latitudes," he said. "The polar satellites allow us to cover down on the area we just can't see [with GEO systems] and provide persistent coverage of the North Pole. So, we're able to get essentially all of the areas of interest that we need to with a combination of the GEOs and the polars."
A related missile warning effort known as the Future Operationally Resilient Ground Evolution, or FORGE, initiative is intended to provide a modular, extensible and cyber-hardened ground system to operate and process mission data downlinked from satellites; an on-ramp to demonstrate novel infrared technologies; and an integration effort at the enterprise level, according to budget documents.
Biden's 2022 budget request included $515 million for FORGE, slightly more than the $498 million enacted for 2021.
"FORGE is very critical for Next-Gen OPIR," said Lt. Col. Trevor Johnson, program execution leader for the Future Operationally Resilient Ground Evolution.
"Part of the modernization effort … is creating a modular and scalable mission data processing architecture, which will allow for new OPIR mission area capabilities to be added more frequently and efficiently," he said in an interview. "We'll be able to rapidly integrate new sensors, new algorithms and new software solutions in order to continually meet emerging threats."
FORGE will provide a cyber-secure capability that can more effectively and efficiently process the increased amounts of data that will be collected by Next-Gen OPIR satellite payloads, he noted.
Raytheon is responsible for designing the ground system, but the government will own the technical baseline for FORGE, which will facilitate upgrades, Johnson noted.
"If there's a better algorithm out there or a better piece of software that can do a part of our missile warning mission more effectively, we want to be able to bring that in rapidly without having to change the whole system," he said.
FORGE will leverage a number of apps for mission data processing, Johnson said. Raytheon has been tapped to create the framework.
"The application framework is where the applications ride on," Johnson explained. "It's the platform that enables the data to flow across the platform and get it to the right application and interface."
There will be sensor-specific processing that "takes the data that's coming off of the payload, calibrates it and normalizes it, and puts it in the right format to be moved," he said. Apps will also need to take the calibrated data and turn it into "something meaningful that the operators can use to release messages for our missile warning enterprise," he added.
The intent is for FORGE to be able to incorporate more applications as needed. That's why having a government-owned architecture is important, Johnson noted.
"Not only can we bring in additional apps to do other things in the future, but if we want to take the applications we have and give them to someone else — another vendor or contractor — they can improve on those apps and then redeploy them onto our framework," he said.
Meanwhile, a critical design review for the Next-Gen OPIR Block 0 GEO spacecraft is slated for the fall. "That means we are establishing the technical baseline and locking the design for the satellite system itself," Walter said.
For the polar spacecraft, a system-level preliminary design review is expected in the 2023 timeframe.
Looking ahead, the Defense Department is conducting an analysis of alternatives that will inform plans for Block 1, he noted. "What that will look like is for future discussions."
Officials say Next-Gen OPIR is on track. However, the Government Accountability Office has raised concerns.
"The program faces significant challenges in developing and integrating new technologies within an aggressive schedule," the watchdog said in its annual weapons system assessment to Congress, which was released in June.
Driven by the 2025 launch requirement, the program is concurrently developing mission payload engineering and flight units, which raises the risk of schedule delays because issues identified during engineering unit testing will necessitate corrective flight unit rework, the report said.
"DoD officials acknowledged the added schedule and cost risks presented by the first-time integration of a new sensor with a modified spacecraft," it said. "In addition, the ground segment — developed under a separate program — may not be ready when the first satellite is delivered," it added, referring to FORGE.
The Space Force is taking steps to mitigate risks.
The highest risk portion of any optical satellite program is the sensor, Walter said. To address that, the Space Force is utilizing two separate payload design teams from the contractors that are competing for a future downselect: Raytheon and Northrop Grumman-Ball Aerospace.
Their systems will be integrated onto Lockheed's modified LM 2100 bus.
"Each of those teams are developing a separate sensor that will fly either on the first vehicle or the second vehicle," he said. "They're both compatible with this first space vehicle," he noted. So if one of the sensor payloads has problems, the other should be ready to fly with the first GEO satellite.
Program officials are also trying to leverage mature technologies where they can to save time on development and reduce risk.
"We chose … primary building blocks that were space qualified. In other words, they'd flown in space before," Walter said. "We took a very large percentage of the program and made sure that it was based on heritage."
However, there is integration risk involved in putting together all of those building blocks and ensuring that everything functions correctly, he added.
Working with a number of different vendors also presents challenges for FORGE, Johnson said.
"We have partitioned the development of the system off to multiple contractor teams to deliver capabilities," he said. "This is good because it allows us to provide capabilities … that align with their core strengths, but it does introduce some programmatic complexities that the government has to manage."
He continued: "But by doing this, the government can individually compete core capabilities of the system like … the mission data processing framework, the applications, the sensor specific processing, and then the remote ground stations as well. And so we can compete those as opposed to having one contractor deliver the complete system. And so that's helping us increase competition, broaden our industry base, and helps ensure we are driving to an open and modular system."
FORGE program officials conduct progress reviews every three months, where contractors present their status, discuss what they've developed over the past 90 days and try to work through any challenges that arise. But there is a backup plan in case FORGE isn't ready when the first Next-Gen OPIR satellite is set to launch, Johnson noted. The Space Force is working with Lockheed on developing an "interim ground system" that will be compatible with both SBIRS and Next-Gen OPIR.
"This interim system is a synergistic risk reduction effort, and if needed will also provide a stepping stone to get to FORGE," he said. "We recognize the criticality of the launch, and so we put this in place to make sure we're ready."
Despite GAO's warnings, Walter expressed confidence that the first satellite for Next-Gen OPIR will be ready to launch on time.
"When we started the program, we laid out a program schedule … and we hit every major milestone," he said. "We understand that the schedule is aggressive, especially compared to other programs. But we remain on track for delivering in the 2025 timeframe and have no reason to think that we would not be able to make that date."
Topics: Space, Missile Defense