EDITOR'S NOTES INTERNATIONAL
We Must Do Right by Our Afghan Friends, Allies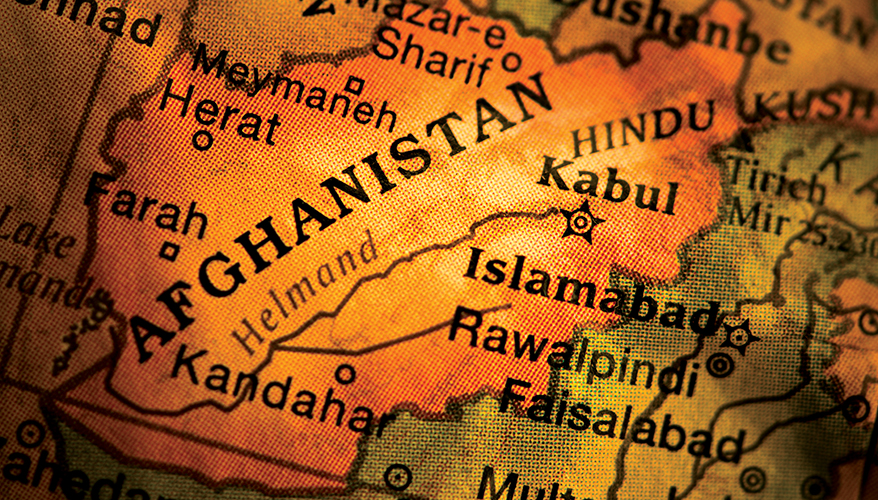 iStock illustration
Sometimes an issue in the news hits a little too close to home. I pride myself in employing logic and reason in these columns, but sometimes emotion gets in the way.
For months, some 18,000 Afghan interpreters and their families waited for visas to escape a possible Taliban takeover of Kabul — something that isn't inevitable — but "hope for the best, plan for the worst," as they say.
Lawmakers from both sides of the aisle pleaded with the Biden administration to do something to help these allies and avoid another Saigon, April 30, 1975 type of situation, but for weeks and months nothing happened. I felt myself grow angrier and angrier every day. Finally, a few days before press time, President Joe Biden announced that the State Department would begin airlifting those who are at risk out of the country.
The reason I had such an emotional response to the issue was because of my friend Ahmad Zia Rawish.
They say when you make an Afghan friend, you've made a friend for life. They would give you the coat off their back — take a bullet for you.
Zia was one of my students when I was a young man in 1989-91 working with Afghan refugees in Peshawar, Pakistan. I was a 26-year-old teaching English to a bunch of fierce looking bearded men in their 30s and 40s. But looks deceived. They were mostly doctors and engineers, hoping to earn a scholarship to an American college, part of a USAID program organized by the University of Nebraska-Omaha's Center for Afghanistan Studies.
I have never in all my travels — before or since — met a kinder and bigger-hearted people. For a nation whose factions are always at war with each other, I admit this is a paradox.
Zia was a former Kabul University professor of economics who had fled the Communist regime and ended up as an accountant for the United Nation's demining program in Peshawar.
A mutual friend-for-life I made there was Army Staff Sgt. Frederick "OT" Otero, part of a Special Forces A-team that taught Afghans to dismantle mines under the U.N. program.
Zia ended up earning a scholarship to Park University in Kansas City, not far from where OT settled after he retired from the Army following the Gulf War. I returned to my hometown Omaha and drove to Kansas to meet with OT and Zia a few times.
Afghanistan by that time was a mess. With the Soviet puppet regime out of the picture, Kabul was being shelled daily by one side or another.
Ideally, the students I prepared for college life in the United States were meant to return to Afghanistan and take what they learned in America to rebuild the nation. It couldn't have been worse timing. Most of them — like Zia — applied for green cards and stayed.
Fast forward 10 years when I decided my life as an international vagabond was over. I ended up in Washington, D.C., where Zia had also relocated. Our friendship grew over the years as we bonded over our mutual love of Afghan food.
Zia was an eternal optimist, always positive and truly believed that Allah had blessed him by bringing him to this great nation.
He worked as an accountant but eventually found a job where his passions lay, teaching economics and finance at private schools such as Strayer University. He loved his chosen field of economics and for some 20 years he shared that passion with his students.
Zia married an Afghan woman named Masuda, and they had three children. I, too, started a family and we saw a little less of each other over the past decade.
It was in early May when I received a call from Zia. He was at Georgetown University Hospital, and he was sick. Something was wrong with his liver. The doctors were telling him it was cancer, but he didn't believe them.
I couldn't visit because of COVID protocols and neither could his family.
Being an eternal optimist, I couldn't get a straight story from Zia when I called. He was convinced that if he reduced his salt intake, it would clear up. From his hospital bed, he continued to grade his students' papers and post treatises on Facebook about economics as if nothing was wrong.
The doctors eventually let him go home. He told me he was going to start chemo soon, but he never did. I was glad he could at least be with his children.
I called to check in on him as I was driving to North Carolina to visit a new GM Defense manufacturing plant. He sounded weak, not himself.
He told me he couldn't talk much and was tired. The line went dead. I was hoping I had caught him waking up from a nap, but feared the worst.
He passed away that night.
One less friend for life. One less person who would give you the coat off their back. A devoted father of three young children. Gone.
I have other Afghan friends here — all successful and contributing to our nation. One teenager who cleaned the USAID house where I Iived — now a middle-aged man — was chased out of Kabul by the Taliban 20 years ago. He now has two homes, a security clearance, and children attending some of the top universities in Virginia.
Our big-hearted Afghan friends and allies will soon arrive in the United States, and when they do, we need to do whatever we can to help them get on their feet.
I ask this in the memory of my friend Ahmad Zia Rawish.
Topics: International