JUST IN: U.K. Bolstering Defense Budget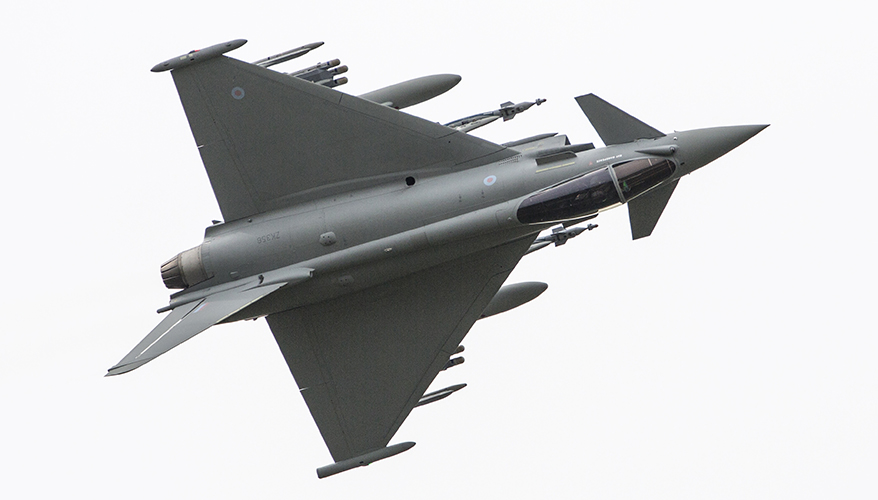 Royal AIr Force Typhoon
Ministry of Defence photo
Key U.S. ally the United Kingdom is growing its defense investments in its land, air and sea platforms, the nation's defense chief said July 13.
"We are giving our forces the military strength they need to deter adversaries in this new competitive age," said Ben Wallace, U.K. secretary of state for defense. "We are investing heavily in modernizing our warfighting capability."
Wallace — who is visiting numerous locations within the United States this week and met with U.S. Secretary of Defense Lloyd Austin III July 12 — said the nation will increase its defense budget by 14 percent over the next four years, including almost $120 billion in new equipment and support.
In the skies, the United Kingdom is purchasing new F-35 joint strike fighters, upgraded Typhoon combat aircraft, new unmanned systems, next-generation fighter jets and swarming drones, he said during remarks at the American Enterprise Institute.
On land, the country is making investments in the mobility, protection and lethality of ground troops, he noted. Additionally, the United Kingdom recently established a new ranger regiment to train, advise and operate alongside allies in complex, high-threat environments, he said.
"Their formation was influenced in part by your famous Green Berets," Wallace said. "I'll be visiting them in Fort Bragg tomorrow to see what more we can learn."
On the seas, the Royal Navy's fleet is increasing in size for the first time since the Cold War with new frigates and submarines, he added.
The nation is even working on developing its own version of the Pentagon's joint all-domain command and control system, he said.
"We are building a secure network with a digital backbone to share and exploit vast amounts of data seamlessly across" domains, he said.
It is also building a world-class defensive cyber capability and has established a permanent National Cyber Force that brings together the operators from defense and intelligence services, he said.
In space, the United Kingdom is strengthening its secure satellite networks and increasing its space domain awareness, Wallace said. This is an area that he said he is "looking to learn about when I head to the West Coast later this week" as he continues his trip across the United States.
These move follow what the United Kingdom called an "integrated review" of its security, defense, development and foreign policies for future defense capabilities over the next decade.
The review — which was released in March — has four overarching objectives: sustaining strategic advantage through science and technology; shaping the open international order of the future; strengthening security and defense at home and overseas; and building resilience at home and overseas, according to the U.K. government.
The United Kingdom is also increasing its funding for research-and-development, Wallace said. That way "we can exploit innovations, not just in current areas like artificial intelligence, hypersonics and directed energy weapons, but start identifying where we might gain advantages from generation-after-next technologies," he said. "Crucially, we are seeking to do this all in a single, more coherent process starting with our recent science-and-technology strategy to identify game changers, and then combining with the new defense and security industrial strategy to ensure we achieve the pull through of such developments."
Meanwhile, Wallace said the United Kingdom wants its military forces to be more present and active around the world.
"Our forces will still be able to war fight as their primary function, but they will also increasingly have a role to play outside what we traditionally consider war, whether that is supporting humanitarian projects, disaster relief, conflict prevention and stabilization," he said.
The country wants to expand its presence into regions where there is increased strategic competition, including the High North, across Africa, in Central and South America and the Indo-Pacific, he said.
"It is the Indo-Pacific where both the great challenges are but also the great opportunities," he said. "It is where the U.K. as a global trading nation seeks to be the European partner with the broadest and most integrated presence there for the long term, with closer and deeper partnerships, defending freedom of navigation, political and legal freedoms and free and fair trade."
The country currently has a carrier strike group entering the Indo-Pacific, and Wallace will be visiting the Indo-Pacific Command theater of operations during his U.S. trip.
Meanwhile, Wallace praised the United Kingdom's partnership with the United States.
In President Joe Biden's Interim National Security Strategic Guidance — which was released in March — he said the United States "will recommit ourselves to our transatlantic partnerships, forging a strong, common agenda with the European Union and the United Kingdom on the defining issues of our time."
Wallace noted that "our strength is multiplied when we combine efforts to address common challenges, share costs and widen the circle of cooperation."
Topics: International