BATTLEFIELD COMMUNICATIONS
JUST IN: Air Force Sees Opportunities After JEDI Cancellation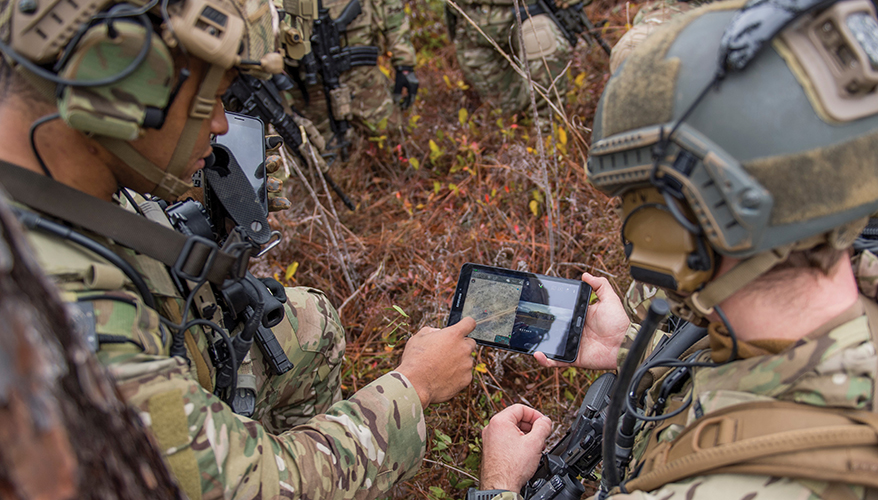 Members of the 6th Special Operations Squadron use a tablet to upload coordinates during an exercise showcasing the capabilities of the Advanced Battle Management System at Duke Field, Florida.
Air Force photo by Tech. Sgt. Joshua J. Garcia
The Pentagon's cancellation of its cloud computing contract with Microsoft gives the military a chance to find the "best of breed" for a new architecture, said a top Air Force official July 12.

The new multi-cloud, multi-vendor initiative that is set to replace the Joint Enterprise Defense Infrastructure program will allow for more competition and help companies showcase their strengths, said Air Force Lt. Gen. S. Clinton Hinote, deputy chief of staff for strategy, integration and requirements.
"The search for best of breed continues on," Hinote said at the National Defense Industrial Association's JADC2 & All Domain Warfare Symposium.
On July 6, the Pentagon announced its intent to cancel its $10 billion JEDI project which had been awarded to Microsoft, and pursue a new Joint Warfighter Cloud Capability, or JWCC.
The JWCC will be expected to provide capabilities at all three classification levels — Unclassified, Secret and Top Secret — and parity of services across all classification levels; integrated cross-domain solutions; global availability including at the tactical edge; and enhanced cybersecurity controls, according to the Pentagon.

Different companies competing for the new initiative have varying strengths that can be utilized to the advantage of the Defense Department, Hinote said.

"That's probably a good thing," he said. "There are some companies who have thought about what it means to have a cloud in battle, and I'm excited about that."
Microsoft and Amazon Web Services are considered likely candidates to win contracts for the Joint Warfighter Cloud Capabiltiy next year, but the Pentagon will be reaching out to other cloud service providers to assess their capabilities, Acting Pentagon Chief Information Officer John Sherman told reporters when the JEDI cancellation was announced.
One reason cited for the cancellation of JEDI and the move toward the new multi-cloud, multi-vendor effort is to better serve the military's needs for joint all-domain command and control.

Hinote said cloud computing architectures will serve as the "backbone" for the Air Force's contribution to joint all-domain command and control, also known as JADC2. The concept involves all branches of the military and is a Defense Department effort to better connect sensors and shooters.

The Air Force has taken the lead on JADC2 through the development of its Advanced Battle Management System, or ABMS. The program is a top priority for the service and is envisioned as a network of interconnected platforms that will allow users to rapidly collect, analyze and share information.

When asked about major cuts to the ABMS program in the 2021 enacted budget, Hinote expressed optimism regarding the program's ability to bounce back. "We're in a much better state," he said.

Last year, lawmakers pushed back on the Air Force's request for more than $300 million for the ABMS project. Congress ultimately cut the requested budget nearly in half.

Hinote said keeping requirements flexible is helping discussions with Congress go smoothly this year, and he is "fairly optimistic" about future funding.

"I know that sounds a little weird, but I've seen the numbers going forward and I think we're going to be just fine," he said.

The fiscal year 2022 budget request of $204 million for ABMS is $46 million more than was appropriated for 2021, according to Pentagon budget documents.
Topics: Battlefield Communications, Cyber-augmented Operations, Infotech, Information