BREAKING: Pentagon, Secretary Austin to Sharpen Focus on China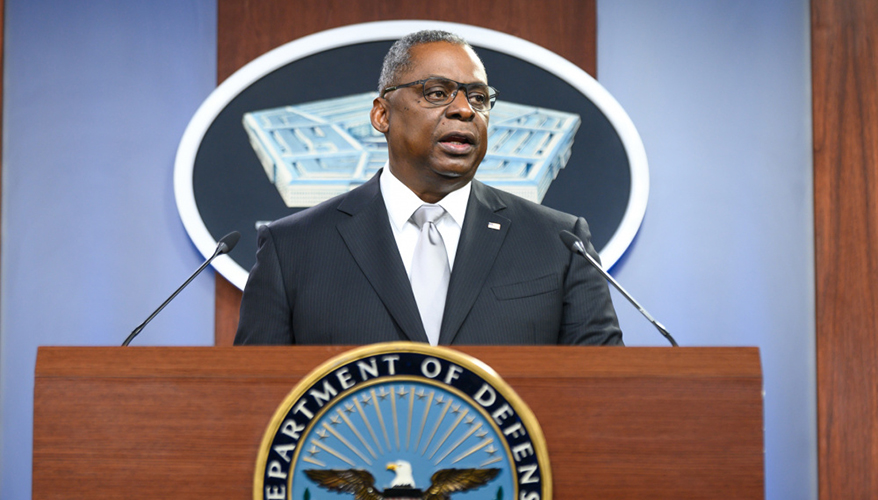 Secretary of Defense Lloyd Austin III
Defense Dept. photo
Secretary of Defense Lloyd Austin III will devote more of his time to ensuring that the Pentagon refocuses its efforts on countering China, a senior defense official announced June 9.
The secretary's personal focus on China is one result of the DoD China Task Force, which was ordered by President Joe Biden in February. Military leaders have said they view China as a "pacing threat."
The task force has wrapped up its assessment and has issued a directive, which is classified, said the senior official, who briefed reporters on condition of anonymity.
"The purpose of the assessment was not to produce a voluminous assessment, but rather is a gap analysis to identify the big challenges facing the department in its efforts to compete effectively with China," the official said.
"The directive also established Secretary Austin's intent to directly oversee the Department of Defense's China-related policies, operations and intelligence as the task force's recommendations are incorporated into ongoing reviews and department-wide processes," a Pentagon statement said.
Austin said in the statement that "the efforts I am directing today will improve the department's ability to revitalize our network of allies and partners, bolster deterrence, and accelerate the development of new operational concepts, emerging capabilities, future force posture, and a modernized civilian and military workforce."
Members of the media pressed the official for details on the assessment, but he would only say that more information will come from the unclassified recommendations as the initiatives develop.
A few he could mention included asking the undersecretary of defense for personnel and readiness to update military and civilian education to prioritize China.
There are also recommendations about "competition below the level of armed conflict," also known as gray zone warfare.
Austin will also be personally involved in accelerating joint warfighting concepts through experimentation and prototyping, the official added.
"We did look at our force posture in the Indo-Pacific and have delivered recommendations in that regard," he said, declining to give any further details.
Austin said: "The initiatives I am putting forward today are nested inside the larger U.S. government approach to China and will help inform the development of the National Defense Strategy we are working on."
Members of the task force were detailed from across the Defense Department, including representatives from all the services, several combatant commands, the Joint Staff, the Office of the Secretary of Defense, and the intelligence community, the statement said.
"What's new here is we're putting in place organizations and structures that will drive prioritization of China," the official said.
"The initiatives put forth in the secretary's directive will be executed through — and by — normal departmental structures and organizational elements, supplemented by new processes where necessary," a statement said.
Topics: Global Defense Market