EDITOR'S NOTES DEFENSE DEPARTMENT
GM Defense - A Case Study of Success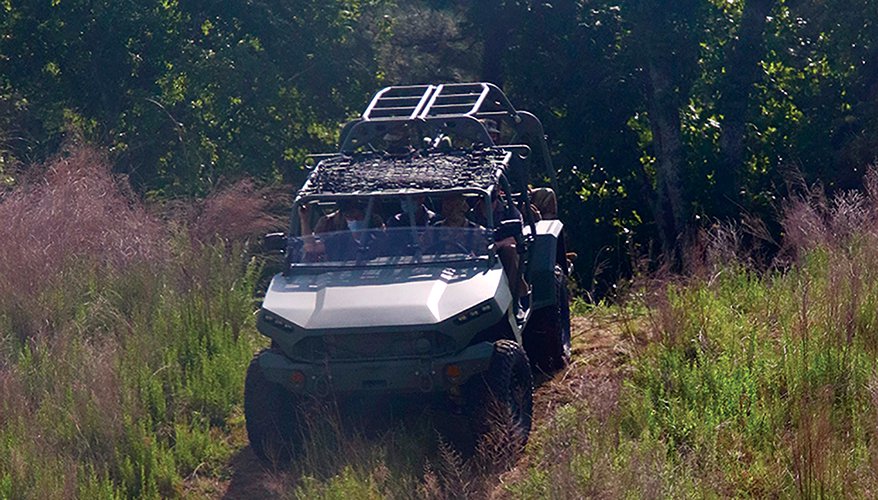 Stew Magnuson photo
Concord, N.C. — On May 4, lawmakers, Army officers and various other VIPs came to an industrial park in the heart of NASCAR country for the grand opening of GM Defense's new vehicle manufacturing facility.
It was indeed a remarkable day. At the beginning of the year, the 75,000 square foot building next to the parking lot where the welcoming speeches took place was an empty shell.
In just 90 days, the company transformed the building into a facility where it could manufacture the Army's new infantry squad vehicle, or ISV.
And it was only a few short years ago when GM Defense raised eyebrows at the Association of the United States Army's annual convention in Washington, D.C., by putting up a booth in the convention center's basement and announcing that the U.S. carmaker was back in the defense business after an absence of some 14 years.
That was October 2017. By the summer of 2020, it had won its first major contract — $214.3 million to build 649 ISVs.
Several times during the event's speeches, GM Defense was referred to as a "startup."
A startup? Possibly. Technically.
If the General Motors subsidiary is by definition a startup, then it is no ordinary one.
It started its life being able to draw upon the technical know-how, business acumen and financial resources of one of America's most successful companies.
It's doubtful that any GM executives showed up in the office of a venture capitalist with their hats in their hands asking for cash to fund their ideas to help the nation's warfighters.
So can the quick success of GM Defense be used as a case study for startups seeking to break into the defense market and steer through the infamous red tape that discourages so many potential innovators?
Probably not.
It does, however, serve as an example of how major corporations with something to offer national security — but are wary of the bureaucracy — can set up shop and potentially show a profit in a few short years.
General Motors is no stranger to doing business with the government or the military. It was one of the companies that answered the call in World War II to cease production of its cars and trucks and quickly switch to fighting vehicles and aircraft. It created its first defense subsidiary in 1950, which was sold to General Dynamics in 2003.
When its defense business was re-established in 2017, it was already knee-deep researching and developing a variety of new technologies that the military was also pursuing. Among them are electric vehicles, advanced batteries, autonomy, connectivity and manned-unmanned teaming.
Steve duMont, the new president of GM Defense, said it will be his job to draw upon all these advanced technologies.
"GM is making big investments in those areas now, and I'm going to harness that to the benefit of our warfighters' needs," duMont said in a conversation after the ceremonies.
Along with two infantry squad vehicles taking VIPs and journalists around a track, the company brought a fully electric version it created with its internal research and development funding to demonstrate to the Army and Special Operations Command officials on hand.
Meanwhile, the company is applying advanced manufacturing techniques used in its commercial business to build the infantry squad vehicles.
The facility itself is a prime example of how fast a "startup" can move when it has the might of a major corporation behind it.
The story was told several times during the day how GM Defense officials walked into a completely empty building at the beginning of the year and after three months were producing the new vehicles there.
The company moved all the manufacturing equipment it used to build the ISV prototypes and first few vehicles from Michigan to North Carolina. It worked with local officials and utilities to get all the necessary permits and the power it needed.
It called on a team of GM info-tech experts to help it install a secure network and create safe spaces where employees can work on protected technology.
So, can other U.S. corporations duplicate GM's success for the betterment of the nation's military?
DuMont knows full well about the vagaries of working with the Defense Department and is impressed with how rapidly GM Defense produced its prototypes and got things up and running before his tenure began.
After serving in the Army, he spent 20 years as an executive at Raytheon, BAE Systems and Boeing dealing with the Pentagon's acquisition system. He still bears the scars of the failed Comanche Army helicopter program.
"I think other commercial companies are going to look at this and say, 'OK, that's the model. There may be something to that model because GM is a phenomenal company with deep reach back into a huge technical advantage. They make huge investments every year to drive their commercial business.'"
Steve Herrick, Army product lead for ground mobility vehicles, said there are some positives from the government side as well.
The Army is doing a better job of outreach by letting non-traditional companies know about these opportunities, he said. But these would-be contractors still have to compete and deliver on requirements, he noted.
"The biggest takeaway is the door is open," Herrick said.
Topics: Defense Contracting, Defense Department