BATTLEFIELD COMMUNICATIONS
Army Tests Network Capabilities at Joint Readiness Training Center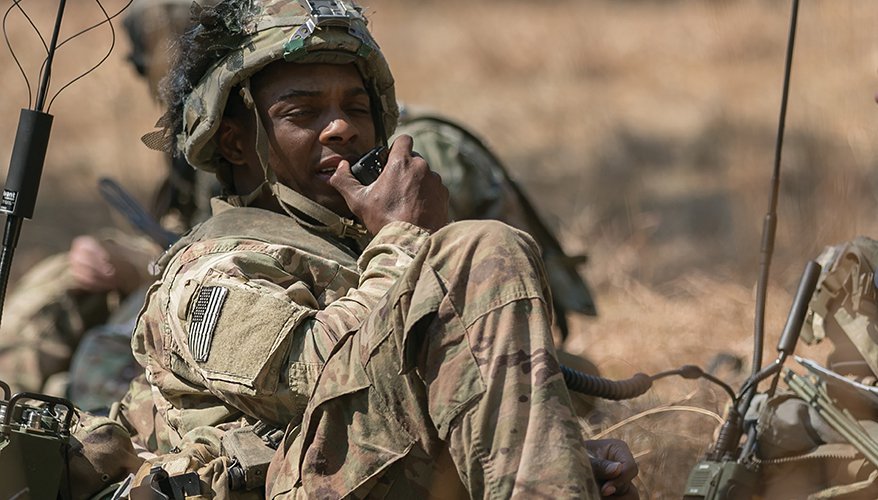 A soldier talks into a radio microphone at the Joint Readiness Training Center at Fort Polk, Louisiana.
Defense Dept. photo
Soldiers are testing new tactical gear in support of the Army's efforts to modernize its network capabilities.
The service has been embarking on a series of capability sets as it works to advance its connectivity through Army Futures Command's network cross-functional team. Technology developed under Capability Set 21 was recently put through its paces at the Joint Readiness Training Center, which is located at Fort Polk, Louisiana.
The training center offered the Army a "full force-on-force brigade exercise," said Col. Rob Ryan, chief of operations for the network team. Soldiers were able to train in realistic terrain using radios enabled with more powerful waveforms.
Commanders had more situational awareness and understanding during the exercise because of CAPSET 21 technologies, he said during remarks at the C4ISRNET Conference.
"Awareness means you think you know what's going on. Understanding means you can act on what's going on," he said. "That's a huge difference in the fog and friction of battle."
"The feedback we got from the … brigade commander down to the company commanders was, 'I understood my course,'" he added. "'I understood where and when I didn't have connectivity and I could talk at range allowing me a better visibility of the battlefield so I could just detect, decide and execute operations at pace.'"
The center allowed Army Training and Evaluation Command to assess the effectiveness, sustainability and survivability of the equipment that was being brought in, said Lt. Col. Brandon Baer, product manager at the Army's program executive office for Command, Control and Communications-Tactical. "We worked to actually get network CFT representation, … talking with soldiers, actually seeing the mission, seeing how the unit moved and how they were communicating," he said.
Officials also visited a week ahead of the event — which took place in February — to meet with personnel in charge of after-action reviews at the facility to discuss the equipment that was being brought in, he added.
"[We gave] them an overview of the equipment and the capability provided by the CAPSET 21 equipment since a lot of it ... they were not familiar with going into the rotation, [to] help them assess it better," he said.
One of the biggest gaps the Army has found so far is training, Baer said.
It's "not that the equipment is not working, it's how does all this stuff work together?" he said. "A systems-of-systems type training [is needed]. How do we make it enduring training? How do we actually teach the leadership how to understand the capability that they're getting ... and how to employ that?"
During the exercise, the Army also connected its Manpack radios to the Navy's Mobile User Objective System satellite, or MUOS, Ryan said. MUOS — which was developed by Lockheed Martin — is the Pentagon's next-generation narrowband military satellite communications system.
"MUOS really provided additional beyond line-of-sight communications," he said. The satellite enabled users to communicate 30 kilometers away and "leverage the ability to fully dominate both their data and voice spectrum."
Col. Garth Winterle, program manager for tactical radios at PEO C3T, said MUOS offered soldiers using mounted and dismounted Manpacks expanded capacity to enable more connections per unit.
Soldiers also utilized the TrellisWare Scalable Mobile Ad-hoc Networking, or TSM, waveform on both the Leader and Manpack radios, Winterle said. It provided much more capability over a legacy system known as the Soldier Radio Waveform.
With the latter, the Army "had a lot of problems scaling and it just wasn't very effective at being a mesh network," he said. "We've come leaps and bounds, and now we will have an effective mesh networking waveform to provide that data connection. … It has performed really well and was well received by everybody during the rotation."
Some improvements that were cited by users included form-fit issues such as minimizing the number of cables on the system, he noted. The Army will be able to move out quickly on needed improvements and will be able to field upgraded equipment in the third quarter of fiscal year 2021, he added.
"Luckily, the radios performed as designed and met requirements," he said. With the "ancillaries or other improvements, … you can work through that pretty quickly. It doesn't require any kind of a redesign."
Topics: Battlefield Communications, Army News