JUST IN: Coast Guard in Talks to Add Ships to Heavy Icebreaker Program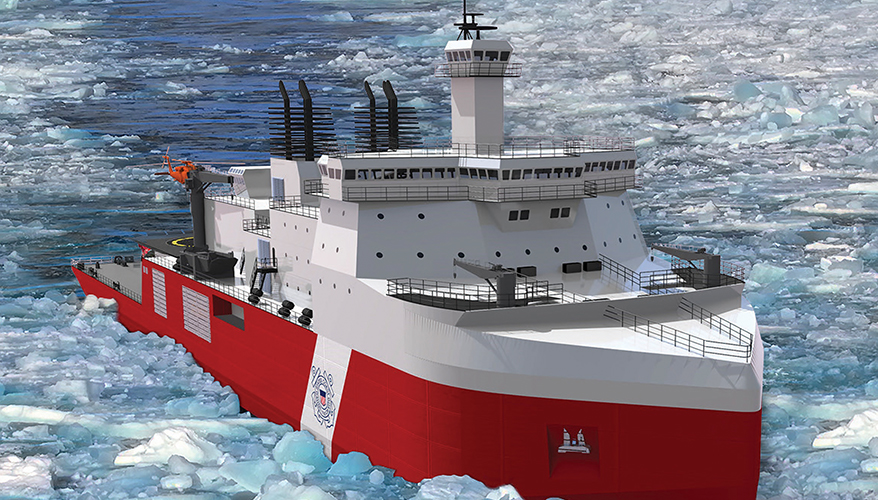 Artist rendering of the VT Halter Polar Security Cutter design.
Technology Associates, Inc. illustration
The Coast Guard is in talks with the Biden administration about adding additional heavy icebreakers to its Polar Security Cutter program, the head of the sea service said June 28.

The current program of record is to build three new vessels. Congress has already provided funding for the first two. President Joe Biden's fiscal year 2022 budget request asks for an additional $170 million in procurement funding for the program, including for long-lead time materials for a third vessel.

"There's probably a conversation for more than three Polar Security Cutters," Coast Guard Commandant Adm. Karl Schultz said during a Brookings Institution event. "We've done some work with … the current National Security Council about broadening that conversation."

"I am encouraged that after a decade-plus of talking about the need for new ships, we've got funding for the first two, on track for the third, and having conversations about additional ships," he added. "That's a much better place for our nation to be in. But it takes time to build those ships, and it takes money."

Schultz reiterated his call for 3 to 5 percent annual growth in Coast Guard funding to help with modernization and other service needs.

Schultz said concerns about climate change and melting sea ice could bolster the case for building more icebreakers in coming years.

Currently, the Coast Guard only has one operational heavy icebreaker in its inventory, the aging Polar Star, that is capable of operating in the Arctic region — an area of growing strategic importance as the United States competes with Russia.

"Presence equals influence in the Arctic. And right now ... we're woefully lacking as a nation in terms of our capacity," Schultz said.

In 2019, VT Halter Marine was awarded a $745.9 million fixed-price, incentive-firm contract for the detail design and construction of the first Polar Security Cutter, which is scheduled to start construction this year in Pascagoula, Mississippi, and be delivered in 2024.

The company is expected to begin "cutting steel" in the coming months, Schultz said.

"We have not built a heavy icebreaker in this nation ... for a good part of a half a century," he said. "But we're guardedly encouraged that the Polar Security [Cutter] program is moving ahead on pace."

Additionally, the Coast Guard plans to acquire up to three medium icebreakers known as Arctic Security Cutters.
Topics: Marine Corps News