WEB EXCLUSIVE: COVID-19 Expands Military Use of AR, VR Glasses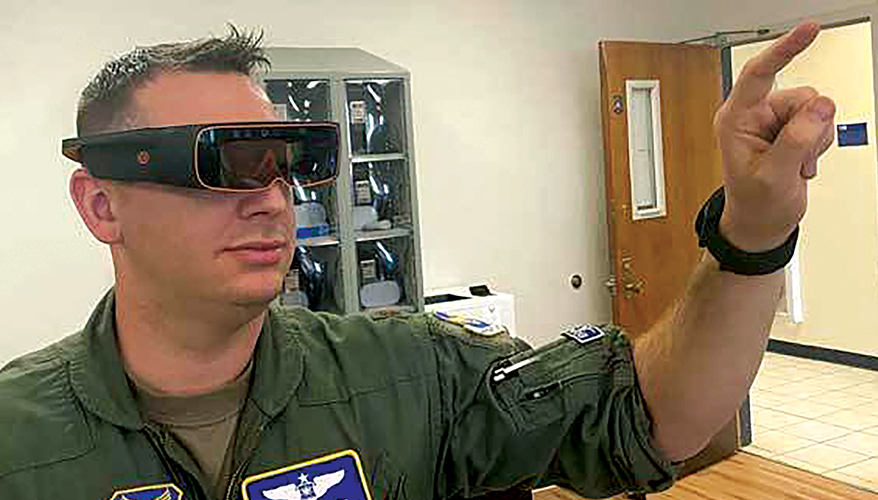 courtesy of ThirdEye
Virtual and augmented reality glasses are being used by the services to more easily work remotely as the country continues to grapple with the coronavirus crisis.
When the pandemic began in the United States in 2020, collaborating while remaining socially distanced became a major challenge for the Defense Department.
The mixed reality-integrated headgear, X2 MR Smart Glasses, was one solution, said Pam Puttagunta, executive vice president of BANC3, the parent company of the glasses' maker ThirdEye.
The technology leverages the company's RemoteEye software to project video into a user's field of vision allowing them a more collaborative hands-free training environment.
While the 10-ounce glasses were used by branches of the military before the pandemic — including the Navy and the Air Force — the ability to conveniently communicate from anywhere helped personnel continue to work while navigating the crisis, she said.
U.S. Army Pacific is one of ThirdEye's newest customers. The company announced in February that it would deploy the glasses for use in locations such as Hawaii, Alaska, Korea, Japan and Guam.
"Having the X2 MR Smart Glasses deployed in these locations is extremely helpful, and more important, the Army's mission at hand can continue without downtime,'' John LaPlume and Cary Mashiba, contract project manager leads, said in a press release.
The technology supports augmented reality remote training and maintenance, which are two objectives of Army Pacific.
Puttagunta added that because the glasses can store documents and mission-critical software, they can assist servicemembers working in areas with no internet connection.
"You can be out on the tank but that data would be with you," she said. "It gives you a lot of freedom."
The glasses utilize an open-source operating system, allowing leaders to easily develop or add applications based on mission needs, Puttagunta said.
"Our architecture is very modular," she noted. "There are situations where new features are needed."
The technology was manufactured with ruggedization in mind, and the software and hardware are optimized for maximum battery power and minimum heat, she added.
ThirdEye is also working with the Department of Homeland Security to develop other capabilities such as image recognition that can be integrated into the glasses.
Topics: Simulation Modeling Wargaming and Training, Training and Simulation