JUST IN: Marine Corps Divesting Legacy Training Systems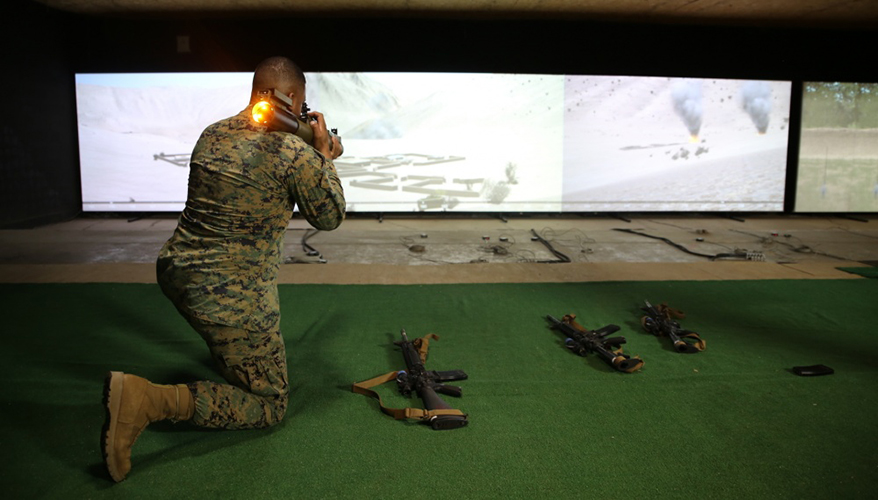 Indoor Simulated Marksmanship Trainer
Marine Corps photo
ORLANDO —
The Marine Corps is divesting legacy training systems in order to maximize its budget and reallocate existing funding to new capabilities, an official said June 17.
"Over the last year, the Marine Corps has made some significant decisions to reduce or remove cost where systems are no longer effective and won't meet changing training needs," said Col. Luis "Lou" Lara, Marine Corps Systems Command's program manager for training systems. "The requirements in the Training Education Command has reduced the number of deployable virtual training systems by more than half of 676 suites to 333."
Education and training is among the top priorities laid out by Marine Corps Commandant Gen. David Berger, as the service works to modernize its capabilities and improve readiness.
Berger "recognized a major factor prohibiting the Marine Corps from achieving his vision [was] outdated operational ranges and training areas that support training requirements," Lara said during the National Training and Simulation Association's annual Training and Simulation Industry Symposium in Orlando.
New technologies and innovative approaches are needed to meet the service's training needs, he said.
"The Marine Corps must continue to improve and modernize ... [its] portfolio of virtual and constructive simulators," Lara said.
Recent reductions in legacy combat equipment have led to the cancellation of some training systems, he noted. For example, the divestment of tank units led to an end of the service's M1A1 Armored Training System and the Amphibious Assault Vehicle Armored Gunnery Training System in fiscal year 2022.
Additionally, "the Indoor Simulated Marksmanship Trainer inventory was reduced by 57 percent," Lara said. "We went from 485 systems to 206."
That reduction will "allow for the development of a new capability — the Advanced Small Arms Lethality Trainer — [which] is a requirements document that we're currently working with our requirements sponsor on finalizing," he said.
The service plans to field five systems initially as proof of concept, he added.
Meanwhile, the service is also investing in its range training family of systems, Lara said. That includes "upgrading the portfolio of automated scoring systems to provide Marines with target scoring capabilities on the ground and air-to-ground targets," he said. "We must always train as we fight, which makes having the ability to engage holistic targets critical to the fleet readiness."
Topics: Training and Simulation, Marine Corps News