ROBOTICS AND AUTONOMOUS SYSTEMS
JUST IN: Human-Machine Teaming Crucial Part of Navy's Future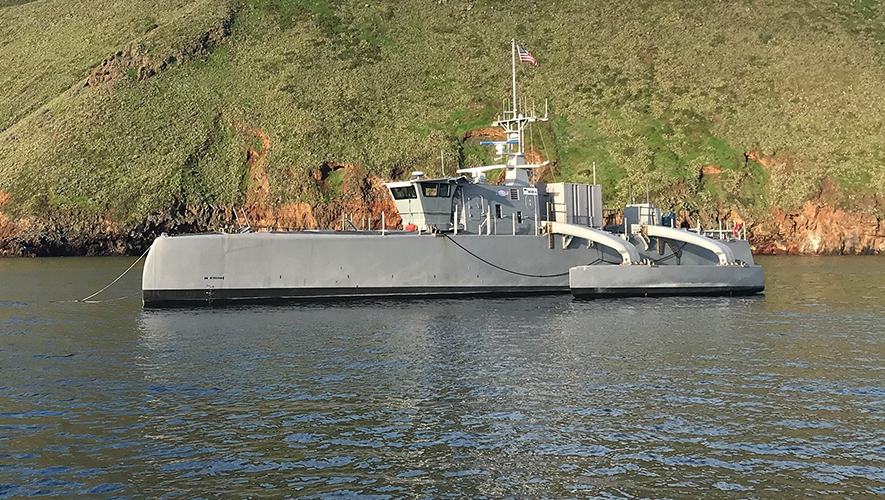 Photo: Navy
ORLANDO —
As the Navy works to modernize its fleet over the next century, a central focus for the service's science and technology development will be human-machine teaming that will take place between warfighters and autonomous vessels, a top service official said June 16.
"I think that we have to think differently about the future," said Chief of Naval Research Rear Adm. Lorin Selby. "While we're going to still need large complex warships for the foreseeable future, I do think you're going to see — between today, mid-century, and certainly the end of this century — ... a total change in the platforms that we have at sea today that are crewed by men and women, to those that are totally autonomous."
The transition to this vision has already begun, Selby said during the National Training and Simulation Association's annual Training and Simulation Industry Symposium in Orlando. As more autonomous vessels hit the water, their acceptance will accelerate once confidence and trust in newer technologies is further established, he added.
As chief of naval research, Selby runs the Naval Research Enterprise, which manages science and technology for the service and includes a number of organizations, including the Office of Naval Research.
Selby is championing a processes he calls "reimagining naval power." The effort "is very much about autonomous systems interacting with platforms that have humans on them and that human-machine teaming that is going to happen," he said.
The initiative also has a focus on cognitive tools the office wants to develop for warfighters.
These future capabilities can help sailors reduce cognitive overload, he said. That way, service members "can have a better grasp of the actual situation and can make better decisions, richer decisions, faster," he said.
ONR is also continuously searching for more "disruptive" technologies for sailors. "What is that technology we can provide them with that once they have it, they're going to go: 'I didn't know I needed this but now that I got it, I'm not going to give it back because I can't live without it,'" he said.
Topics: Robotics and Autonomous Systems, Robotics, Navy News