Army Fleshing Out Joint All-Domain Command, Control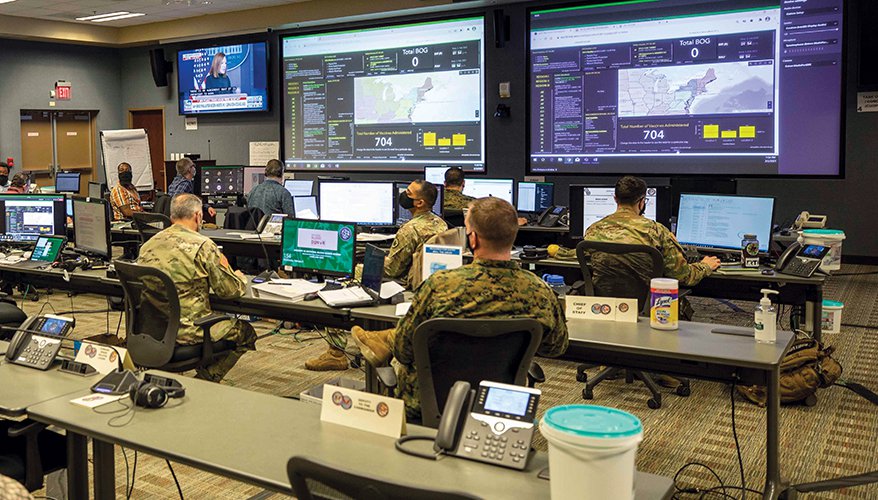 Officials and staff take part in a JADC2 system demonstration.
Navy photo by Mass Communication Specialist 2nd Class Michael H. Lehman
Facing complex battlefields in the future, the Army is hard at work developing a network of interconnected platforms that can rapidly send information to commanders and troops and link sensors and shooters.
This network — which has been billed as an "internet of things" for the military — is known as joint all-domain command and control. JADC2 has become a buzzword in the Pentagon as the armed services focus on digital bits and bytes to give them an edge in fights against advanced adversaries.
Joint all-domain command and control is intended to better connect the forces of the various services to enable them to perform more effectively. The Air Force has made strides developing its JADC2-related effort known as the Advanced Battle Management System, or ABMS.
The Army is working alongside the Air Force as it pursues its JADC2 vision. Last fall, Air Force Chief of Staff Gen. Charles "CQ" Brown Jr. and Chief of Staff of the Army Gen. James McConville entered into a two-year memorandum of understanding to better collaborate on the development of these capabilities. They added the word "combined" in front of it, modifying the acronym to CJADC2.
"We are converging weapon systems by ensuring our six modernization priorities and significant modernization efforts are integrated and adaptable," said McConville during remarks at the Association of the United States Army's Global Force Next Conference in March. "We are assuring our systems support combined joint all-domain command and control."
The Army is merging information by harnessing the power of artificial intelligence and integrating that with data from low-Earth orbit satellites in the cloud. That will facilitate linking joint sensors and shooters to the right command-and-control node, he said.
Bolstering machine-to-machine data exchange is going to be extremely important in future fights, McConville noted during a Defense Writers Group event hosted by George Washington University's Project for Media and National Security in March.
"That's where you really get the speed," he said. "That's where we see we're going to get the overmatch."
The service is working to ensure that as it builds new systems and platforms that they will be able to tie in together, he said.
"You don't want to build a system that doesn't fit," McConville said. "We've got to keep everyone within the same box, so at the end all the systems come together the way we need them for convergence."
Brig. Gen. Jeffery Valenzia, director of joint force integration within the office of the Air Force's deputy chief of staff for strategy, integration and requirements, said the service is excited about its partnership with the Army on JADC2.
"We've already seen some phenomenal successes as we have aligned our experimentation," he said. The services are exploring how they can better integrate sensors, create all-domain data management techniques, enable secure processing, improve connectivity and ultimately bring warfighting effects together in an integrated way, he added.
"All this is built upon a digital architectural standard," he said. "Through our interactions with the Army and our other joint partners, our coalition partners, this is how we're moving through the complexities of future warfare."
The Navy is also expected to contribute to JADC2 and is pursuing these capabilities through its Project Overmatch.
Meanwhile, the Army has been working hard to align its ambitious modernization strategy — which focuses on six technology portfolios including long-range precision fires, next-generation combat vehicles, future vertical lift, network, air-and-missile defense and soldier lethality — with JADC2, said Maj. Gen. Peter Gallagher, director of the network cross-functional team at Army Futures Command.
To better develop the concept, the service has embarked on a learning campaign known as Project Convergence.
"Project Convergence provides the Joint Force with the opportunity to experiment with the physics of speed and range and the principle of convergence to achieve decision dominance and overmatch our adversaries in both competition and conflict," said Col. Tobin Magsig, commander of the Army's Joint Modernization Command.
The first Project Convergence event — known as PC20 — took place in the fall at Yuma Proving Ground, Arizona. During the forthcoming PC21 exercise this year, the Army will focus on joint integration, Magsig said during a call with reporters in April.
"We designed Project Convergence 21 as an experiment that maximizes learning opportunities for operational commanders as they incorporate emerging joint technologies, artificial intelligence enabled decision-making agents, and a state-of-the-art network to solve joint tough problems," he said.
But before the Army goes into the desert for the next Project Convergence event this fall, it is executing experiments in a laboratory environment to ensure proper integration, Magsig said. Those are taking place at the Joint Systems Integration Lab, or JSIL, at Aberdeen Proving Ground, Maryland.
The lab is linking joint sensors to joint shooters, said Michael Monteleone, director for the space and terrestrial communications directorate at Army Research, Development and Engineering Command's Communication-Electronics Research, Development and Engineering Center.
"We see the JSIL as playing an absolutely critical role in this initiative and … [getting] after what I would consider a very important strategic goal," he said.
As Project Convergence 20 was being executed, the Army realized that prior to soldiers getting into the field, researchers needed time in a controlled and instrumented laboratory environment to address integration challenges, Monteleone said.
That is needed not only for "the network configuration, but really to understand the data and the environment," he said. "Getting data to where it needs to go is, as we all know, not a trivial task."
Officials at the Joint Systems Integration Lab are also dedicating time to exploring the JADC2 concept, which will coalesce with Project Convergence 21, he said.
"We decided amongst the Army teammates here [that] we have a tremendously powerful enterprise that if we can pull it together and leverage it in a particular way, that we could really put a heck of an Army offering into the JADC2 and joint community," he said. "We pulled together a federation of key laboratories across our enterprise, and really what you get out of that is it's not just the systems and the stuff in the laboratories, it's the people and the subject matter expertise."
The JSIL serves as a hub for joint all-domain command and control, Monteleone said. While the lab is based at Aberdeen, much work is being executed remotely, he said.
The lab is a place where the Army can buy down risk and shake out technology, Gallagher said. Doing so will allow the service to interconnect with joint partners and work through joint mission threads that will enable not only the acceleration of the sensor-to-shooter kill chain, but also synchronize other warfighting functions, he added.
The JSIL is working closely with industry partners, Monteleone noted.
"Our relationship with the industry is absolutely critical to all of our modernization efforts," he said during a panel discussion at the Global Force Next Conference. Beyond traditional contractual mechanisms, the Research, Development and Engineering Command encouraged industry to explore cooperative research-and-development agreements with the science and technology community, he said.
CRADAs will be leveraged throughout the command's activities, including Project Convergence, and other key experiments, he said.
Such agreements allow industry and government to share data and conduct real time DevSecOps improvements to software systems, and enable an actionable exchange of operational threat information, he said.
There are more than 100 active CRADAs within the command, and about half of them focus on communication and network technology, he noted.
"DEVCOM has proven that this approach leads to a tighter coupling between government projects and industry in order to mature technologies and spark future collaboration that best address the needs and gaps of the Army," Monteleone said.
Gallagher said the Army is also considering how it will involve coalition partners in its vision of JADC2.
"Coalition interoperability is absolutely critical," he said. "We've got to be thinking through standards for coalition interoperability in everything we're doing."
While Project Convergence 22 next year is slated to be coalition-focused, the Army is not waiting to get partners involved, he noted. It will soon hold an exercise with III Corps that will feature divisions from the United States, United Kingdom and France.
"We're looking at really how do we optimize a mission partner environment with our coalition partners, leveraging the NATO standards for connectivity and making sure that as we roll out solutions in the future, we are always capable of operating at the secret releasable level … with one mission partner or multiple mission partners," Gallagher said.
Meanwhile, Marine Corps Lt. Gen. Dennis Crall, director of command, control, communications and computers/cyber and chief information officer for the Joint Staff, J6, said there is pressure within the Pentagon to deliver on JADC2.
There are four components that must be executed effectively in order to make the concept work, he said.
"That first one has already launched, and that was really the rebranding and re-establishing of our JADC2 cross-functional team," he said during an April conference hosted by C4ISRNET. "That's the engine room behind doing a lot of the detailed work that leads to real milestones and deliverables."
The next is the release of a JADC2 strategy. Pentagon leadership has been briefed, and Crall said he hoped Secretary of Defense Lloyd Austin III would soon sign off on it. That document will codify the Defense Department's various lines of effort and guide its approach to delivering capabilities, he said.
The next item is a posture review, or gap analysis, which is nearly complete, Crall said.
"If the strategy is that benchmark of what you want to do, the posture review is that document that comes back and says, 'Here's what you're missing in order to get there,'" he said. "That's a pretty significant requirement for funding plans to make sure that these things are resourced properly."
The final piece of action — which Crall called the most important — is the development of an implementation plan.
"Everything that happens to the left of the implementation plan is just planning," he said. "The implementation plan lays down the plan of attack and milestones, the very specific delivery dates and what type of delivery we're expecting and when. … We've just now started to identify the leads for those discrete pieces of JADC2 and when those delivery orders and timelines will be met."
Topics: Infotech, Information Technology, Cyber, Cybersecurity