JUST IN: Production Delays Expected for JLTV Program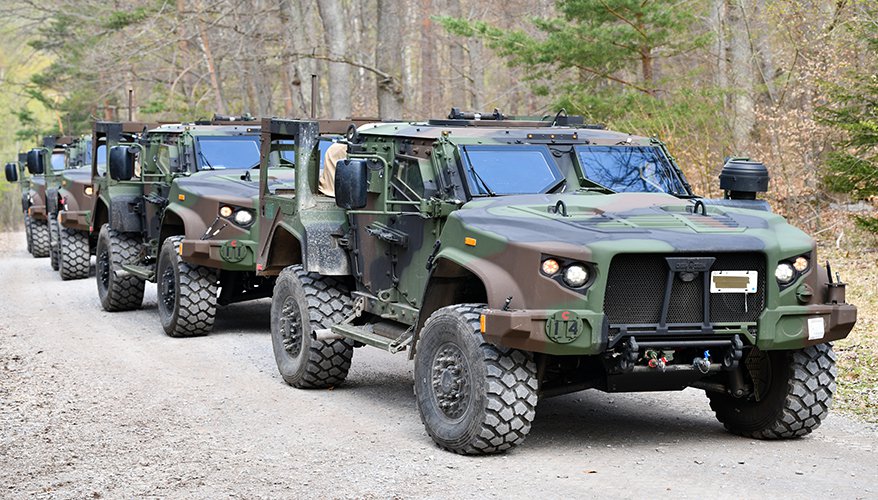 U.S. Army photo by Jason Johnston
The production run for the Joint Light Tactical Vehicle will likely be extended if proposed fiscal cuts come to pass, according to the Army's director of the budget.

The nearly $300 million in funding cuts to the JLTV program in the Biden administration's 2022 budget request mean the production of vehicles will likely be delayed, said Maj. Gen. Paul Chamberlain at a media roundtable June 1. The proposal calls for $575 million in procurement money for the platform, down from about $884 million enacted in the previous fiscal year, according to budget documents.

Chamberlain said the decision was made to slash funding to the program to protect higher modernization priorities for the Army including: long-range precision fires, next-generation combat vehicles, future vertical lift, the network, air-and-missile defense and soldier lethality.

"Most of the reductions and investments are tied to programs where the funding is being used to ensure that we maintain the funding for our 31-plus [priority programs] for modernization efforts," he said. "There was the decision to take a little bit of risk here in JLTV, knowing full well that we can continue buying the program into the future."

Chamberlain declined to say if some of the money saved by cutting back on JLTV purchases would be reinvested in the next-generation combat vehicle initiative specifically.

Even with production delays, Chamberlain said the recompete for the program mandated by Congress is still on track. Oshkosh Defense currently manufactures the vehicle but sold its data rights to the Army in 2016.
Chamberlain said the Army will be interested to see what comes out of the competition.
"The advantage we have going into the recompete is we own the data rights to the vehicle," he said. "So, it's going to be [based on] who can produce the required vehicle at a given cost."

Last year, the Army's program manager said the service would award a contract in the fourth quarter of fiscal year 2022. GM Defense, which recently reentered the military vehicle market, has announced it is engaged in the recompete process.

The JLTV recompete could be worth up to $12.3 billion for 30,000 vehicles and 10,000 trailers over a decade. The Army plans to upgrade the vehicle with capabilities including improved signature management, better seating and a new engine.

The JLTV is not the only program to take a funding hit in the 2022 budget request. Seven programs were eliminated altogether and another 37 were delayed to save the Army about $1.65 billion.
Topics: Land, Budget, Combat Vehicles, Contracting