Industry Supports Special Ops With Lethality Enhancements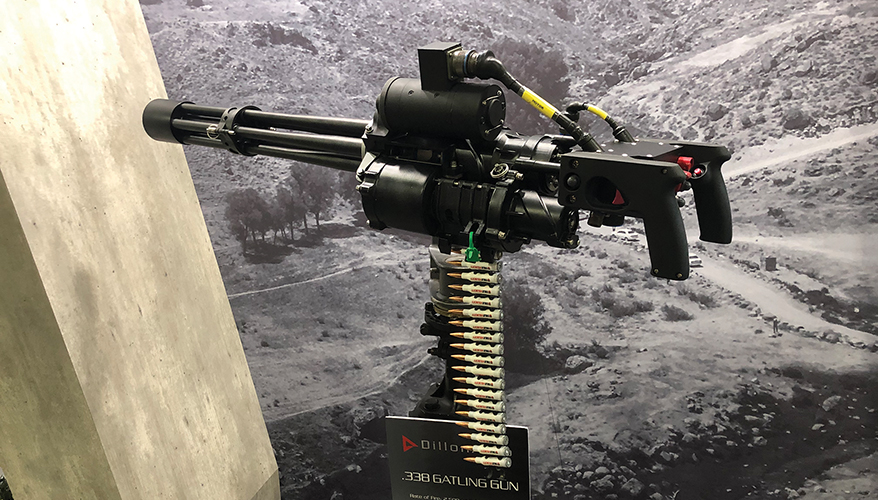 .338 Norma Gatling gun
Scott Gourley photo
From small arms modifications and related sighting systems to mounts for crew served weapons, industry is presenting U.S. Special Operations Forces with a broad range of potential lethality enhancements. The technology includes potential handgun "personalization" upgrades, variable power tactical optics, long-range sniper weapons, new Gatling gun designs and remotely operated lightweight weapon stations.
One element of SOCOM's small arms inventory involves handguns, where in addition to new component programs like suppressors or new ammunition, industry is providing options for war­fighters to "personalize" their existing weapon.
An example of this can be seen in the emerging Sig Sauer M18-X conversion kit, which exploits the modular design of the M17/M18 9mm handgun carried by some SOF elements.
"The 'X' conversion is kind of a horizon project for defense," explained Jason St. John, director of government products in Sig Sauer's Defense Strategies Group. "It will capitalize for the end user on the modularity of the M17/M18 and P320 platforms with an entire suite of grip modifications, caliber conversions and other accessories to allow the professional end user to personalize the pistol themselves."
From a program perspective, St. John said the M18-X kit is "not something actively being pursued at the moment." However, noting that many of the individual kit elements are appearing in a number of emerging handgun requirements, he added: "This would be an excellent way for the end user to capitalize on the modular aspects of this platform."
More formalized program efforts can be found in the company's TANGO6T variable power riflescope, a 1-6X variable-magnification scope that enables the user to engage both close-quarter targets and targets at extended ranges.
In November, TANGO6T was selected by the Defense Department for the Direct View Optic (DVO) in response to a solicitation to enhance squad performance with a variable powered riflescope. That award followed its earlier selection for the Squad Designated Marksman Rifle (SDMR) and the Squad-Variable Powered Scope (S-VPS).
"TANGO6T has a 1-6 power direct view optic in the second focal plane," St. John said. "That's compared to a traditional optic one might find fielded on military weapon platforms, which could be 1X powered red dot or some fixed 1-and-6 or 1-and-4 optics. The variable power on the TANGO6T provides the operator with the opportunity for increases in target engagement."
Asked about specific benefits for the SOF user, St. John deferred, pointing instead to recent selection on both DVO and SDMR programs.
"It's not just specific to SOF," he said. "If you look across the entire tactical spectrum, a variable power 1-6X optic with an enabled BDC [bullet drop compensation] reticle increases individual efficiencies, not only from a target identification or target engagement standpoint, but also from increases in individual hit percentage derived from the optic itself."
He declined to discuss specific delivery quantities but acknowledged that the company is "currently active and fulfilling the requirements of the program."
SOCOM elements are also receiving two different sniper rifles under contracts with Barrett Firearms Manufacturing.
According to Joel Miller, director of global military sales at Barrett, deliveries were recently concluded on an unidentified quantity of the company's Multi-Role Adaptive Design (MRAD) rifle in caliber "300 PRC" [.300 Precision Rifle Cartridge] for a Defense Department customer, while early 2021 witnessed the start of deliveries for the MK22 MOD0 Advanced Sniper Rifle. The MK22 allows conversion between three different calibers: .338 Norma Magnum, .300 Norma Magnum and 7.62mm.
"We received the first delivery orders for the MK22s for USSOCOM," he said. "We made those first deliveries in January and we are continuing to make those at this time."
In addition to application as Special Operations Command's Advanced Sniper Rifle, Miller added that the company is in negotiations with the Army to have the MK22 system serve as the service's Precision Sniper Rifle.
The ongoing fielding of MK22 sniper rifles serves to emphasize SOF's growing embrace of the .338 Norma Magnum cartridge. In fact, the last few years have also witnessed interest by both SOCOM and the Marine Corps in a medium machine gun in that caliber.
In a more recent example of industry anticipating possible SOF interest in a new lethality capability, the 2020 SHOT Show held in Las Vegas featured the display by Dillon Aero of an "experimental" prototype for a .338 Norma Magnum Gatling Gun that was credited with the ability to fire 2,500 rounds per minute.
Apparent validation of the anticipated user interest occurred in March of this year, when SOCOM's technology application contracting office released a sources sought announcement in an attempt to identify "potential vendors who have the necessary capabilities to provide prototype, demonstration, production, management and sustainment capabilities for a multi-barreled automatic gun weapon chambered in .338 Norma.
"The multi-barreled weapon shall be capable of being integrated onto a rotary wing aircraft, capable of being either mechanically fired or electrically driven (Direct Current), and serviced by an external magazine. The solutions offered must have a Technology Readiness Level of 6 or higher to be considered for this effort," it added.
The 2020 display of the .338 Norma prototype was coordinated with True Velocity, a manufacturer of polymer cased ammunition that has been on SOCOM's wish list for several years.
Nammo is another company working multiple efforts with Defense Department agencies to provide a lightweight polymer capability to multiple customers including SOCOM, the Army and Marine Corps.
Asked for an industry perspective on the benefits of polymer-cased ammunition, a company representative said: "The lighter weight has a far-reaching impact for the mobility and operational use of aircraft, boats and ground mobility vehicles — allowing commanders greater operational flexibility with increased performance of platforms and weapons systems. Using metal ammunition transfers heat that causes wear and tear, whereas polymer ammunition operates at cooler temperatures and without substantial heat transfer, resulting in extending the service life of a weapons system."
At the higher end of lethality capabilities, Kongsberg Defense continues to support special operations requirements through modifications and variants of its M153 series Common Remotely Operated Weapon Station (CROWS).
SOCOM has been a long-time customers for CROWS, said Scott Burk, vice president of land systems at Kongsberg Defense. "We have been providing them weapon systems support, training and overseas support for a number of years."
Burk characterized the SOF community as one of the principal customers for the new CROWS Technology Refresh capability.
"The Tech Refresh system was originally envisioned to be an obsolescence cure for legacy CROWS. However, in addition to taking care of all the obsolescence issues, a lot of users were interested in capability increases. Some of those capability increases were SOF specific and came directly from USSOCOM," he said. "Tech Refresh cures all the obsolescence issues but also provides the user with more computing horsepower, better sensor capabilities, better tracking capabilities, and a much more modern weapon station."
One feature of the new design is interoperable communications between multiple weapon stations.
"We like to refer to that as cooperative or collaborative engagement," Burk said. "Looking at a simple scenario, it allows you to use one weapon station to basically cue multiple weapon stations to engage the target. And that was definitely something that was of a principal interest from USSOCOM, since it provides significant bang for the buck."
The cooperative engagement capability has been extended beyond the tech refresh effort to a system that Burk says the company is specifically building for SOCOM.
"We refer to it as Lite III. It is a third-generation Lite system that is significantly lighter and smaller than CROWS," he said. "It's even man-portable. Completely loaded with all LRUs [line replaceable units], and weapon and ammo, depending upon your ammo loadout, you're talking about a weapon system that is less than 200 pounds. But … it still supports a lot of the same caliber capabilities that come along with CROWS."
The design was originally envisioned to address the expanding .338 Norma Magnum ammunition requirements coming out of SOCOM.
"But I'm going to pat ourselves on the back here," he said. "Our engineers did such a good job in designing the system that we started going through testing and discovered that the system performed very well for .50 caliber as well."
Significantly, the design is also optimized to be provisionally supported from both legacy CROWS and CROWS tech refresh efforts.
"For lightweight robotics, small ground combat vehicles and transport vehicles, this is right up USSOCOM's alley," he said. "It's just a great weapon system design."
Although the Lite III system is not adopted by SOF elements, Burk said that it has been displayed on Special Operations Command's Ground Mobility Vehicle and would be used in "a couple of demonstrations in the not-too-distant future."
"There is one very interesting part about Tech Refresh … specific to USSOCOM," he noted. "There is one component within USSOCOM, coming out of the Army side of the house, which is very interested in backwards compatibility of the weapon system. So they have made a determination, and the system is designed for this, that they would like to upgrade their existing systems by component and LRU attrition versus a full block swap.
"That was what took so long for Tech Refresh to be finalized and qualified: the backwards compatibility with standard M153," he added. "The result is that it gives customers two options: they can do a full block swap or as they attrit components, or LRUs, they can swap them out.
Now we have one USSOCOM customer where we are starting the delivery of Tech Refresh capabilities, but we're doing it by attrition versus block upgrade."
Asked about any other weapon station activities that might be of interest to the SOF community, Burk pointed to CROWS integration with the Spike anti-tank guided missile.
The company recently conducted a demonstration in Slovenia, which is one of the contractor's foreign military sales customers for the CROWS Tech Refresh system. Spike has been chosen as an anti-tank guided missile by about 20 countries, he noted.
"We just did an integration and demonstration," Burk said. "The system that we did that on is a Kongsberg demo unit, but very close to CROWS. So that's something where we believe that, once [SOCOM] clears the current priority hurdles, they would be very interested in."
Topics: Special Operations