JUST IN: Textron Unveils New Advanced Reconnaissance Vehicle Prototype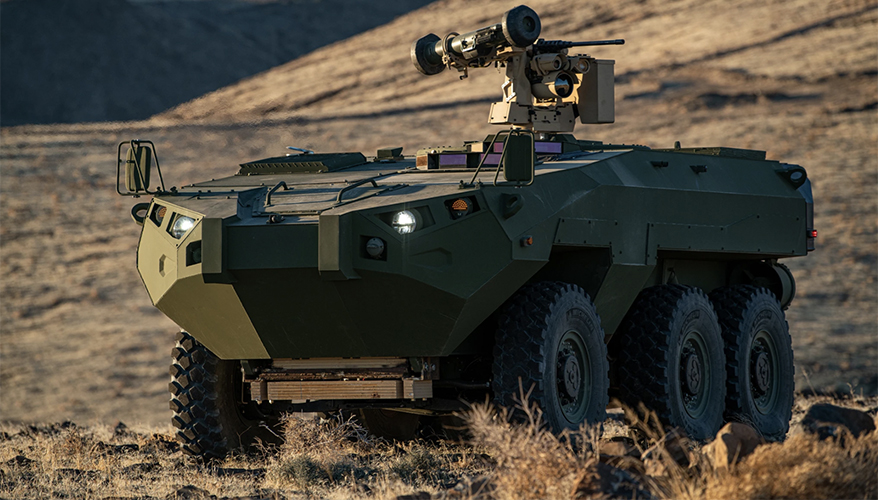 Textron photo
Textron Systems announced on May 4 its new prototype vehicle — dubbed Cottonmouth — for the Marine Corps' Advanced Reconnaissance Vehicle program.
The Advanced Reconnaissance Vehicle, or ARV, is intended to replace the service's legacy Light Armored Vehicle-25, which is built by General Dynamics Land Systems and has been in use since the 1980s.
"As we understand it, the intent here is that the Marines want to replace their current fleet of ... over 600 LAV-25s currently in service with up to 500 Advanced Reconnaissance Vehicles, said David Phillips, Textron's senior vice president for land systems.
The Marine Corps released a request for prototype proposals for the vehicle on March 30 with a May 3 due date, Phillips said on May 3 during a briefing with reporters about the company's platform. Information from the call with members of the media was embargoed until the official May 4 announcement.
For the prototype, the Marines are asking companies for a vehicle that includes a tethered unmanned aircraft system with auto-launch and retrieval, an open architecture approach that allows them to integrate various capabilities including battle management systems and communications suites, Phillips said. The vehicle should also weigh less than 18.5 tons, and be small enough to fit four on a ship-to-shore connector for transportation.
Textron has invested more than $6 million building its seven-seat prototype vehicle for the program, Phillips told reporters.
"We sent that prototype system out to the National Automotive Test Center and collected over 700 miles of mobility data," Phillips said. "We proved out that the Marines' requirement was a valid requirement with a prototype system that de-risks our ability to not only perform to all of the Marines' top-level requirements that they've defined, but to do so in the timeframe that they're asking for in this prototype phase."
The Cottonmouth prototype has an open system architecture that will streamline integration of existing government sensors, he said.
The company has a Cottonmouth systems integration lab in Hunt Valley, Maryland, to test the various sensor suites in a virtual environment prior to physically integrating them into the vehicle, Phillips noted. "That will help us quickly work through all of these sensor suites that the government is going to make available to us."
The prototype was also designed to give it the ability to swim.
"It incorporates dual mechanically driven water jets to provide simultaneous land and water propulsion," Phillips said. "We've already incorporated an amphibious cooling system … to ensure the requirements are met, which is a seaworthiness in up to two to three feet of waves and allowing rapid transitions between land and water modes."
Topics: Amphibious, Intelligence and Surveillance