NDIA POLICY POINTS ROBOTICS AND AUTONOMOUS SYSTEMS
Unmanned Systems and the Future of War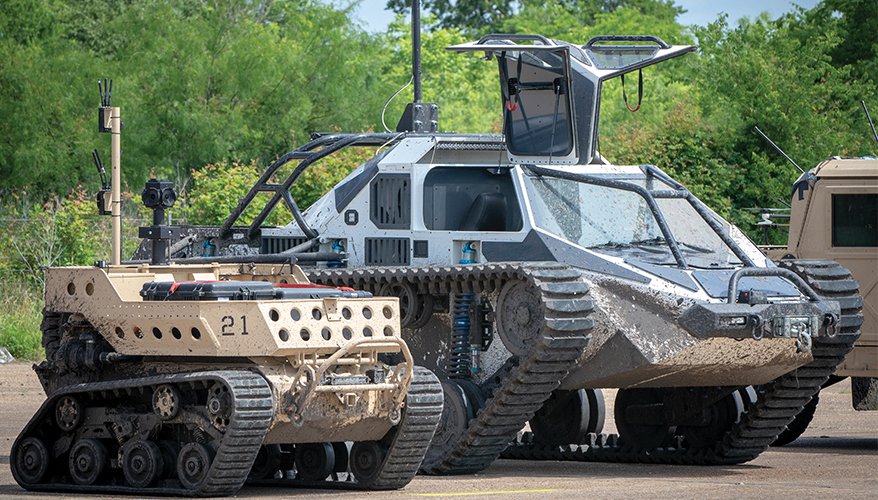 Army photo
In 2005, Vice Adm. Lowell E. Jacoby, then director of the Defense Intelligence Agency, noted in his testimony before the House Armed Services Committee that "lethal unmanned aerodynamic vehicles are expected to pose an increased threat to deployed U.S. and allied forces in various regions."
Jacoby predicted that not only would autonomous systems proliferate among U.S. allies, but also amongst potential competitors and pose a threat to friendly forces in the battlespace. His words were prophetic.
Largely through its vast oil resources and geopolitical positioning, Azerbaijan integrated advanced unmanned aerial systems into its operations against Armenia during the Second Nagorno Karabakh War, which took place Sept. 27 to Nov. 10 last year. Retired Marine Corps Maj. Brandon Tattersall, senior analyst at Insitu, noted "Azerbaijan has been able to invest in [UAS], precision guided munitions, loitering munitions" and various other systems due to its oil revenues and its special relationship with Turkey.
"Because of close cultural and ethnic ties and historic hostility to Armenia, Turkey has been very willing to provide support," he said in an interview.
The Turks trained the Azerbaijani people, and also provided them with the techniques, tactics and procedures to effectively leverage UAS and integrate them into a combined arms approach, he said.
Even without U.S. support, Azerbaijan, a middle-ranking power, has been able to integrate these advanced unmanned aerial systems technologies into its force structures and press territorial claims.
U.S. military planners have noted these changes to the global battlespace and the availability of drones. According to Tattersall, "the U.S. military is adapting its doctrine to the evolving nature of the battlefield. For example, the Marine Corps is including an assistant squad leader technology operator in the squad," who might be responsible for overseeing UAS and counter-UAS systems.
With these coming changes in technical requirements, Tattersall asserted that industry is ready to support them.
"The defense industry is out there to serve the troops," he said. "If there's something that the troops need — like a small counter-UAS system — I believe that industry will be there to fill that need."
Beyond doctrine, the Defense Department is pursuing research and development programs to keep the United States at the forefront of autonomy and artificial intelligence.
Dr. Robert Sadowski, who serves as the Army's senior scientist for robotics within the Research, Technology and Integration Directorate at the Army Combat Capabilities Development Command's Ground Vehicle Systems Center in Warren, Michigan, said in an interview that "with these robots and autonomous systems … we're going to have to take a different approach with development.
"We're probably going to have to use the software acquisition pathways that Congress has given us to enable us to rapidly evolve capability, as opposed to the formal process where we would have a set of requirements that we've figured out already, hand it off to an original equipment manufacturer, then come back seven years later for [low-rate initial production]," he added.
Leveraging new software acquisition pathways is critical to developing artificial intelligence because autonomous systems rely on improvements to software rather than hardware to become more effective. For Sadowski, autonomous systems and robots are "moving information systems on wheels or wings," meaning that "the process of updating [software] needs to be much faster … from an industry perspective. That might be a little bit different where the software is more important than the platform itself."
Staying at the leading edge of the curve on autonomous systems requires speedy, dynamic acquisition pathways to create the perfect conditions for innovation.
Though these changes may symbolize a proverbial "new frontier" in terms of military acquisitions, autonomous systems have the potential in certain roles to prove much more effective than manned systems.
For instance, Paul Decker, deputy to the chief roboticist at the Ground Vehicle Systems Center, noted that unmanned ground systems such as the Army's Robotic Combat Vehicle have maneuver capabilities that are unavailable for comparable manned systems.
"There's only so much energy and shock a body can take if you're driving high speed," said Decker. "If you don't have to worry about having a human in [the vehicle], the 6 watts of power that goes into the occupant is removed. Then you can potentially go pretty fast off-road."
While Sadowski reminds us that many emerging capabilities of autonomous systems still require more development before the U.S. military can begin leveraging these advantages, this example shows how next-generation systems have the potential to add to warfighting capability.
As U.S. adversaries integrate autonomous systems into their armed forces at an alarming rate, a strong bond between private industry and government will support continued U.S. dominance and force posture. As the need for new capabilities continues to grow, industry and government will continue their cooperative work, safeguarding the nation and leveraging U.S. innovation in support of the warfighter.

Sebastian Viscuso is an NDIA junior fellow.
Topics: Robotics, Robotics and Autonomous Systems