BUDGET 2022: Marine Corps Proposal Features More Money for Procurement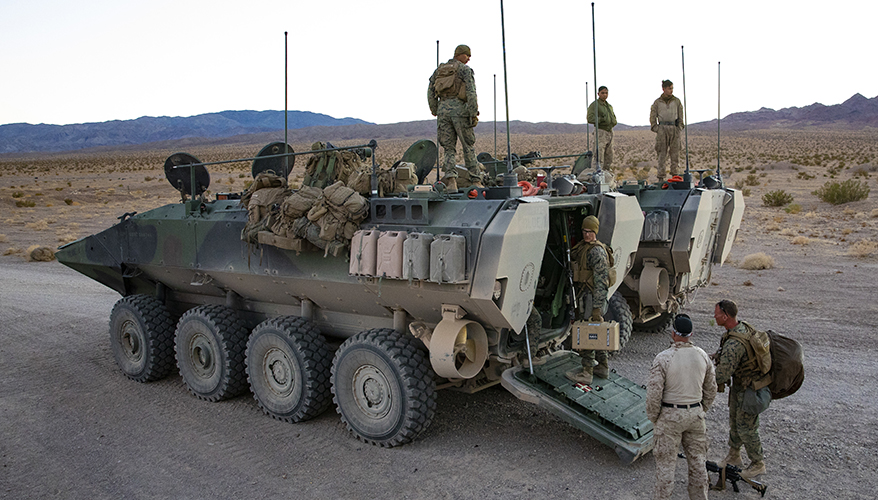 Amphibious Combat Vehicle (ACV)
Marine Corps photo by Sgt. Courtney G. White
The Biden administration's fiscal year 2022 budget request would increase the Marine Corps procurement budget while decreasing the size of its end strength.

In the request, the Marine Corps topline budget would grow to $47.9 billion in 2022 from $45.1 billion in 2021. Despite a larger budget, the Marine Corps active-duty end strength is also being cut from 181,200 to 178,500.
"The reduction of active duty end strength is part of the larger effort to modernize the Marine Corps by divesting of legacy defense programs and the force structure that supports those capabilities," the budget document says.

The service's procurement budget increases 11 percent in the fiscal blueprint with a request $3 billion compared to the $2.7 billion enacted budget in fiscal year 2021. With that funding, the Marine Corps plans to purchase 92 Amphibious Combat Vehicles, 20 more than in fiscal year 2021. The vehicle will replace the legacy Assault Amphibious Vehicle, according to the budget documents.

The service also plans to procure 613 Joint Light Tactical Vehicles and eight Ground/Air Task-Oriented Radar, or G/ATOR systems.
The G/ATOR system was built to detect cruise missiles, rockets, mortars and other artillery, according to budget documents.

In 2020, Marine Corps Commandant Gen. David Berger released a report detailing his force structure plan titled, "Force Design 2030." The long-awaited blueprint focuses on divesting some of the service's legacy capabilities and reducing infantry battalions and tanks to make way for new systems.

"Since Force Design 2030 was announced in March 2020, considerable progress has been made as Marine Corps enters into year two of this 10-year ... effort," Deputy Assistant Secretary of the Navy for Budget Rear Adm. John Gumbleton said May 28 during a press briefing with reporters. Since then, the service has made increases to critical programs such as the F-35B joint strike fighter.

The Marine Corps proposal would buy more F-35 joint strike fighters for the Marine Corps. The service flies the B variant of the aircraft, which has short takeoff and vertical landing capabilities. The request is for 17 of the Lockheed Martin-build platforms, seven more than the previous year, according to budget documents.

Bryan Clark, senior fellow and director at the Center for Defense Concepts and Technology at the Hudson Institute, said the Marine Corps budget shows the service is implementing its Force Design 2030 strategy.

"They seem to be following through. They are increasing their purchases of fires capabilities, including HIMARS, missile launchers, electronic warfare systems," and other capabilities, Clark said.

In the request, the Marine Corps funds launchers, carriers and equipment to support the High Mobility Artillery Rocket System, or HIMARS.
Research and development also gets a 9 percent increase in the budget request over the enacted 2021 budget, according to Gumbleton.

The Department of the Navy, which includes the Marine Corps, is requesting $211.7 billion in total for 2022.
Topics: Marine Corps News