Transition to New F-35 Logistics System Hits Headwinds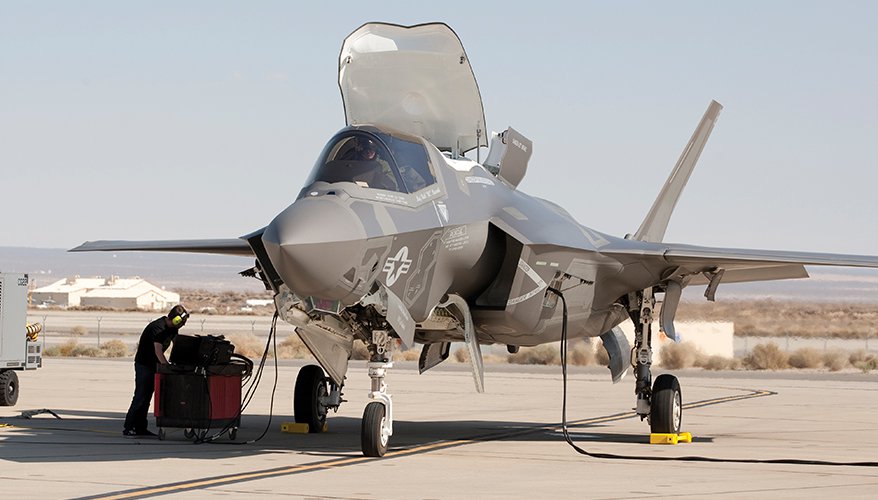 Maintainers working on an F-35.
Lockheed Martin photo
The effort to transition to a new and improved logistics system for the F-35 joint strike fighter is facing delays due to funding constraints and other challenges. The setback comes as the program is under pressure to improve operations and maintenance and to control costs.
The legacy Autonomic Logistics Information System, or ALIS, was designed to support F-35 operations, mission planning, supply-chain management and maintenance. However, it has been plagued by problems over the years.
"The system is not user-friendly and does not provide the sustainment-related capabilities that were promised," said Diana Maurer, director of defense capabilities and management at the Government Accountability Office.
Issues with electronic equipment logbooks have been well documented.
"These electronic records reside within ALIS and are supposed to alert maintainers when parts need to be replaced," among other uses, Maurer said in testimony to the House Armed Services subcommittees on readiness and tactical air and land forces, in April. "However, incorrect, missing, or corrupt electronic records within ALIS continue to affect day-to-day operations on the flight lines. This situation has resulted in the unnecessary grounding of 'healthy' F-35 aircraft, as well as a culture of otherwise unnecessary manual workarounds to circumvent the electronic records problem at the squadron level."
Air Force Lt. Gen. Eric Fick, program executive officer for the F-35 Joint Program Office, noted that the Autonomic Logistics Information System has been a source of struggle.
"ALIS is a complex system with numerous documented shortfalls and technical challenges," he said in testimony. Additionally, "the outdated ALIS system architecture — which is over 15 years old — prevents us from taking full advantage of modern technologies, modern software development practices, and improved cybersecurity."
Last year, officials announced plans to move to a new system known as the Operational Data Integrated Network, or ODIN. It is being billed as a more user-friendly, integrated information system to include modern hardware, architectures, software development methods, data environments and platforms.
The transition is being led by the Joint Program Office with support from Lockheed Martin, the prime contractor for the F-35 and ALIS.
"Our shared goal is continue improving speed, minimizing hardware footprint, reducing required labor, and enhancing user experience and overall capability," said Greg Ulmer, Lockheed's executive vice president of aeronautics.
The aim for ODIN is to improve maintenance efficiency, inventory management and responsiveness, he added.
Some significant progress has been made since the announcement of transition plans.
A capability needs statement and user agreement, which established the foundational requirements for the ALIS to ODIN migration and laid out how users will stay engaged during development activities, were put in place late last year.
Additionally, the JPO and Lockheed have "established a contract that captured data rights, frequent software deliveries, and proper data marking for modern software development," Fick said.
ODIN software has been created using modern tools, techniques and standards with adherence to U.S. government best practices for DevSecOps, a Lockheed Martin spokesperson said in an email.
The company has demonstrated data integration in a government-managed data environment, Fick noted.
In September, a new Lockheed-built ODIN hardware kit was tested at Marine Corps Air Station Yuma, Arizona. The kit, which can run both ALIS and ODIN software, is 75 percent smaller and weighs 90 percent less than the legacy SOUv2 ALIS hardware, and is projected to be 30 percent less expensive. It has demonstrated significant improvements in data processing and synchronization, which will allow users to host multiple squadrons on a single kit and is expected to yield a large reduction in procurement costs and system administrators, according to JPO and Lockheed officials.
However, the transition effort is already facing setbacks.
Fick noted that in early 2020 he had committed to "a very aggressive timeline" for moving from ALIS to ODIN. The JPO aimed for the latter to reach full operational capability and full system deployment by the end of 2022.
"What we've learned over the course of the last year is that that transition in that amount of time … is not going to be possible," he told lawmakers. "We underestimated the complexity of deprecating ALIS capabilities while migrating to ODIN. … It will be an evolution, not a [quick] switch."
Another setback occurred when Congress appropriated research, development, test and evaluation funding for ODIN in fiscal year 2021 that was 42 percent less than what was requested and required, Fick said. As a result, the program is going to take a "strategic pause" and update the strategy for moving from ALIS to the new system.
Officials did not say how long the pause would last or how much the transition will be delayed by the new approach.
Work is underway to develop the overarching enterprise architecture to guide transition activities. The JPO will update its development plan based on the revised strategy, available resources and user input, Fick said.
"We need to continue to improve the functionality of ALIS in the near term, as we ensure that the ODIN structure that we put into place from a hardware perspective, from a data environment perspective, and from a software perspective, is what the users need," he told lawmakers.
Laura Seal, a JPO spokesperson, noted that officials have not completely paused the transition effort.
"The JPO slowed the pace of — but has not stopped — development activities for both our government and industry partners," she said in an email to National Defense. "The 'strategic pause' … refers to a review of the JPO's overall strategy to evolve ALIS to ODIN across all elements — modern hardware, architectures, software development methods, data environments and platforms."
The program office will continue to field and leverage the new ODIN hardware kits as it matures the overarching transition strategy, she noted. More kits are expected to be rolled out later this year.
It has not yet been decided what additional ODIN hardware will be required, but "Lockheed Martin is partnered with the JPO to support any requested ODIN hardware activities including design, testing, fielding and sustainment," a company spokesperson said in an email. "As the transition from ALIS to ODIN progresses, Lockheed Martin will provide support as opportunities become available and ODIN's needs are further defined by the JPO."
The program delay comes as the Air Force is facing F-35 availability and affordability challenges, noted Brig. Gen. David Abba, director of the Air Force's F-35 Integration Office.
In terms of availability, one of the top needs is to transition from ALIS to ODIN, he said. "The current Lockheed-Martin ALIS architecture limits operational and deployment capability."
The transition funding shortfalls are just one of a number of "affordability pressures" the program is facing, he added.
Fick said the plan is to invest a total of $471 million into both ALIS and ODIN over the course of the future years defense program during the transition. The Pentagon has already sunk about $1 billion into ALIS.
Observers are expressing concerns about the initiative.
"DoD has taken some key first steps in replacing ALIS, which is encouraging, but that effort still lacks a complete strategy and … it will be several years before ODIN fully replaces ALIS," Maurer said.
In its fiscal year 2020 annual report, the Pentagon's office of the director of operational test and evaluation raised concerns about what it called "limited developmental testing" for software and hardware, warning that this "may leave system and design flaws undiscovered until after release to the field, requiring significant rework and patching."
The JPO intends to release frequent software updates to support ODIN.
"An increased frequency of new software deployments may stress the capacity of cybersecurity test teams to thoroughly evaluate each update," the report said.
Dan Grazier, military fellow with the Project on Government Oversight, warned of "the real possibility that ODIN, like ALIS, will have significant cyber vulnerabilities simply because it resides in the cloud."
ALIS has set a low bar for judging the relative success of the new logistics system, Grazier said in a POGO report released in February, "Is the F-35 Program at a Crossroads?"
"While almost anything might be an improvement over the ALIS disaster, ODIN … is already stumbling right out of the starting block," he said. "Based on the history of the F-35 program, it is difficult to see whether a workable and secure maintenance and logistics network will ever be delivered."
Rep. John Garamendi, D-Calif., chairman of the House Armed Services subcommittee on readiness, asked whether ODIN was simply a rebranding of the troubled ALIS system.
"Have we simply changed the name and maintained the same problem?" he said during a hearing. "The information we've received is that this transition is a neat name change, but that it's not actually working."
Fick pushed back on that notion.
"Our intent with ODIN is not to just rebrand ALIS," he said. "ODIN is all about a new hardware baseline, a new integrated data environment and new applications, and user interfaces that make it a better system from the ground up that we [the JPO] own in its entirety, and we will then execute."
Maurer noted that there has been some encouraging progress, highlighting the importance of the capability needs statement.
"That document contains some performance measures for ODIN, which did not exist for ALIS," she said.
However, "we still have questions about the overall end state for what ODIN is designed to be," she added. "There are still a lot of unanswered questions about some of the fundamental issues that we raised in our work on ALIS about cloud usage and software development models and ensuring user feedback, and some other things. … We are cautiously optimistic, but we'll stay studiously skeptical."
Douglas Birkey, executive director of the Mitchell Institute for Aerospace Studies, applauded the effort to upgrade the F-35's logistics enterprise, and expressed optimism that it will be successful.
"It is important that the system supporting the aircraft evolve to stay relevant, secure, cost effective, portable, viable, resilient," he said.
"ODIN is very important with that because it is a much more modern approach."
Birkey knocked lawmakers for criticizing the program while also cutting funding for the effort.
"It speaks to … some of the challenges where you see folks turn up the rhetoric on the Hill, yet at the same time they're cutting out valuable or critical legs of support," he said. "You can't have it both ways."
Although the transition has been delayed, there's still a need for speed, and the JPO and other stakeholders shouldn't be risk averse in moving to ODIN, he said.
"There's more risk in not modernizing it or slow rolling than just getting it done," Birkey said. "I would be looking to advance it as fast as possible in as realistic a fashion as possible. … None of this is rocket science. I mean, these are all solvable problems."
Topics: Air Power