EMERGING TECHNOLOGY HORIZONS EMERGING TECHNOLOGIES
New Institute Will Tackle the Tough Questions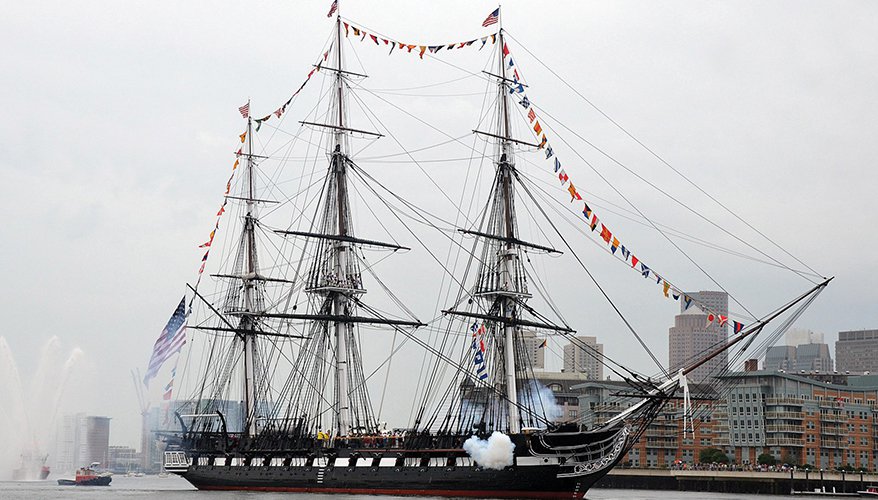 USS Constitution
Navy photo
When construction began on the USS Constitution in 1794, the fledgling republic had limited resources and would soon face, for a second time, the most powerful navy in the world. Naval architect Joshua Humphreys knew with scarce resources, each ship had to be as formidable as possible and so he set to work building a different type of frigate.
In the end, she was larger, faster, had a stronger hull — earning her the nickname "Old Ironsides" — and was more heavily armed, capable of carrying double the guns per deck without sacrificing maneuverability. She made her mark in the War of 1812 and still sits in Boston Harbor as a testament to America's long history of innovation.
This history sets the United States apart from other nations. Unlike some countries who chose to steal intellectual property to advance their military might, America has always been a nation of inventors and innovators. This has played a crucial role throughout U.S. military history and must continue if ours is to remain the most powerful military in the world. In the same way that Humphreys took scarce resources of a young republic and created a truly historic frigate, America's military today needs the cutting edge technologies of tomorrow — artificial intelligence, hypersonics, and the like — to fight and win in the 21st century.
As discussed in last month's column, adversaries have had ample time to study the U.S. way of war. But they must not be allowed to use that to their advantage. The nation must ensure that its warfighters maintain the lethality and competitive edge that emerging technologies can bring to the battlefield. This will not happen overnight, but we owe it to the men and women in uniform to do the hard work now that will pay off in the decades to come.
Here at the National Defense Industrial Association, there is strength in numbers. There are currently 1,567 corporate and 61,935 individual members to be exact. By representing the full array of industry that will ultimately manufacture and supply these technologies, the Emerging Technologies Institute is in a unique position to bring together key members of industry, leading academic experts and decision-makers in Congress and at the Defense Department.
No one outside of government is effectively focusing attention on emerging technologies and bringing together the right players to ultimately accelerate the deployment of these technologies into the hands of warfighters. This is exactly the void that ETI seeks to fill. At the same time, NDIA's interaction with industry has always been a two-way street and ETI's work will be no different.
A lot is asked of the defense industrial base — the price of failure can be a matter of life and death on the battlefield. However, industry members know best where their impact can be greatest. What are the challenges they face when working with the department on emerging technologies? Are there policy changes that could help resolves some of these issues?
The institute wants to hear members' perspectives and will provide many avenues to make their voices heard. Expect ETI to not only leverage the existing division structure of NDIA, but also find areas of growth. Whether that is a working group focused on microelectronics or a workshop devoted to hypersonics, the institute wants to provide forums in which industry, government and academia can come together for productive discussions that lead to solutions for the warfighter.
NDIA has always made a point of representing all members, not just one company, and ETI will be no different. It will be independent and objective, following where the data takes it, and maintaining this honest broker status. For this reason, ETI seeks to also provide recommendations on where the Defense Department can make the best emerging technology investments — not investing in buzzwords, but investing in useful capabilities for the warfighter.
One challenge that smaller companies often face is the cost of doing business with the department and navigating the acquisition process.
When innovative emerging technology solutions come from these companies, overcoming this challenge can make the difference in actually fielding capability. The 2018 National Defense Strategy highlights the need to "deliver performance at the speed of relevance," and this is especially pertinent in acquisition. Much time and manpower has been devoted to this problem set but more work remains. The current acquisition process that works in timelines of years, is not conducive to fielding innovative technologies that are changing on a weekly or monthly basis.
There needs to be a hard look at current processes. For example, how to balance emerging technologies with currently funded platforms? How can the acquisition culture be changed to be more agile and responsive to battlefield needs? These very questions, and more, will be the focus of ETI's first public workshop June 7, titled "The Modernization Quandary." The intent of this workshop is to begin a serious conversation amongst the Defense Department, industry and Congress on what needs to be done first, and what can be deferred, especially in a budget constrained environment.
When faced with a fiscally constrained environment 200 years ago, Joshua Humphreys still found a way to provide a young Navy with a ship that could outgun and outrun other frigates of the day. This "emerging technology" of the 18th century made the difference in the War of 1812. Although today's budget constrained environment is a far cry from that of our founding, it is worth remembering that every generation of American military leadership has faced this fundamental challenge.

Rebecca Wostenberg is a research fellow at the Emerging Technologies Institute. Contact her at ETI@ndia.org.
Topics: Research and Development