SOFIC NEWS: Body Armor, Ammo Among New Tech for Commandos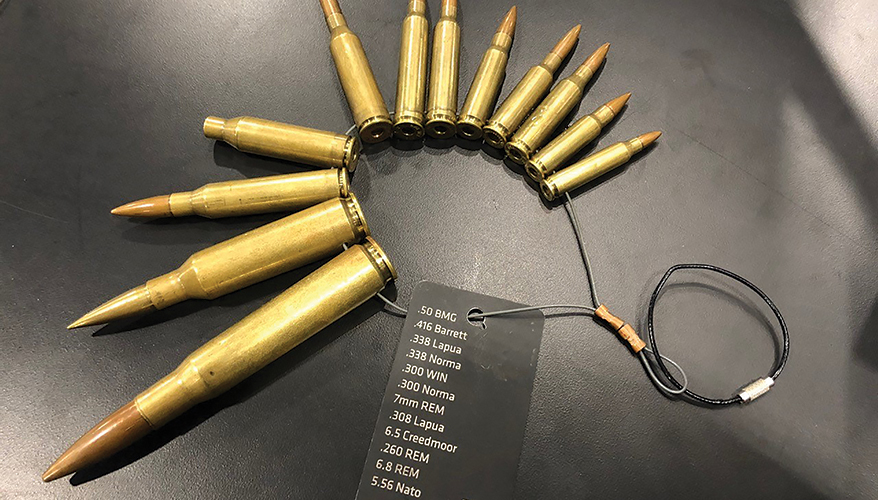 Scott R. Gourley photo
Special Operations Command is investing in new "game-changing" equipment to better protect and enhance the capabilities of commandos on the ground.
"We have several key initiatives here within PEO SOF Warrior" driven by new technologies and materials, said Col. Joel Babbitt, head of the program executive office.
These include new 6.5 mm Creedmoor and .338 Norma rounds; lightweight polymer ammo; ultra-light polyethylene body armor; fusion night-vision goggles; android tactical assault kits; counter-drone systems; artificial intelligence for small unit maneuver; and precision strike capabilities, Babbitt said May 19.
All these systems "hyper-enable" commandos and teams, he said during remarks at the virtual Special Operations Forces Industry Conference, which is managed by the National Defense Industrial Association. SOCOM launched what it calls its hyper-enabled operator concept in 2018 and has since been pursuing technologies that can give troops an edge.
The Creedmoor round will replace the command's 7.62 sniper rifle round, Babbitt said.
"It's giving us about 1.5 times the range of those sniper support weapons that we currently have," he said. "Phenomenal round. Phenomenal accuracy. Game changing for strategic competition."
The .338 Norma Magnum and .300 Norma Mangum are also being fielded for the command's advanced sniper rifle, which is a new program of record that SOCOM is conducting with the Army, he said. "When you take a sniper rifle and you turn it into a machine gun, you get some very interesting, very lethal effects," Babbitt said.
The office is excited about is the development of polymer ammo, he said. It will reduce the weight of ammunition and providing better thermal effects, he noted.
For example, the command's fleet of MH-6 Little Bird helicopters currently carry .50 caliber ammo that is solid brass. However, given the weight of the ammunition, Little Birds face tradeoffs between their fuel load and ammo load, he noted..
"It's an operational choice one or the other — you can't have both" at a desirable level, he said. "But with polymer ammo, we're able to lighten the weight of the … ammunition enough to the point where you get 30 more minutes worth of loiter time, because you can go full on fuel and you can go full on ammo" at the same time, he explained.
With the new materials, operators are able to get "all the bang and all the capability," Babbitt said.
The command is also working to lighten the load on commandos and is collaborating with industry to develop an ultra-light polyethylene body armor. SOCOM's current body armor weighs 20 pounds but only covers about 17 percent of a warfighter's body. But with this new technology, "for that same 20 pounds we can cover 50 percent of our operators' bodies" he said. That is "huge when it comes to protecting all of your key arteries and all your organs."
The armor can be used to protect nearly all of a servicemember's body from their knees up to the top of their head, Babbitt said. Additionally, the command is using the same ultra-light polyethylene to develop helmets.
The command is working with the Army's PEO Soldier office to develop the body armor, he later told National Defense during a media roundtable.
"We have different requirements per se because our operators travel lighter than the Army does, … but we are working together with the Army," he said. "We're both interested in the very same technology."
SOCOM is planning to start small with a purchase of several hundred sets in the coming months, Babbitt said.
Another advanced technology is fusion night-vision goggles, Babbitt said. When wearing the systems, operators no longer see the world in the traditional green and white landscape that legacy goggles are known for. They can now view high-definition black and white images through the use of white phosphorous tubes as well as technology that outlines heat-producing objects in red.
"That red outline or red figure that you see is everything that's hot in that room," he said. "That allows you the capability to quickly identify targets. It's a game changer for our forces."
The android tactical assault kit, or ATAK, is another key technology, Babbitt said. The system, which is essentially a cell phone that operators wear on their chests, allows commandos to coordinate tactical activities.
The capability allows the command to take the coordination for dropping bombs from about 15 minutes to 15 seconds, he said.
"It's as simple as selecting ... the bomb that you want, selecting the points you want … [and] click go," he added.
Counter-drone systems are another area of interest for PEO SOF Warrior. In recent years the Pentagon has taken a keen interest in defeating the emerging threat and this year released a new counter-small unmanned aircraft systems strategy.
"Drones are a disruptive capability," Babbitt said. "I wouldn't necessarily call them a revolution in military affairs at this point, but they are definitely a very disruptive capability ... that's very low cost but allows high effects."
SOCOM is going after counter-drone capabilities to be able to dominate the airspace around its maneuver forces, he said. The command needs to be able to counter not only aircraft, but also unmanned ground and naval systems, he noted.
Artificial intelligence for small unit maneuver is another focus area, Babbitt said. The command wants to use AI to better control small drones and ground robots.
Currently, commandos spend a lot of time looking down at handheld controllers as they operate the platforms, Babbitt said. SOCOM wants more autonomous systems.
The aim is to "get the operator back on the gun instead of ... behind the joystick," he said.
Another technology on the wish list is precision strike systems.
"The capability here is all about going from Air Force strike jets dropping bombs or guided missiles on targets to a missile being carried by a ground vehicle, set up and launched in an operationally relevant time, being able to seek targets as it loiters around it … and then once the target is identified, striking that target," Babbitt said. "It's a game-changing capability that allows us to operate underneath the umbrella of integrated air defense systems."
Topics: Special Operations, Special Operations-Low Intensity Conflict, Land Forces