SOFIC NEWS: Commander Sees New Era of 'Cognitive Conflict' for Special Operators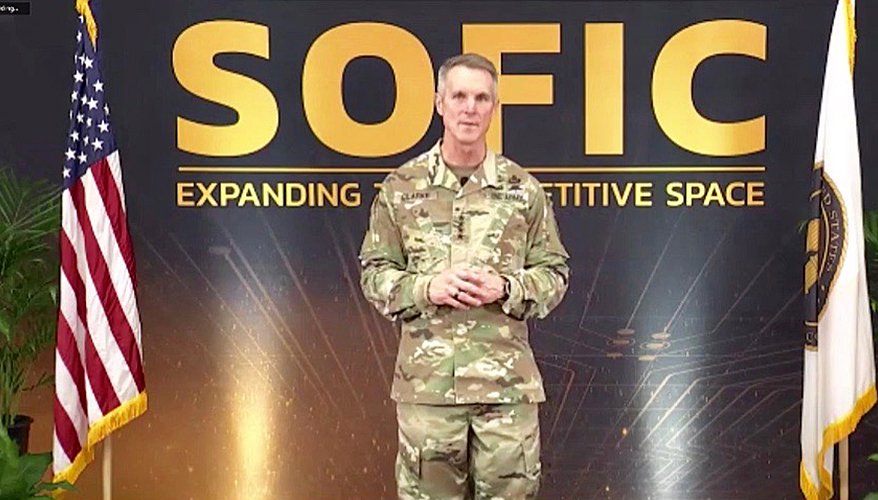 Special Operations Command Commander Army Gen. Richard Clarke
The withdrawal of the U.S. military from Afghanistan later this year will mark the beginning of a new era for Special Operations Forces.

"Shortly we'll be bringing forces out of Afghanistan after almost 20 years," said Special Operations Command Commander Army Gen. Richard Clarke. "SOCOM was the first forces in and we'll be the last forces out. I don't necessarily see this as the end of an era, but instead as part of the new one that is full of opportunity for all of us."

Incidents such as the recent cyberattack on the Colonial Pipeline along with daily Russian disinformation campaigns and "Chinese activities globally" will challenge U.S. national security and reorient SOF to strategic competition, Clarke said May 18 during the National Defense Industrial Association's virtual Special Operations Forces Industry Conference.

Nations seeking competitive advantages is nothing new, he said. It's the tools they are using that is changing, he added.

Adversaries have used electronic warfare, cyber and information warfare against U.S. forces, he said. "What we must be able to do is not just play defense, but we also have to play offense" in these areas, Clarke said.

"Information space" — or "infospace" as Clarke called it — "will impact all forces in all missions," he said. "It is a battle in the cognitive space. It takes place on the internet, but not always."

As a young commander at the beginning of the Afghanistan war, he spent about 95 percent of his time directing kinetic effects on adversaries. Today's commanders there say they now spend about 60 percent of their time on nonlethal effects in the information space, he said.

"It is in the cognitive space where we must prevail," he said.

Earlier during the conference, SOCOM's head of science and technology Lisa Sanders said the command intends to double its research-and-development dollars in the offensive electronic warfare category from about $16 million per year to $35 million.

That would include technologies that can detect, track and deter unmanned aerial vehicles to electronically placing false communications in an adversary's network, Sander's slides indicated.

Clarke likened the global competition space to two rival U.S. companies selling the same product. They constantly watch each other's advertisements and measure public sentiment.
"SOCOM should be able to do the same thing in real time because part of the piece of working in the cognitive space is actually understanding the environment and understanding the threat," he said. "The more that we can understand how our adversaries and how our competitors are working in this space and apply the intelligence tools against those, the better off we will be."

SOCOM can work in that space to amplify the right messages, "but also make sure that our adversaries — when they're sending out false messages — aren't getting a free pass," he said.

"We must modernize," he said. Industry has a lot to offer as it rose to the challenge over the past 20 years in Afghanistan and Iraq. The forces he commanded two decades ago are almost unrecognizable today with all the innovation industry brought forward, he added.

Now, SOCOM needs industry's help sorting through "its mountains of data."
It needs to push data to the tactical edge, giving operators the advantage to make decisions, even in a fight, he said.

It needs to move data around from various restricted levels up to top secret and then share it with the joint force or allies, he said.

"Everything we're doing now is going to be hard. It's going to be multi-domain, it's going to be partnered and it's going to be contested in every step. Our goal is to maintain a strategic advantage," Clarke said.
"And there are countries that are close on our heels. SOF will be a critical element. We've got to innovate to win," he added.
Topics: Special Operations-Low Intensity Conflict, Special Operations