COLD FRONT: Special Operations Forces Bracing for Arctic Missions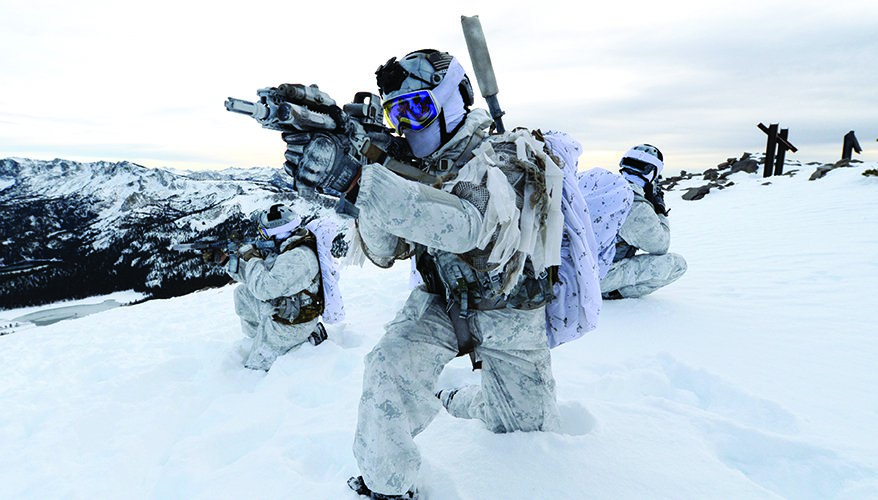 Navy Photo by Visual Information Specialist Chris Desmond
For the past two decades, U.S. Special Operations Forces have deployed to some of the most dangerous and inhospitable places on the planet to combat terrorist networks. With the Pentagon increasingly focused on great power competition, they may soon find themselves spending more time in a region that presents a unique set of challenges — the Arctic.
In 2019, the Defense Department released its latest Arctic Strategy, which noted the important role for special operators.
"DoD's desired end-state for the Arctic is a secure and stable region in which U.S. national security interests are safeguarded, the U.S. homeland is defended, and nations work cooperatively to address shared challenges," the document said. "The agile and expeditionary nature of SOF, combined with established allied and partner relations and interoperability, provides DoD a ready capability to compete below the level of armed conflict in the Arctic region, and across the spectrum of SOF core activities."
Special operators have played a central role in the post-9/11 wars conducting direct assault missions, the most famous being the 2011 raid that killed Osama bin Laden. But unless terrorist groups set up shop in the High North, SOF will play more of a supporting role in the Arctic using a wide range of skill sets, officials and analysts say.
U.S. Special Operations Forces include Army Green Berets, Navy SEALs, Marine Raiders, Special Tactics airmen and other elements.
"We do a lot of stuff, and frankly, the majority of what we are assigned in the SOF community are missions that are in support of the general purpose forces, who obviously in the Arctic will … be the biggest chunk of the American activity there," said Steve Bucci, a retired Special Forces officer and a defense analyst with the Heritage Foundation think tank. "Pretty much all of the missions we can do anywhere else, we can do in the Arctic; … we'll just do it in a lot colder environment with a lot more challenge to get it done."
Missions could include special reconnaissance, calling in fires against enemy forces, and training with foreign partners.
They may also entail what the military calls "unconventional warfare," a core capability of the Green Berets since their founding.
"If an adversary in the Arctic context, whether it be Russia or China, took over an area or was threatening an area that way, we could go and assist [allies] with unconventional warfare to help try and liberate" an area, Bucci said. "Or if they're threatening it with some of their gray zone-type operations, we could put our guys in there to go in and do counterinsurgency or counter-unconventional warfare."
While counterterrorism ops are unlikely, direct action missions aren't off the table, he noted.
SOF might be told to "go in, blow up a radar site or something like that that might be hindering our more conventional brothers and sisters" in the armed forces, Bucci said.
But there are unique challenges in a region where temperatures can drop to more than 50 degrees below zero.
"The Arctic environment is going to be pretty tough on special operations units," Bucci said. Commandos will need to carry more equipment such as special cold weather survival gear, he noted. "And if you're … skiing or pulling Ahkios [sleds] and all that stuff, that's really tough."
Additionally, soldier equipment and platforms such as aircraft and ground vehicles might not function as well.
"Weapons first and foremost," Bucci said. "The whole lubrication challenge changes. Lubricants that work at normal temperatures, when you get to really extremely cold ones, can actually cause malfunctions because they kind of gunk up … and solidify."
Having the right equipment, enough of it and maintaining it properly is critical, he added.
Communication can also be a problem, as high latitudes are not covered by satellites in geostationary orbit, and disruptions can be caused by icing on radio antennas or by heavy seas.
Beyond-line-of-sight comms can be challenging, noted Air Force Special Operations Command Commander Lt. Gen. James Slife.
"We just have to go back and relearn some lessons about different waveforms that we may have moved away from in the past, or exploring new waveforms and new frequency bands that allow us to communicate at long distance at those high latitudes," Slife told reporters during a media roundtable.
Meanwhile, with the renewed focus on great power competition, AFSOC has "dusted off [mission sets] that we used to do as a matter of course and has fallen away since 9/11," he said.
Special operators have a number of unique capabilities, he noted. For example, AFSOC combat controllers have the ability to establish and operate landing zones in difficult environments.
"We're relearning how to operate … in a way that allows us to rapidly rearm and refuel fighter-type aircraft from austere regions" so they can get back in the air and rejoin the fight, Slife said.
In January 2020 during the Emerald Warrior exercise in Alaska, Special Tactics airmen for the first time simulated seizing a forward area refueling point, also known as a FARP, and refueling fifth-generation aircraft in an extreme cold weather environment.
The effort involved aircrew with the 27th Special Operations Wing, a Special Tactics team and F-22 Raptors assigned to Pacific Air Forces' 3rd Wing. An airfield was surveyed and secured while an AFSOC-operated C-130 aircraft refueled fighter jets parked on the ground, according to an AFSOC press release.
"Working with the newest and most advanced fighters in the Air Force provides [Special Tactics teams] the opportunity to maintain technological edge and develop the tactics, techniques and procedures needed in order to leverage their full capabilities … [in] a challenging operational environment," said a Special Tactics officer whose identity was not disclosed in the release.
Meanwhile, Green Berets are retooling for Arctic ops.
In September, a 1st Special Forces Group airborne team participated in the Valor United 20 exercise in Alaska.
They honed their patrolling and survival skills "in some of the most unforgiving terrain in the United States," according to an Army press release.
Key focus areas were Arctic, alpine and glacier movement, crevasse rescue, and long-range high frequency communications.
"In conflict with a peer adversary, U.S. forces may not come to rely on the same communication systems as in the Global War on Terror," the release noted. "Both Special Operations Command-Pacific and the conventional force have identified the need for long-range radio communications skills to be able to transmit messages without interference from skilled, technically advanced opponents."
During the exercise, Green Berets successfully transmitted high-frequency radio messages from remote camps in Alaska to Okinawa, Japan, more than 4,400 miles away.
They also practiced their special reconnaissance skills, built concealed surveillance sites and conducted long-range photography.
Select Green Beret teams "must be able to support themselves for lengthy operations in harsh Arctic or alpine environments without compromise by adversary forces," the release noted. "As part of these operations, the detachment can be called to provide special reconnaissance for SOF or large conventional forces."
The Army and its SOF component are taking another look at whether the current training paradigm at locations such as the Special Operations Advanced Mountaineering School in Fort Carson, Colorado, is sufficient. The school prepares Green Berets and other forces to survive and fight in harsh environments, and certifies them in advanced cold weather, high altitude and high-angle military mountaineering skills.
The Army in March released its new Arctic strategy, "Regaining Arctic Dominance," which was developed with input from SOCOM.
"The ability to conduct effective and extended operations in the Arctic requires far more than just a set of specialized equipment," the strategy said. "To develop a true all-weather/environment force capable of rapid deployment may require a modification in the role of the Combined Training Centers and Special Operations Forces Training Center in serving as culminating training events for Arctic-based formations."
The service needs to advocate for greater access to the Arctic-focused schools of allies and partners for SOF as well as conventional forces, it added.
U.S. personnel are often deployed overseas to train foreign forces. But when it comes to the High North, training should work both ways, Bucci noted.
Special operators could "go to some of those countries that have a ton of experience working in that kind of environment — in fact, more than we do — and actually learn from them," he said.
In March, U.S. Navy SEALs teamed up with Marines and Norwegian soldiers in an allied joint terminal attack controller training exercise near Setermoen, Norway. Forward deployed operators known as JTACs are tasked with directing combat aircraft for close-air support and other offensive missions.
During the joint exercise, they practiced calling in simulated airstrikes from U.S. Air Force B-1 Lancer bombers.
"The JTAC integration with foreign allied forces is important as it allows … allied counterparts to learn how to operate together and make accurate calls for fire from supporting combat aircraft in the harsh Arctic climate," according to a Marine Corps press release.
In another example of partnerships in Northern Europe, U.S. Special Operations Command Europe and Swedish Special Operations Command have collaborated on a book called ROC: Resistance Operating Concept, published by Joint Special Operations University Press, which noted Russia's incursions into the Crimea region of Ukraine and its use of "gray zone" tactics.
Sweden and Russia are both Arctic nations, as are the United States, Canada, Denmark, Finland, Iceland and Norway. China considers itself a "near Arctic" power.
"European nations once again face threatening neighbors with potentially expansive intent," SOCEUR Commander Maj. Gen. Kirk Smith wrote in the foreword to the publication. "Even those with strong alliances and friends do not necessarily have the power to prevent incursion."
The book takes a deep dive on methods of resistance — an aspect of unconventional warfare — that allied nations under threat can use to build resilience and fight back.
While technology is important, it's not a cure-all for the challenges that the United States faces in the Arctic, said Idaho University Professor Lilian "Doc" Alessa, a Defense Department advisor.
"The first SOF truth is that humans are more important than hardware," she said during a recent presentation.
Special operators have a unique ability to develop networks working with allies, the private sector and academia, as well as local populations and indigenous peoples, she said.
"They can vector in the right people at the right time with the right information and the right context to … build the collaboration network" that is needed to improve situational awareness and cooperation in that region, she added.
"It requires working with communities in situ, viewing them as partners in the security and defense enterprise," Alessa said. "This is something that SOF was born and built to do and will be our key for ensuring that we adapt to the new world in the Arctic."
Topics: Special Operations, Special Operations-Low Intensity Conflict